The Truth About Kat Von D's Extreme Goth Wedding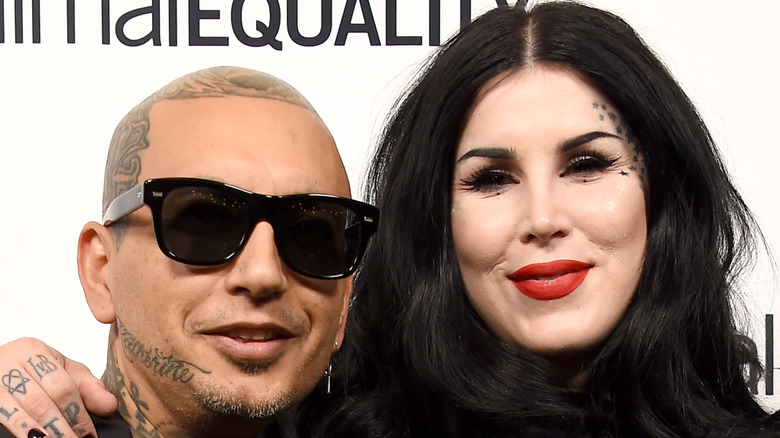 Gregg Deguire/Getty Images
Kat Von D has gone from a famed makeup mogul and star of the TLC reality show, "LA Ink," which profiled her talents as a tattoo artist, to a musician (via Yahoo! News). She spent many years as a pop culture fixture until various scandals caused her to fall out of the public's good graces. Between a feud with former friend Jeffree Star and claims that she was both anti-vax and anti-Semitic, Von D was no longer the star she had once been (via Insider).
Things began to improve for Von D after she took to YouTube to make a video setting the record straight about her feud with Star and the claims made about her alleged beliefs. The video has since been deleted.
Eventually, it seemed as though fans had forgiven her. When she married Rafael Reyes, also known as Leafar Seyer from the band Prayers, fans were excited to see how her goth wedding would come to life.
Everything was red!
According to Allure, Von D and Reyes first tied the knot in February of 2018. They did so in a quiet and small ceremony. That won't do for someone with as big of a personality as Von D, however, so they had a large gathering at the Beverly Hills Hotel in June of 2018.
If you were expecting an all-black wedding, you are in for a surprise. The couple had an entirely red wedding theme. Even Von D wore a stunning bright red gown on the big day. Reyes wore a black suit, of course. The attire of the bride paired with the red decor made for a unique wedding!
The couple shared that the wedding theme was "en vida y en muerte," which translates to "in life and death" (via Brides). The guests sat at red tables and Von D even performed a song to her husband on a red piano. The couple has continued to live happily ever after. They are now the parents of a son, Leafar Von Drachenberg Reyes, per CNN.