The Truth About Kat Von D's Controversies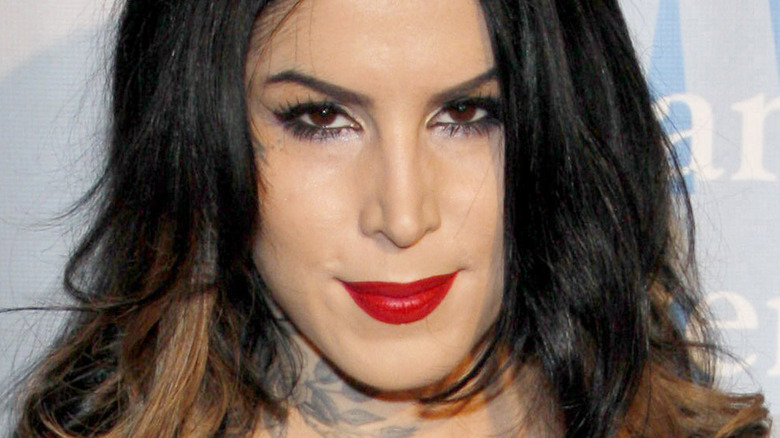 Shutterstock
Kat Von D seemingly has nine lives, much like her beloved Sphinx cats. She first found fame as a hot-headed tattoo artist on "Miami Ink," frequently tussling with owner-operator Ami James, before scoring her own wildly popular spinoff show, "LA Ink." Aside from being one of the most successful tattoo artists in the world, Von D transitioned into makeup, launching her own popular brand, now known as KVD Beauty. She's also dabbled in music, releasing her debut single "Exorcism" in 2021. 
Despite her considerable successes over the years, both personal and public — Von D has been sober for over a decade and is happily settled down with husband Rafael Reyes, with whom she shares a son, Leafer — the former reality star hasn't avoided controversy. In fact, Von D has endured several high-profile causes célèbres over the years. She might have left the rock star life behind a long time ago, but Von D is still feeling the effects of her prior attention-grabbing behavior.
She was accused of being anti-Semitic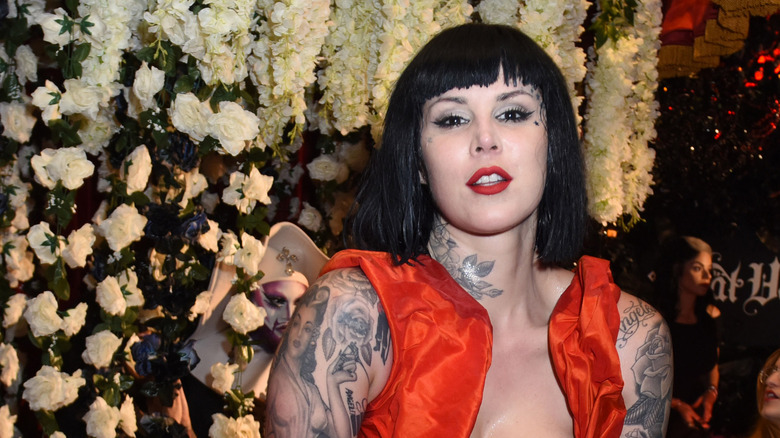 Vivien Killilea/Getty Images
As USA Today reports, in 2019, Kat Von D took to YouTube and, in a since-deleted video, addressed long-running allegations about her ties to Nazism and the anti-vaccination community. Acknowledging how much hate she'd been getting as a result of such stories, the tattoo artist stated firmly, "Just to set the record straight from the beginning, I just want to say I am not anti-Semitic." The former reality star revealed a headshot had been altered to include an anti-Semitic message after a male tattoo artist from "Miami Ink" took issue with Von D being gifted her own show. 
The unnamed artist later shopped it around and, when Von D was gaining popularity in her early twenties, a publicist told her to just keep her mouth shut until it blew over. Von D was also linked with Nazism throughout her tempestuous relationship with Jesse James, who was snapped wearing regalia and saluting in 2010. A lawyer reasoned to CNN he simply collects WWII memorabilia, but more photos subsequently surfaced of James doing a Nazi salute, suggesting much deeper ties.
Is Kat Von D an anti-vaxxer?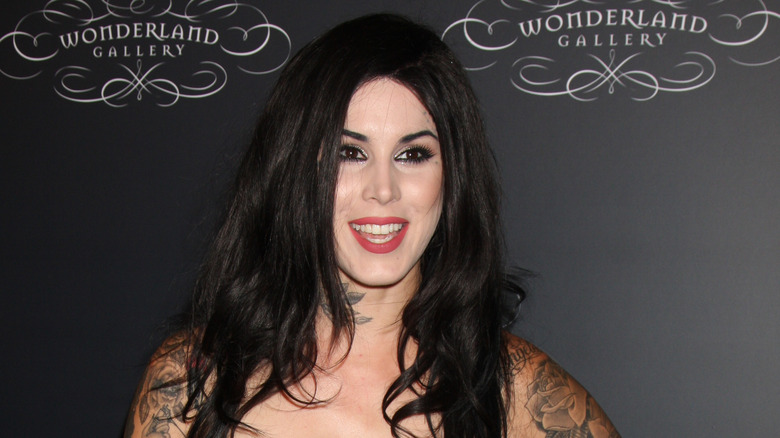 Shutterstock
Kat Von D also courted controversy with her makeup brand. According to Distractify, shades called "Celebutard" and "Underage Red" were pulled from shelves after complaints over their dodgy names. Von D wrote a lengthy Facebook post at the time refusing to apologize and reasoning she wore red lipstick as a teenager. She stepped down from the company in 2020, as per a statement posted to Instagram. According to Business Insider, KVD Beauty is doing a lot better in the wake of Von D's departure.
Addressing the accusation of her being an anti-vaxxer on YouTube, the iconic tattoo artist admitted she was simply ignorant of the issues and should've done more research before speaking out (via USA Today). Von D admitted to regretting the badly chosen words, and reassured fans she and her husband were taking advice from their family doctor going forward. "Unlike before, I have learned my lesson," she advised. Hopefully that does indeed prove to be the case going forward.