These Are Jackie Kennedy's Favorite Summer Destinations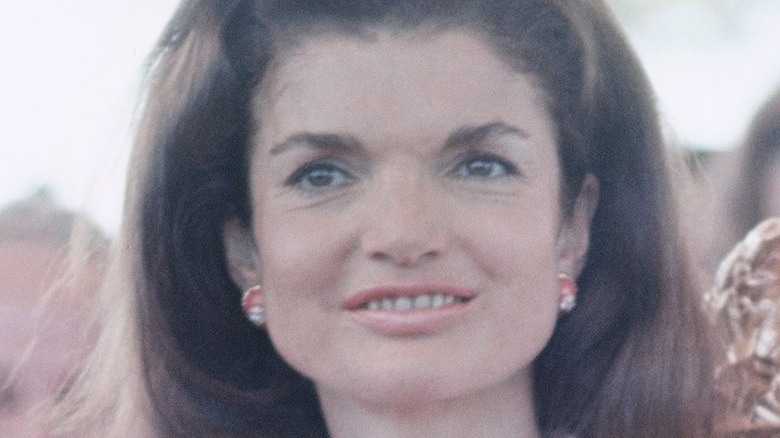 Michael Ochs Archives/Getty Images
Jackie Kennedy Onasis has gone down in history as one of the most beloved first ladies the United States has ever known. As the country's youngest first lady, only 31 years old when her husband was sworn into office, she brought style and flair to the White House (via Timelines Magazine). "She really was the one who made over the White House into a living stage — not a museum — but a stage where American history and art were displayed," Hugh Sidey, a former White House correspondent explained to the New York Times, per Timelines Magazine. She told him, "I want to restore the White House to its original glory."
While she was passionate about her new home in Washington, D.C., she also loved to spend her summers vacationing on the East Coast. If you're looking to get out of town and relax like Jackie O, here are some destinations to check out.
The Hamptons were Jackie Kennedy's first choice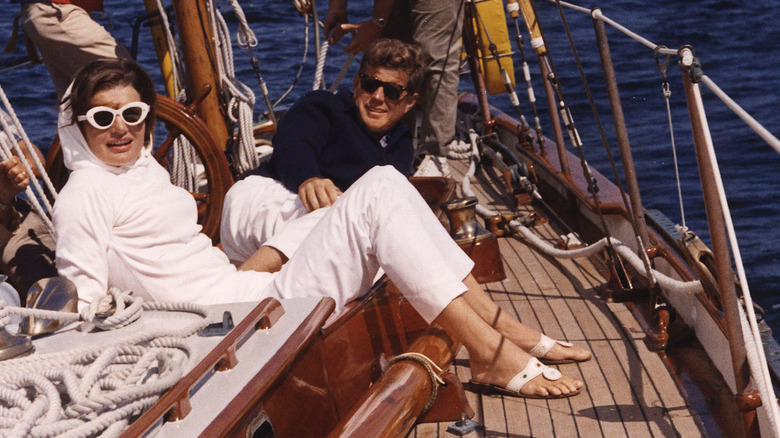 Getty Images/Getty Images
It is no secret that the Hamptons are a hot spot for vacationing celebrities and politicians. According to History, Jackie Kennedy Onasis was born in Southampton, New York, making it one of her favorite getaways from life at the White House. For generations, her family owned a gorgeous summer home in the area (via Curbed). Originally built in 1865, Jackie Kennedy's family mansion hit the market for $7.5 million in 2020. The former first lady spent the majority of her summers there during her childhood and throughout her time as the president's wife.
The estate, known as Lasata, was originally owned by her grandparents and it has been sold several times since the family parted ways with the property. According to the New York Post, the Hamptons were a favorite summer destination for Kennedy Onasis, where she spent much of her time riding horses. She even had a riding property located in East Hampton that recently went on the market for $2 million!
Jackie Kennedy loved beach towns on the East Coast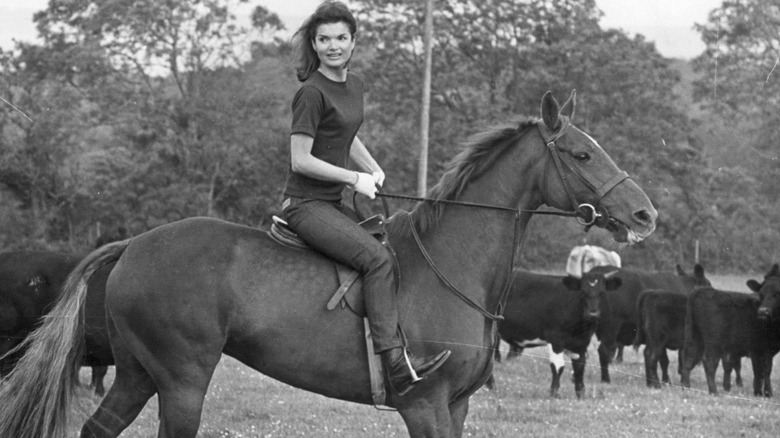 Keystone/Getty Images
Jackie Kennedy was an East Coast girl through and through. While her presidential husband enjoyed vacationing in the hot desert of Palm Springs with his famous pals like Frank Sinatra and Peter Lawford (via Desert Sun), she liked to stay close to home. Newport, Rhode Island, was another favorite vacation destination for the first lady (per Travel and Leisure). She and her first husband even tied the knot at a Catholic church there on September 12, 1953. The Kennedys would often return to Newport during the summer months to vacation with their children, as it served as a nostalgic location for the couple.
Hyannis Port, Massachusetts, was another vacation destination for the Kennedy family. After JFK had become president, the first lady would often summer in Hyannis Port at her in-laws' property. According to CNN, the Kennedy Compound, as the property was known, was a favorite vacation spot for the entire family.
When Kennedy wasn't enjoying the beaches of the East Coast, she enjoyed city life in places like New York and Boston. However, she often chose to spend her summers in the quiet towns of her youth.