The Truth About Kayleigh McEnany And Dr. Anthony Fauci's Tense Relationship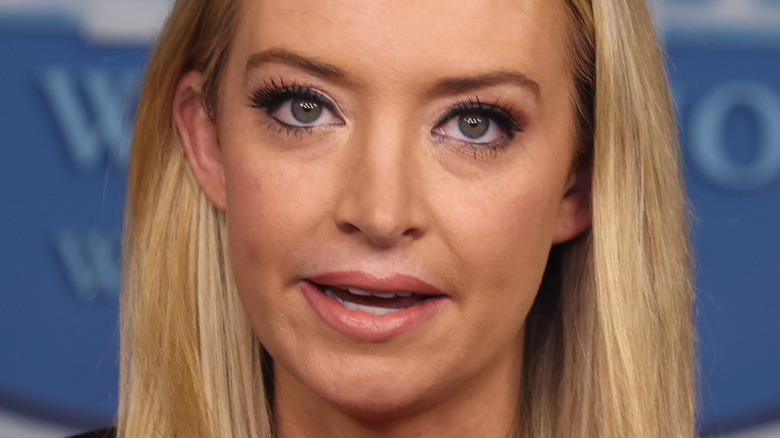 Tasos Katopodis/Getty Images
Former White House Press Secretary Kayleigh McEnany has some strong words for long-serving Chief Medical Advisor to the President Dr. Anthony Fauci (via The Guardian), claiming that he may have lied to Congress.
The current Fox News contributor spoke on air about a new report revealing that the novel coronavirus may have originated in a lab in Wuhan, China. On "Outnumbered" — the show McEnany hosts alongside Harris Faulkner, Emily Compagno, and guest panelists — she suggested that if the virus did originate from a Wuhan lab, American taxpayer money was probably used to fund the research which led to the virus leaking. Not only that, but she claimed that if Dr. Fauci was aware of the risk but still went ahead and gave his approval to the funding, he may have lied to Congress (via Fox News).
The pair have a pretty tense relationship, as it's not the first time she's spoken out against the physician and scientist. Back in June, she claimed that he had "lied to the nation" about the vaccine originating naturally. "He gets an email from the non-profit that gave the money to the Wuhan lab thanking him for using his respected voice to maybe cover up the fact that it started in a lab," she alleged at the time (via Raw Story).
Kayleigh McEnany accused Dr. Fauci of lying to Congress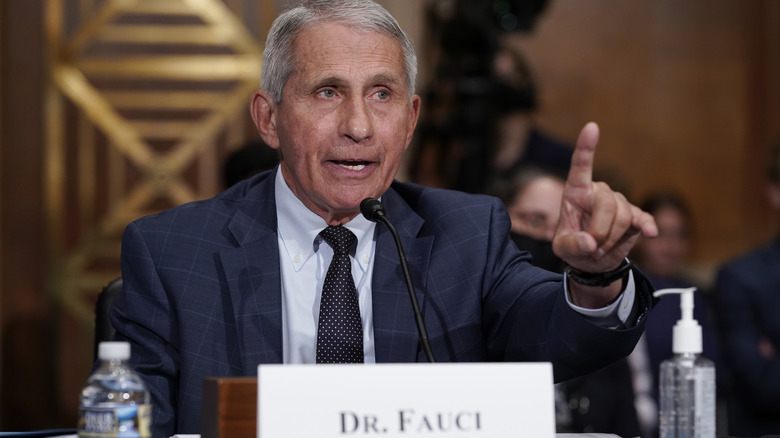 Pool/Getty Images
Addressing viewers, Kayleigh McEnany alleged that Dr. Anthony Fauci "can't be truthful because the truth would mean that very likely, if this did originate in the lab, U.S. taxpayer dollars helped to fund a pandemic that was unleashed upon the world out of a lab in Wuhan, China."
"What is so galling to me," she continued, "is when you read these 900 pages of documents that were obtained by The Intercept, the grant request actually acknowledges the dangers of this research" (via Fox News). McEnany is echoing the thoughts of Sen. Rand Paul, who also claimed that the new documents prove that Dr. Fauci, who is backed by President Joe Biden, lied to Congress (via Fox News). On Twitter, he wrote, "Surprise surprise — Fauci lied again ... And I was right about his agency funding novel Coronavirus research at Wuhan."
Dr. Fauci has consistently denied that the National Institutes of Health funded research in Wuhan, but it's clear that McEnany in particular certainly does not believe him.