Inside Da Brat's Friendship With Mariah Carey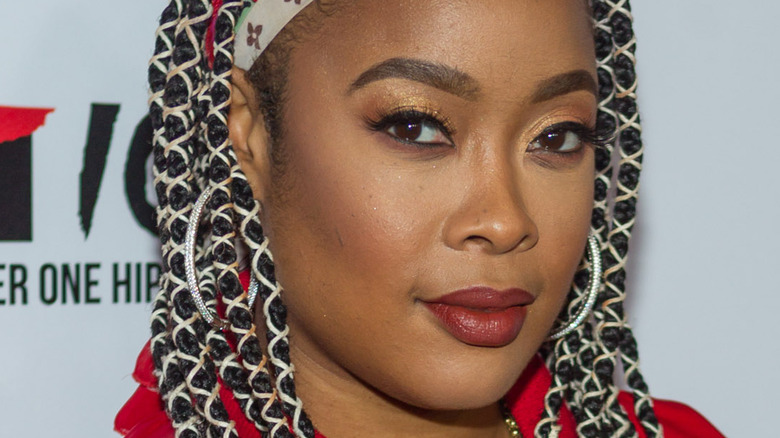 Jamie Lamor Thompson/Shutterstock
Da Brat, born Shawntae Harris, rose to fame in the 1990s. She began rapping at the age of 11. In 1992, her career skyrocketed after winning an amateur rap contest and meeting Jermaine Dupri's protégés Kris Kross. Following their initial meeting, Da Brat met with Dupri and signed to the label So So Def. She released her debut album "Funkdafied" in 1994.
In their best female rappers of all time roundup, Mercury News ranks the Chicago native at no. 7. The outlet refers to the rap legend as "a game-changer" for becoming the "first female solo rapper to score a platinum platter with ... 'Funkdafied.'" Her feisty persona partnered with her edgy lyrics distinguished her from other female rappers of the time.
The release of her second album, "Anuthatantrum," catapulted Da Brat into a new level of fame. According to All Music, the album reached the R&B Top Five and Pop Top 20. The hip-hop icon has collaborated with prominent musical talents throughout her career, such as "the Notorious B.I.G., Missy Elliott, Mariah Carey, Destiny's Child, Lil Kim, and many more" (per US Weekly). Da Brat met Carey in 1996, remixing Carey's chart-topping single "Always Be My Baby."
In an interview with Variety, Da Brat describes the experiences as "one of the most monumental moments" in her life. Although their initial meeting was a little rocky, it set the foundation for a long-lasting bond between the rapper and the singer.
What happened when Mariah Carey met Da Brat?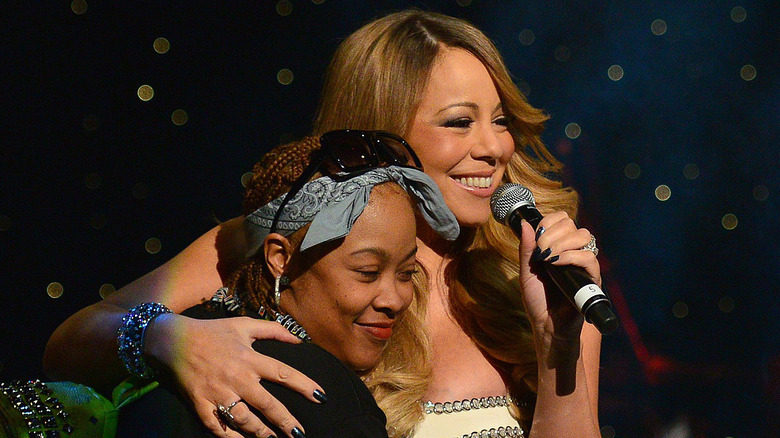 Prince Williams/Getty Images
In the interview with Variety, Da Brat discusses the longevity of her friendship with Mariah Carey. "Me and Mariah are both Aries, and we're both eternally twelve," Brat shares. "So we hit it off from the get-go." In 1996, Carey invited Da Brat and Jermaine Dupree back to her Bedford mansion. Carey shared the home with her then-husband Tommy Mottola.
"She had to whisper to talk to me because there were cameras everywhere and microphones in the walls," Da Brat recalls. After showing her around, Carey decided to escape the studio for a quick fast food run. Once the ladies left the mansion, Dupree says "all hell broke loose." In her memoir "The Meaning of Mariah Carey," Carey describes the incident. 
"While Jermaine was in the studio, concentrating on laying down the beat for the track, security had busted in and interrogated him, with their guns out," Carey writes. "They yelled at him: 'Where is she [Da Brat]? Tell us where she is!" (via Vulture). Da Brat believes the incident was life-changing for Carey.
"That's why she is so serious about making sure she makes all her decisions, writing all of her songs, and being a part of everything that happens in her career," Da Brat explains. "Because of all the bulls*** she went through, she calls the shots now" (via Variety).
The friendship between the two women bloomed from adversity and has withstood the test of time.