Why Fans Are Concerned About Millie Bobby Brown And Drake's Friendship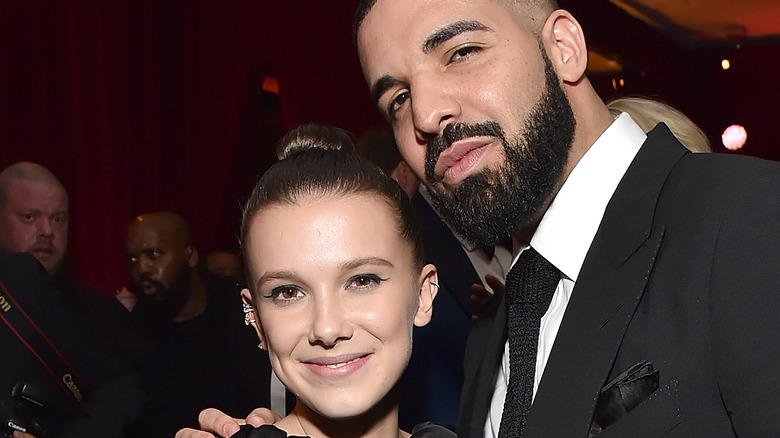 Kevin Mazur/Getty Images
Millie Bobby Brown and Drake are among the weirdest celebrity duos, maybe ever. As Cheat Sheet notes, there's a massive 18-year gap between them, which has given fans of Brown, in particular, major cause for concern. The "Stranger Things" star and Canadian rapper first crossed paths in Australia in 2017, and have been close ever since. At the 2018 Emmys, Brown gushed, "I love him. ... He's honestly a great friend and a great role model. You know we text. We just texted each other the other day and he was like 'I miss you so much,' and I was like 'I miss you more.'"
She added, "He's great. He's coming to Atlanta, so I'm definitely going to go and see him. I'm so excited." According to the British actress, the two frequently talk about boys, with Drake offering Brown some much needed, presumably grown-up, relationship advice. However, she wouldn't be pressed to divulge what the two of them discuss specifically. Regardless it seems like the "Stranger Things" star is perfectly comfortable having a friendship with someone who's old enough to be her father. Although it might be unconventional, is there really any reason to judge them?
There's a significant age gap between them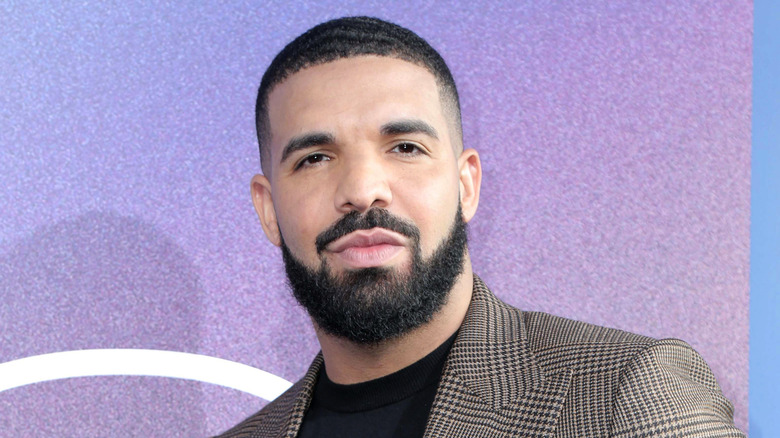 Kathy Hutchins/Shutterstock
Although there's no reason to believe there's anything romantic going on between Millie Bobby Brown and Drake, as Jezebel argues, their relationship is inappropriate at best. After all, it wasn't too long ago the "God's Plan" hit-maker was linked to then-18-year-old model Bella Harris, as Page Six reported at the time (she later denied it, as per Billboard). Twitter users aren't impressed with their friendship either way, with one quipping, "What the f*** kind of boyfriend advice is Drake gonna give Millie Bobby Brown? 'Make sure you call him on his cellphone or he'll get possessive and weird, as is his right as a man,'" in reference to "Hotline Bling," one of the rapper's biggest and simultaneously most contested songs (via Medium). 
Another commentator admitted, "I have a niece around Millie's age. if she came over here talkin about a 31 year old man texting her... i'd HIT THE ROOF." Although Drake kept schtum about the situation, Brown took to her Instagram Story to denounce those making things weird, as she saw it. According to Teen Vogue, the "Stranger Things" breakout wondered, "Why u gotta make a lovely friendship ur headline? U guys are weird." She went on to claim Drake was someone who'd helped her navigate the entertainment industry, offering his "wisdom and guidance." Brown also suggested people focus on what's truly important. Still, social media users continued to describe Drake's behavior as "creepy" and even compared it to "grooming."