How Dopamine Dressing Is Becoming The New Street-Style Trend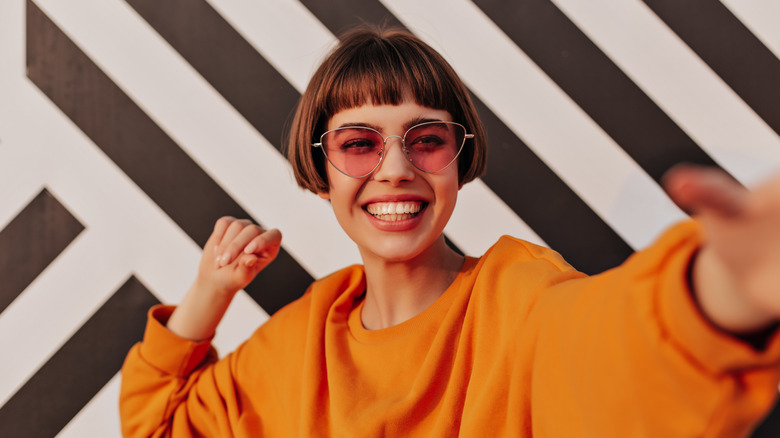 Look Studio/Shutterstock
There are as many different reasons to put outfits together as there are people in the world, but people tend to wear what makes them feel happy. It turns out there's actually a name for it. According to Vogue, "dopamine dressing" is a thing, and it's all about bright colors and fun accessories. Coming off a year of lockdown, people are switching up their styles and getting a little more creative with their looks.
Pandemic life took fashion in a whole new direction. The world went from workwear and pants with zippers to at-home tie-dye and monochromatic sweatsuits. Apparently, it made people happier, too. Vogue calls it "dopamine dressing," which refers to the drug that mediates pleasure in the brain (via News Medical). Basically, it's a quirky way to say dressing for fun instead of for a typical purpose. People are starting to wear a bit more over-the-top colors, styles, and accessories to make themselves feel good, according to the publication.
Considering that this trend means that you can create the rules, this could be the most impactful fashion trend yet. Say goodbye to the days of feeling pressure to dress and certain way, and say hello to more happiness in your wardrobe.
'Dopamine dressing' is about wearing what makes you happy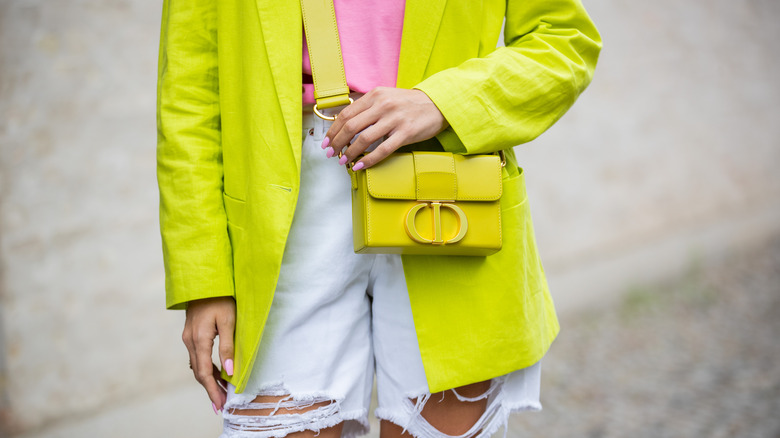 Christian Vierig/Getty Images
While bright colors, prints, and accessories are typically a summer trend, the colors are here to stay. While the pandemic itself did not bring much joy, Professor Carolyn Mair PhD and author of "The Psychology of Fashion" tells Vogue that post-lockdown life is becoming a bit more bright. "Now we have this freedom they are saying, I'm going to dress outrageous. I'm going to wear stuff that shows," she tells Vogue. "I'm going to be out there and really be seen."
This fashion mindset is leading to the term "dopamine dressing". Basically, that's a fancy way of saying wearing brighter colors that actually spark joy in your day to day life. The best part is that, unlike other fashion trends, there's no way to mess this one up. Simply wear the colors and styles that make you happy and you're doing it right.
There are tons of different colors that spark joy in different people. For example, cool and warm colors emote different feelings. "There are some interpretations of colours that are universal," fashion psychologist Shakaila Forbes-Bell tells Harper's Bazaar. "Cold colours like blue induce feelings of calmness and creativity, while warm colours like red can cause feelings of excitement and arousal, but happiness is too subjective an experience to be pinned down to one colour."
There's no wrong way to pull off the 'dopamine dressing' fashion trend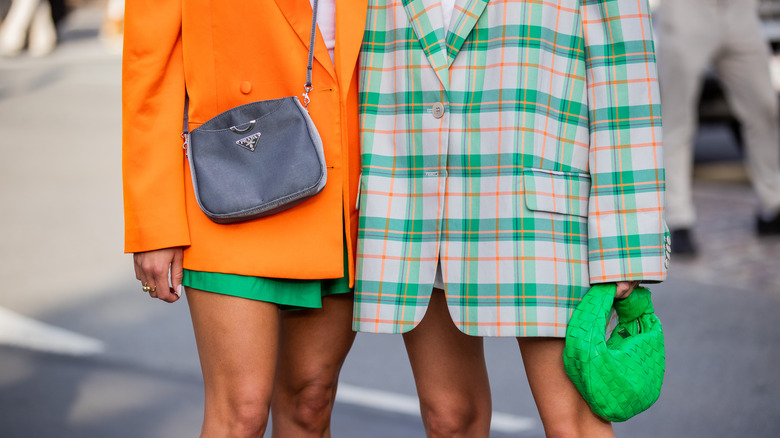 Christian Vierig/Getty Images
After spending most of 2020 in lockdown, it only makes sense that people would want to bring more happiness and color into their wardrobe. There are so many ways to nail this trend, from wearing bold jewelry with pops of color to mix-and-matching color palettes that you never have before. The best part is that you can nail it using items that are already in your closet. 
If you're looking to stock up on some more colorful styles, you're not alone. According to The Washington Post, consumer shopping habits have shot up in 2021. That makes sense considering that more places are starting to open up and people are heading back to the workplace again. After the year everyone has had, bringing a little more color into wardrobes is a great way not only to lift your own spirits but the people you walk past as well.
Not sure where to start with dopamine dressing? It's as simple as standing in front of your closet, taking a look around and picking the items that bring you the most joy. I can only imagine how happy Marie Kondo is to see this fashion trend.