The Truth About Ryan Reynolds And Sandra Bullock's Friendship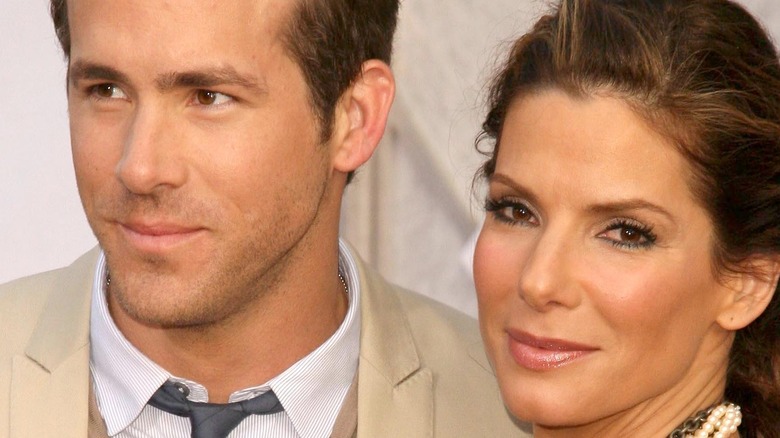 s_bukley/Shutterstock
In the year 2009, a little movie called "The Proposal" became the highest-grossing romantic comedy domestically (via MTV). The film earned $160 million and became the 10th best performing film of the summer, later earning $300 million worldwide (via CinemaBlend). The film follows Sandra Bullock's character, a type-A publishing exec named Margaret Tate, who ropes her assistant, Andrew Paxton (Ryan Reynolds) into pretending to be her husband so she can obtain her green card. Hijinks ensue when Andrew brings Margaret home to meet his family, and, naturally, the two ultimately fall in love. Today, it's no secret that a huge component of the film's success was due to the chemistry between Ryan Reynolds and Sandra Bullock.
Of course, given how often onscreen stars fall for each other off-screen, you can't blame people for thinking (or maybe even hoping) that Reynolds and Bullock were an item IRL. The two had even been spotted celebrating New Year's Eve together in Austin and vacationing in Wyoming. However, the two maintain that they are the title of yet another Reynolds rom-com — "Just Friends".
"A group of old friends that included Ryan and Sandra spent New Year's together at Sandra's restaurant Bess Bistro," Bullock's rep shared with People back in 2011. "They all had a great time ringing in the New Year as they have in the past ... as nothing more than friends."
Ryan Reynolds says working with Bullock is "like working with family"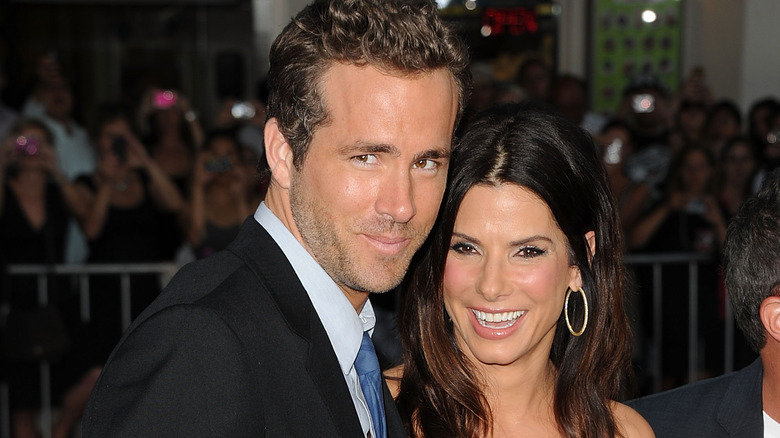 Jason Merritt/term/Getty Images
In the years since the filming of "The Proposal", both Sandra Bullock and Ryan Reynolds have seen changes in their personal life, with Reynolds divorcing actress Scarlett Johansson and later marrying Blake Lively, and Bullock settling down with long-time partner Bryan Randall.
As rumors flew about Reynolds and Bullock, Bullock addressed them head-on. "I think there will be a collective sigh amongst women in the United States when I say, he's not my lover, he's just an amazing friend I've had for 10 years. And I hope there's more friendships like that, but I don't get his loving after dark," Bullock told TMZ (via Goalcast). Reynolds made similar comments when discussing his and Bullock's chemistry on the film, telling Inquirer.net, "We had known each other for a long time when we went into that. If it's the right [project], we'll do it because it's like working with family. It's a great experience." Reynolds has even grown close with Bullock's son Louis, though he did tell Us Weekly in 2011, "I don't think I've officially held the title of uncle."
However, Bullock/Reynolds fans may (hopefully) rejoice: It was announced in October 2020 that each had signed on for the romance-action film "The Lost City of D" (via Entertainment Weekly). While fans might have to settle for just an onscreen Bullock/Reynolds romance, it seems worth the trade.