How Mina Starsiak Hawk Shut Down Mom Shamers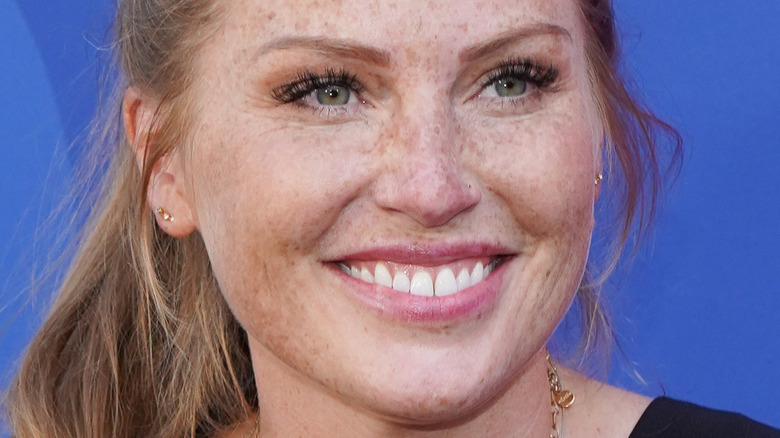 Rachel Luna/Getty Images
Fans have gotten to know Mina Starsiak-Hawk and her adorable little family rather intimately on HGTV's "Good Bones." The renovation expert and Two Chicks and a Hammer owner has always been forthright about the realities of being a working mother, from the physical strain to the emotional toll it takes. 
Following the birth of daughter Charlotte in late 2020, the reality star admitted on Instagram, "I don't lovingly embrace my post baby body, particularly my scar and the lovely 'shelf' that comes along with it." Starsiak-Hawk shared photos of her C-section scar alongside the lengthy post, in which she opened up about feeling pressured to embrace a postpartum body that no longer feels like her own. The "Good Bones" star continued, "It reminds me that I was cut open and put back together in a way that doesn't feel like ME." She added, "And for some reason I feel bad about that." 
The mother of two went on to argue that she had neither the time nor the inclination to work out constantly while depriving herself of certain food and drinks, because she's got plenty more important things to worry about. The HGTV host revealed her plans to undergo a tummy tuck and remove her "tragic-looking scar," reaffirming her desire to be as open as possible on social media. However, despite her impressive honesty, fans still had an issue with Starsiak-Hawk's decision — but she fought back. Keep scrolling to see how she shut down mom shamers.
Mina Starsiak-Hawk preached support and self-love
In early January, Mina Starisak-Hawk revealed that she underwent successful breast implant and tummy tuck surgeries and spoke about it in a glossy People photoshoot. The mother of two admitted, "My C-section scar was a very visual and physical reminder of not looking like myself and not feeling like myself anymore." 
Aside from not being comfortable in her skin, the HGTV host developed an ab separation during pregnancy, which made it impossible to do her job. "I just didn't feel like I was going to be able to work out and get this back to where I felt strong, like myself, like I did before kids," she further explained of her decision to go under the knife. However, despite Starsiak-Hawk's frankness, when she shared photos on Instagram, several fans criticized the mother of two for getting work done.
As House Beautiful reported at the time, the "Good Bones" star shared one such mean DM she'd received, alongside her firm response, to her Instagram Story. The woman in question criticized Starsiak-Hawk for acting as though post-pregnancy bodies aren't beautiful, to which she responded, "Putting the same amount of money towards a trainer just reiterates the idea that we can't have something or don't deserve something as women unless we've struggled physically, mentally, and emotionally." Describing the procedure as just one form of self-love, equal to many others, Starsiak-Hawk advised the woman to be kinder and more supportive rather than judging her decision.