The Real Reason Andrew Yang No Longer Identifies As A Democrat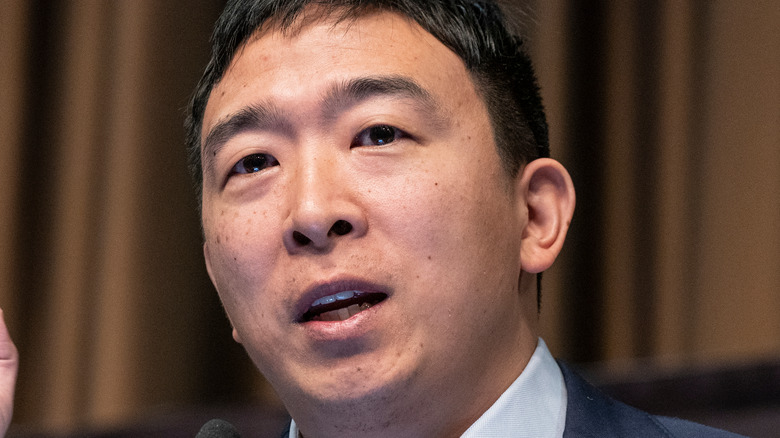 Lev Radin/Shutterstock
Andrew Yang burst onto the political scene in 2019 as a candidate in the Democratic presidential primary. Although he gained quite a following known as "The Yang Gang," he eventually dropped out of the primary when it became clear he didn't have nearly enough support to win the nomination following the Iowa caucuses where he barely pulled 1% of the vote, according to CNN.
In 2021, Yang, an entrepreneur who created Venture for America, a non-profit organization that trains young professionals (via Ballotpedia), entered the political fray once again, running for the Democratic nomination in the very crowded New York City mayoral race, but dropped out in June, according to Bloomberg. The mayoral race failure doesn't mean that Yang is done with American politics. In fact, he now wants to shake up the political world more, but not as a Democrat. He doesn't identify as a Democrat anymore and said he wants to start a third political party, according to Politico.
Andrew Yang is ready to take America in a new direction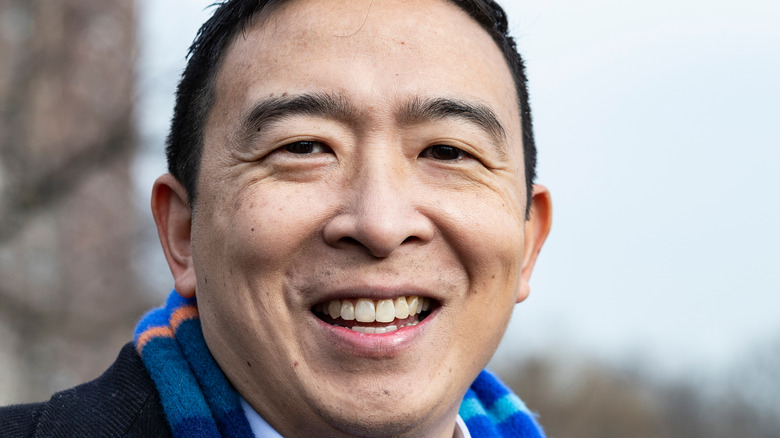 Lev Radin/Shutterstock
While Andrew Yang has not said what his new political party will be called or what policies it might address, he is set to launch this party on October 5, 2021 to coincide with the release of his new book, "Forward: Notes on the Future of Our Democracy".
From the description of the book, it looks like Yang no longer identifies as a Democrat because he feels both parties have failed America. Penguin-Random House describes the book in the following way: "Yang introduces us to the various 'priests of the decline' of America, including politicians whose incentives have become divorced from the people they supposedly serve ...The machinery of American democracy is failing, Yang argues, and we need bold new ideas to rewire it for twenty-first-century problems ... This is a powerful and urgent warning that we must step back from the brink and plot a new way forward for our democracy."
One of Yang's think-outside-of-the-box ideas when he ran for president was of a universal basic income (UBI) for all Americans, meaning citizens would receive a $1,000 monthly government check no matter their income bracket, according to Politico. Whether that policy would be a hallmark of his new party platform remains to be seen.