Why Kim Kardashian's Latest Outfit Has People Talking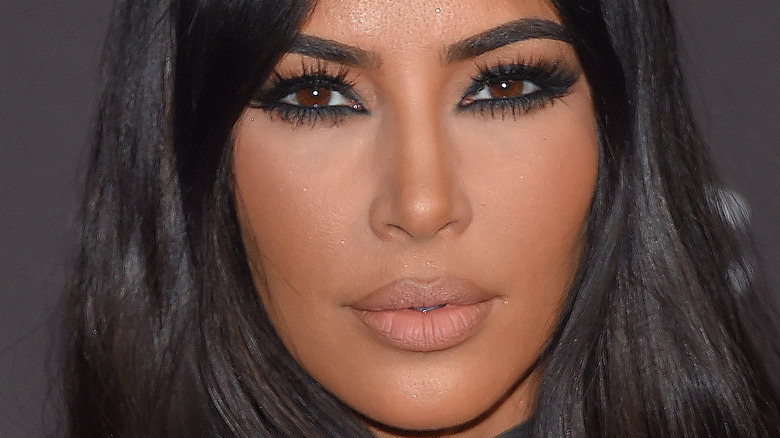 DFree/Shutterstock
Kim Kardashian is no stranger to taking fashion risks. Some have been well-received by fans, while others, well, not so much, with an entire Cafe Mom story being devoted to her outfit fails. Even the reality star herself admits that at times, she has made ill-advised fashion choices, with one memorable example being her 2013 Met Gala dress, a printed floral ensemble dubbed the "couch" gown (via BuzzFeed). "I was so insecure," she admitted about the fashion low.
Now, a new fashion moment is giving the internet something to talk about this weekend. Kardashian shared the daring ensemble via Instagram, which features a head-to-toe leather outfit, including, gulp, a bondage-inspired headpiece.
The mom of four donned the Balenciaga-designed look as she arrived in New York for this year's Met Gala, according to People. As the outlet points out, at least the star's safety was considered in the outfit choice, as her mouth was completely covered.
Of course, social media had plenty to say about Kardashian's attire.
Social media is divided about Kim Kardashian's leather look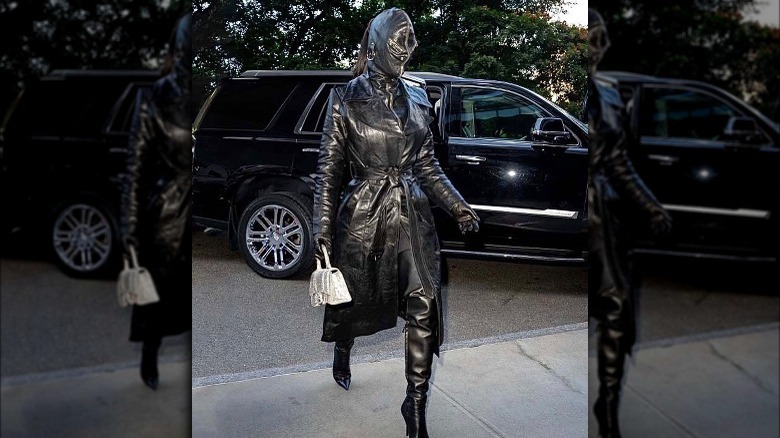 In the SKIMS founder's Instagram post's comments section, fans and followers quickly weighed in about her all-black, leather outfit. "BADASSSSSSSSSSSSSSS," someone enthused, while another person asked, "Are you okk?"
"Not ur best look," someone else said about Kardashian's attire, which also featured black, knee-high boots. "Omg that looks so stupid," opined another non-fan, while on the other side of the aisle, Amelia Gray Hamlin complimented the star by saying, "sick!"
Over on Twitter, opinions kept flooding in, with one person commenting on the "People" story's page, "Am I the only one that thinks- Too Much Girl- and Desperate For Yet More Attention? If so, sorry." Meanwhile, many people called the look "bizarre," while many folks said the look was giving off "Matrix" or "American Horror Story" vibes.
No matter your take, one thing is for sure: Kim Kardashian sure knows how to get people talking!