Donald Trump Jr.'s Request For Questions For Donald Was An Utter Fail. Here's Why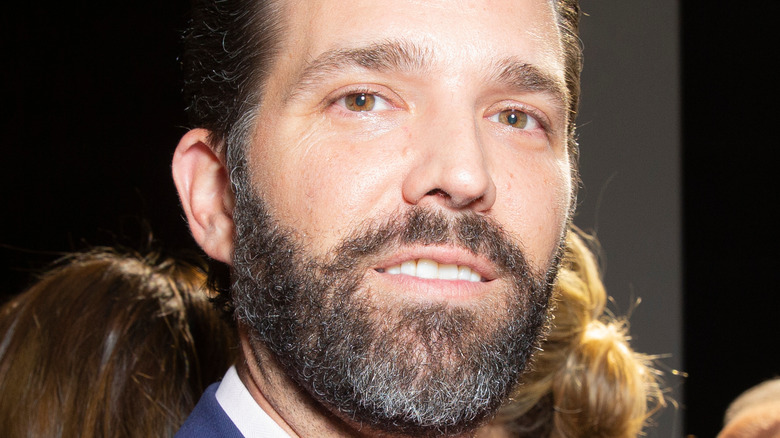 lev radin/Shutterstock
In what can only be described as a unique approach to commemorating the 20th anniversary of 9/11, Donald Trump and son Donald Trump Jr. provided commentary to Evander Holyfield's boxing comeback fight on September 11. Along with speaking on the fight, the prior POTUS and his son used the opportunity to hold a sort of Q&A with the public. But when Donald Trump Jr. made a call for questions for his dad to answer, it didn't exactly go as planned. Here's how it went for him.
Donald's pay-per-view appearance cost viewers $49.99 and raised more than a few eyebrows for its timing, per Yahoo! As much of the world, and American political leaders in particular, took the opportunity to reflect and memorialize the thousands of lives lost in 2001, the Trumps' decision to remain the centers of attention and appear in such a lighthearted way brought about criticism from both sides of the political spectrum (per HuffPost). As a nearly life-long New Yorker, many on Twitter were shocked to learn that Donald didn't approach the anniversary with more reverence. 
Donald Jr. issued his appeal for questions for his father on Twitter with a video and a written message. "The biggest fight of the year this Saturday. My Dad – President Trump- & I, are commentating and we're going to have some fun," he wrote. "I'll finally pushing him [sic] on the burning question. Are aliens real and what's up with Area 51? Shoot me some other questions here!" 
Twitter reacts to Donald Trump Jr.'s call for questions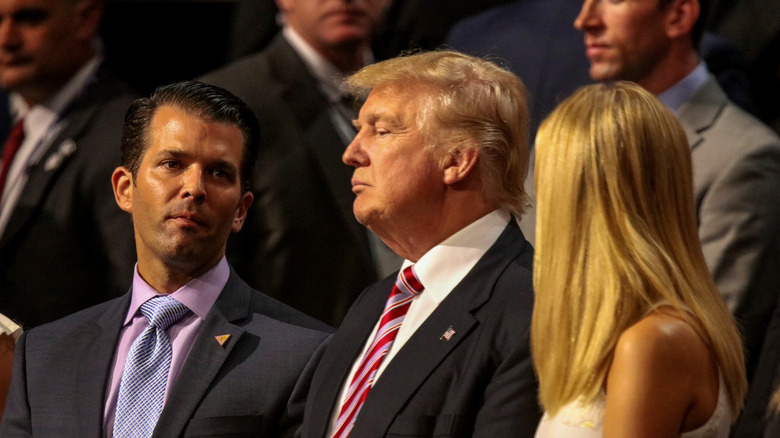 mark reinstein/Shutterstock
Suffice it to say, Donald Trump Jr. did not receive the sorts of burning questions for his father that he was expecting. Along with outright criticism of the appearance, users flooded his Twitter replies with outright burns in the form of questions. "Is he going to advise the dude who gets knocked out to call the fight rigged?" one user tweeted. In response to this question, another user tweeted, "You've got it wrong ... you have to call the fight result rigged way before the match, that way your supporters can cry foul before they get in the ring."
Rigged elections and rigged boxing matches were a common theme in the responses to Donald Jr.'s video. "'You know, in many ways this fight is rigged, just like the election was rigged. But I'm a fighter. And if it wasn't for all the election fraud, I would still be fighting for the American people.' —Donald Trump, probably five minutes into whatever this is," joked another user in a separate tweet. 
Whatever questions Donald Trump Jr. was hoping to get for his father, the responses were likely not it. The public did not take kindly to the pair's decision to commentate a boxing match on the anniversary of one of the most devastating events in American history and they made it known on Twitter.