Inside Jessie James Decker's Marriage To Eric Decker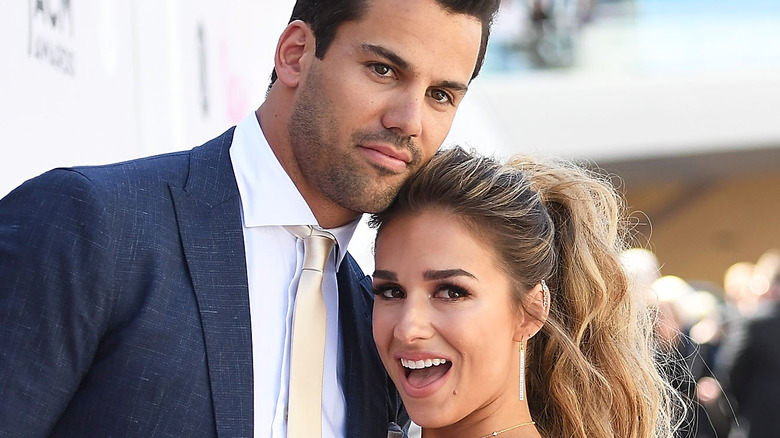 Matt Winkelmeyer/acma2017/Getty Images
Jessie James Decker and her husband, Eric Decker, seem to have a storybook marriage. The reality stars, who are not only one of the most gorgeous celeb couples around but are super talented as well, first met through a mutual friend, per Life and Style. Jessie previously told Access Hollywood that one day she received a text message from a pal telling her about a "stunning" man she just had to meet (via E! Online). The couple finally linked up in March 2011 and had instant chemistry. When Eric came to visit Jessie in Nashville, the pair hit it off so well that before leaving, he decided to made things official. "On the way to me taking him to the airport he asked me to be his girlfriend, literally like an 8th grader," she admitted.
The couple dated for a year before Eric, a former NFL player, popped the question in April 2012. "Eric is a great man," Jessie said after the engagement news was announced (via CMT). "He is my soul mate. We feel so fortunate to have found each other," she continued. The following year, the couple walked down the aisle at St. Francis of Assisi in Castle Rock, CO and the ceremony was filmed for their reality show.
Jessie and Eric are totally couple goals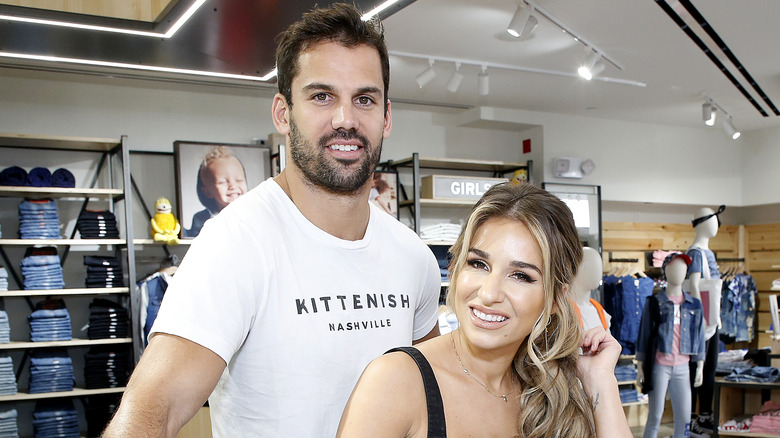 John Lamparski/Getty Images
A few months after their wedding, Jessie James Decker and Eric Decker announced that they were expecting their first child together. The couple gave birth to their daughter, Vivianne, in March 2014 (via Us Weekly). The following year, the country singer gave birth to the pair's second child, a son named Eric Jr. In March 2018, the couple grew their family again when their son, Forrest, was born.
In 2019, Jessie revealed that sharing children with Eric brought the couple closer together. "It's made it even stronger and made us even closer because you know — think about it," she explained, "We created these people out of love together and now we're raising three people that we have in common, not just biologically, but we have in common that we are so madly in love with these people that we created together." For his part, Eric also gushed over his wife, confessing that she is the perfect complement to his personality. "A lot of times, I can get more serious ... and she's so free-spirited. I just found that she brings kind of that enthusiasm to the house and kind of the light-hearted energy that I think is so important to just enjoy, you know, the moments that we have," he said.
Jessie and Eric seem to have it all, and they're still going strong more than 10 years after their first meeting. The pair truly is the definition of couple goals.