Why Donald Trump Is Fuming Over Jimmy Fallon And Jimmy Kimmel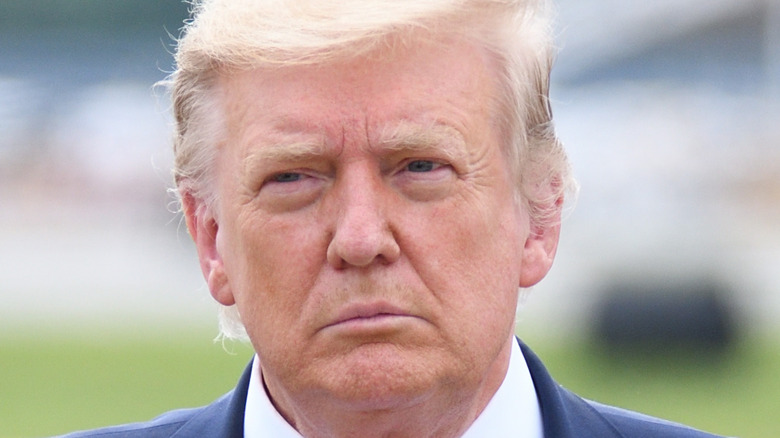 Evan El-Amin/Shutterstock
Former President Donald Trump is no stranger to the sting of late-night comedy. Throughout the years, he has been the butt of many a joke made by "SNL" and the various comedic talk shows. And his political career only served to provide even more content for hilarious pop-culture comedy. But it seems that he has had enough of the jokes. Trump is fuming over Jimmy Fallon and Jimmy Kimmel after the pair made him a common topic of discussion on their shows. Trump claims they both treated him well in the past before turning against him. 
When speaking with Fox News's Greg Gutfeld, Trump shared his thoughts on his treatment by the hosts of "The Tonight Show" on NBC and "Jimmy Kimmel Live" on ABC. Trump compared Gutfeld's own show to those of his critics, calling the Fox show funny and serious, per Newsweek. As for late-night comedy, Trump is not a fan. "And I kept saying, why can't these other people be beaten?" Trump said. "They're horrible. I know 'em all. Why can't they be beaten? And Jimmy Fallon, I watched him, so remember with the hair?"
The prior POTUS was referencing his appearance on Fallon's show during the 2016 election when the host asked to touch Trump's hair. The exchange garnered some criticism, with many feeling that Fallon was too chummy with such a polarizing candidate, per The New York Times. Fallon later apologized for the incident, something Trump took offense to.
Donald Trump vs. late-night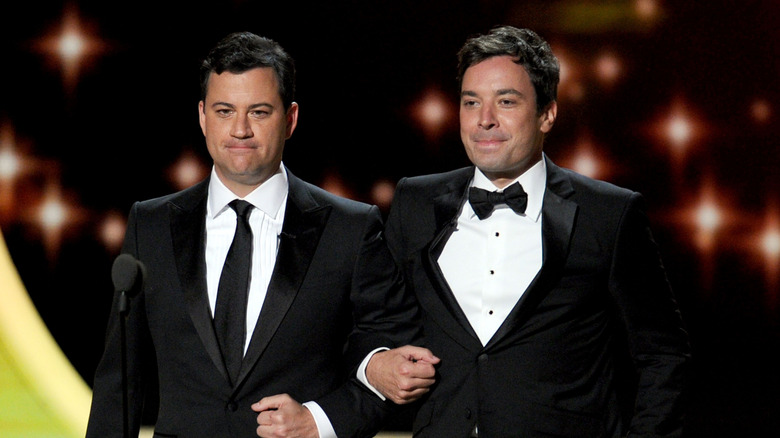 Kevin Winter/Getty Images
According to Newsweek, Greg Gutfeld then pointed out that Jimmy Fallon "was having a good time until his friends came after him." Donald Trump agreed, adding, "He was having a good time. He said, 'Can I touch your hair?' And I said, I'd rather have you not, but if you want,' and he starts messing it up ... And then what happens? They go after him and then he apologizes. And by the way, he got great ratings. It was great."
After agreeing that Fallon's show went downhill following his apology, the two went on to discuss another big name in late-night: Jimmy Kimmel. "The other one used to treat me – ABC – Jimmy Kimmel – he used to treat me ... I did his show many times before I was doing this," Trump said. "He used to greet me on the sidewalk. He used to wait for me, nobody else. This was before I was a politician."
But after Trump moved into politics, Kimmel also apparently changed his tune, Trump said. "He used to, Jimmy Kimmel, wait for me outside his studio in Los Angeles, very crowded street, he kissed my a** all the way in and then what happens? I run and then all of a sudden I'm like this horrible guy." Trump and Gutfeld continued on in this vein for the remainder of the interview before coming to their close. Fallon and Kimmel will likely respond in kind and odds are that their feelings aren't too hurt.