Why Fans Are Surprised To See Jonathan Taylor Thomas Again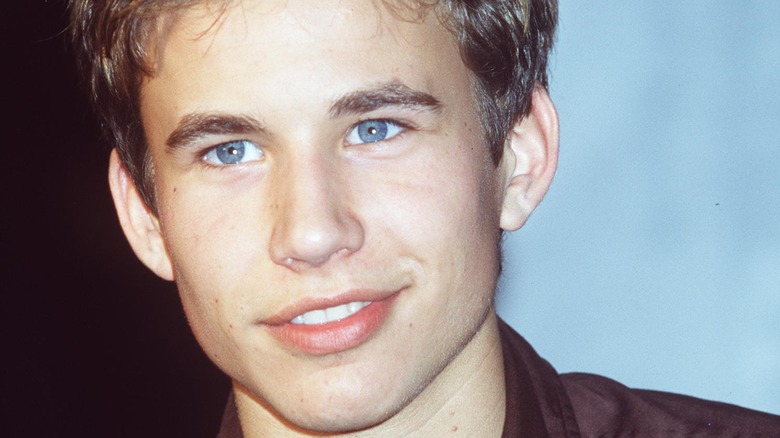 Brenda Chase/Getty Images
Ask any millennial woman who had access to a TV in the '90s who her childhood crush was, and many will certainly not hesitate to gush about Mr. Jonathan Taylor Thomas. 
The "Home Improvement" actor won the hearts of middle school girls across the nation with his sparkling blue eyes, raspy voice, and floppy, middle-parted hair. And although "The Lion King" star was once one of the biggest child stars of his generation, Thomas decided to opt-out of the limelight as an adult to focus on his studies, and possibly turn to direct, according to Vice.
However, years later in 2013, Thomas made an appearance alongside his former TV dad Tim Allen for a stint on "Last Man Standing," playing restaurant owner Jon Baker (via US Weekly). Many thought this would be the last they would see of the '90s heartthrob, but they were in for a special moment this summer. Keep scrolling to see why fans are surprised to see Thomas again.
Jonathan was spotted for the first time in 8 years
Much to the surprise of fans, Johnathan Taylor Thomas was spotted outside in Los Angeles in late June 2021. The former actor was walking his two small white dogs, sporting a New York Mets cap and New Balance sneakers, and vaping (via US Weekly). As of writing, he is 39 years old and this was his first public spotting in nearly eight years. Many remarked on Twitter that while still handsome, he appeared as an average middle-aged man, his glamorous Hollywood years long behind him (via Pop Culture).
It is unknown whether or not Thomas is slated to make another acting appearance in film or television, although his "Wild America" costar Devon Sawa told US Weekly in August that he spoke with Thomas recently. "We should totally do a TV show or something. I don't know if he wants to act anymore, I don't know what he's doing," Sawa told the outlet. "I need to have a serious one-hour lunch sit-down, figure out what that guy wants to do! 'You should be acting! Forget this Harvard nonsense, you should be acting!'"
Either way, whatever he chooses for his career inside or outside of the entertainment industry, we hope that JTT is doing well and living his best life.