The Best Styles To Pair With Boyfriend Jeans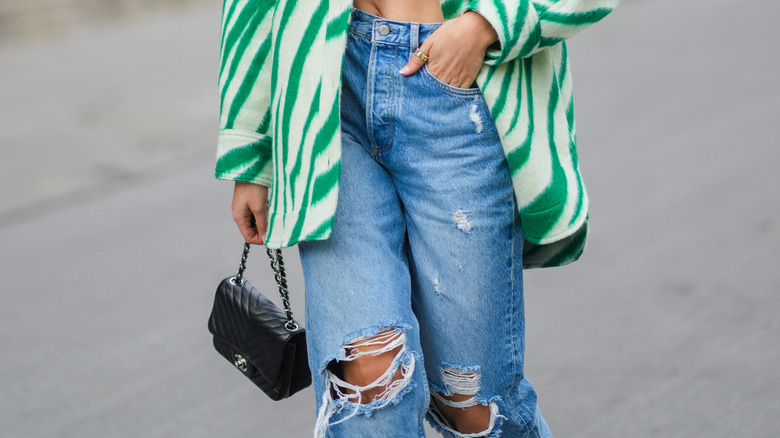 Edward Berthelot/Getty Images
The low-rise jeans of the early 2000s and the skinny jeans of the 2010s have taken a backseat to "boyfriend jeans," which have hit the 2020s Gen Z and Millennials with full force. The baggy, casual jeans often come with rips at the legs, a high-waist, and cuffs at the ankles. They are called "boyfriend jeans" because their slightly masculine quality means they could easily be found in your boy toy's closet (via Vogue). With washes in practically every color, but most commonly a light and medium blue, what's not to love?
These tough, loose-fitting jeans are versatile for both dressing up and dressing down, making them perfect to pair with a range of styles and accessories. But what should you wear with your edgy boyfriend jeans? There are many options out there to choose from, but keeping an eye on some of the trendiest dressers for inspiration, here are the best styles to pair with boyfriend jeans.
What the stars have been wearing with their boyfriend jeans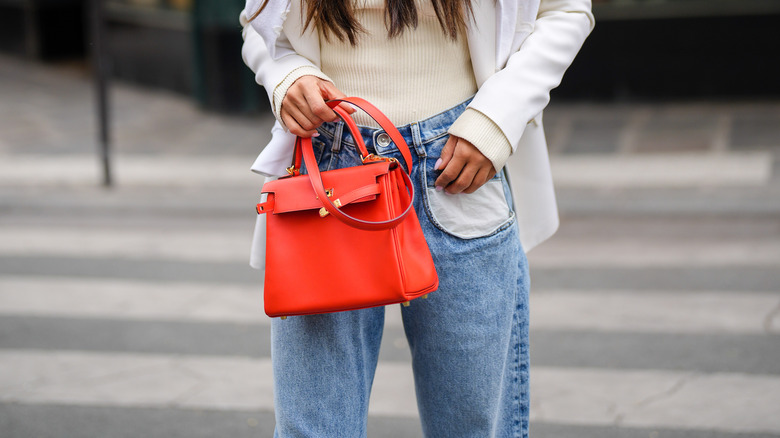 Edward Berthelot/Getty Images
If you're brave enough to pull off the denim on denim look, pair your boyfriend jeans with an oversized jean jacket. This will make Britney Spears and Justin Timberlake from the 2001 AMAs proud. "Grown-ish" star Yara Shahidi stepped out sporting this exact look, resembling a two-piece suit, with a pair of long earrings and stylish white pumps (via Seventeen).
If you want to throw things back to the '90s, pair your medium wash boyfriend jeans with a cute cropped baby tee. The tightness of your shirt will be a trendy balance to the oversized jeans, and even Kendall Jenner seems to agree, per Seventeen. To amp up your edgy vibes even further, take after model Gisele Bündchen and pair your boyfriend jeans with a sleek black bomber jacket and thin, strappy heels for the ultimate cool girl look (via Harper's Bazaar). Jessica Chastain and Margot Robbie both paired their boyfriend denim with a long, flowy trench coat, comfy flats, and sunglasses, per Harper's Bazaar. This look is perfect for the fall and ramps up your mysterious girl vibes. 
While boyfriend jeans can be rocked by anyone, use these trendy suggestions to step up your baggy denim game even further.