What Really Happened With Conor McGregor And Machine Gun Kelly At The VMAs?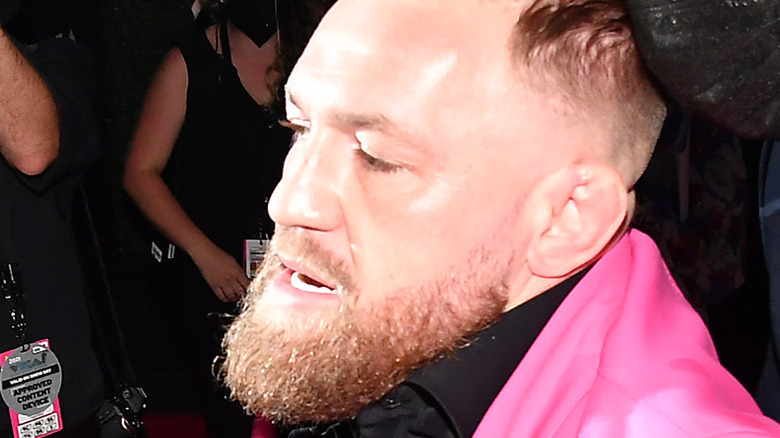 Jeff Kravitz/mtv Vmas 2021/Getty Images
What's an award show without a few fists being thrown? Of course, at the 2021 VMAs, things got a bit, uh, dramatic. According to People, a fight nearly broke out between MMA star Conor McGregor and rapper Machine Gun Kelly. Luckily, security guards and award staff managed to separate the two before blood spilled. But why were the two at odds in the first place? Per the outlet, it all started with a photo request.
Apparently, McGregor was a little starstruck and wanted a photo with Kelly, but his team said denied the request (via People). And, let's just say the boxer didn't take that answer too well. Next thing cameras knew McGregor is swinging his cane towards the rapper. He also allegedly threw his drinks at the "Bird Box" actor as well, per Page Six. "​​They scuffled then it settled down and Conor went for him again," the Page Six source reported.
Things got so intense that security debated removing professional fighter as they feared he would endanger the safety of Kelly and his girlfriend, Megan Fox.
MGK and Conor weren't at odds before the VMAs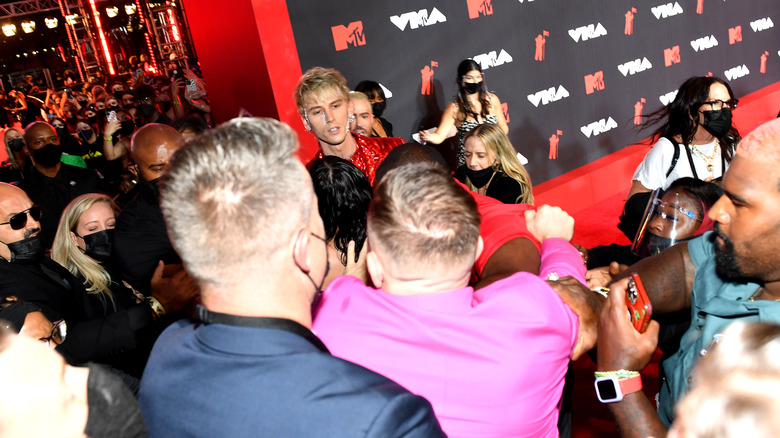 Noam Galai/Getty Images
Such a brutal fight must have come from some rivalry and prior issue, right? No. Per People, the two were never at odds before. Machine Gun Kelly even showed up at Conor McGregor's latest fight with his girlfriend in March. So, how can McGregor get so angry over something so simple like a photo?
And, that's not even the weirdest part. Despite photo evidence, McGregor's team has repeatedly denied such an altercation took place, per Page Six. "Conor only fights fighters," a member of his team told the outlet.
Well, whatever the case, both parties have forgotten the scuffle, according to People. The outlet also reported that both Kelly and McGregor were shown smiling and engaging in multiple displays of PDA with their respective partners, Megan Fox and Dee Devlin. McGregor's representative even confirmed to the outlet how the boxer has relaxed since the altercation, adding, "Conor and Dee are in their seats enjoying the show. Conor appreciates all his fans."