Why Justin Bieber's VMA Acceptance Speech Has Fans Scratching Their Heads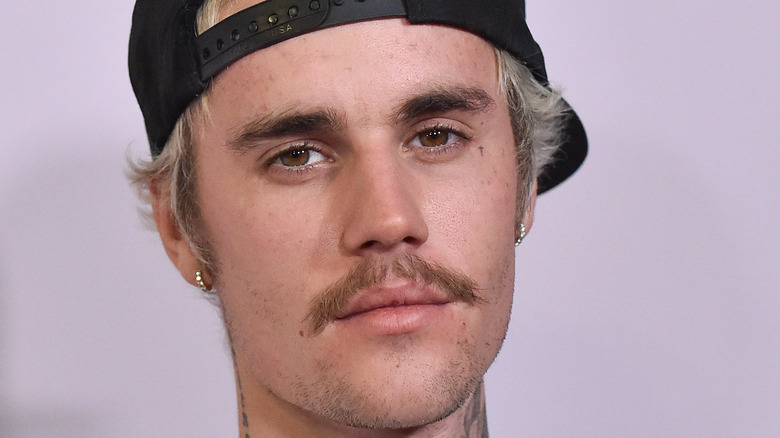 DFree/Shutterstock
Justin Bieber just won the Artist of the Year Award at the VMAs, but he's blowing up on social media for other reasons. The 27-year-old pop star beat out other crowd favorites for the award, including Ariana Grande, Olivia Rodrigo, Doja Cat, and Taylor Swift. However, that wasn't what caused Bieber to get backlash. After he ran up to accept his award in baggy jeans, a khaki-colored, oversized jacket, and a black hoodie, he gave an acceptance speech that rubbed people the wrong way.
"As we know, there's so much going on in the world as we speak," he began. "I know you guys have probably heard it a lot but we are in unprecedented times right now, with this, um, COVID thing that's happening." Bieber then backtracked. "You know, it's not a COVID thing, but it's a big deal, you know," (via Twitter).
Recognizing that the pandemic portion of his speech wasn't going well, Bieber quickly moved on and tried to make his point. "I just wanted to say that music is such an amazing opportunity and an amazing outlet to be able to reach people and to be able to bring us all together," he noted. "And that's why we're here right now." Unfortunately, the last part of the speech drove critics straight to Twitter, angry with the award-winning singer over his words and actions concerning COVID-19.
Justin got backlash for calling covid a "thing"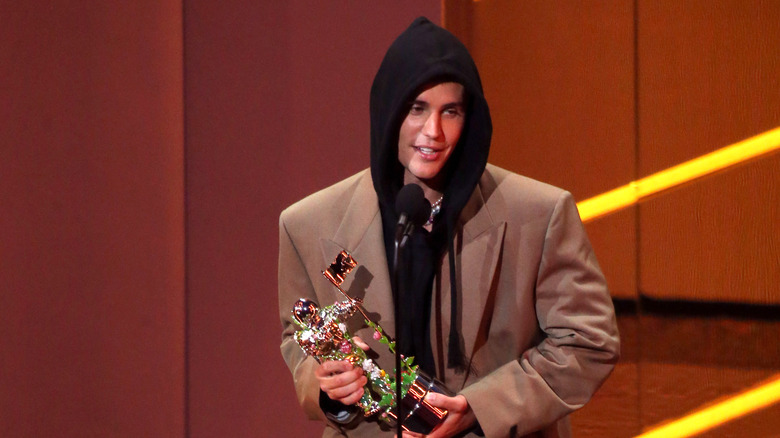 Bennett Raglin/Getty Images
Though Justin Bieber tried to acknowledge the seriousness of COVID-19, many critics on social media thought that he spoke about it the wrong way. 
"What is Justin Bieber saying? '..with this COVID thing, it's a pretty big deal...' Has he always been like this?!" one Twitter user exclaimed. "I know Justin Bieber did not call covid a 'thing,'" another user added. "Sir, this is a PANDEMIC, that has killed and hurt people, and he just called it a thing? I WANT HIM GONE."
Others thought that Bieber was hypocritical and insensitive for addressing fatal virus while still attending a crowded event. "Not Justin Bieber talking about covid and 'unprecedented times' to an arena packed full of ppl with their masks pulled down," a Twitter user wrote. Another person pointed out, "Justin Bieber calling covid 'this covid thing' goes to show how unaffected celebrities and the ultra rich are by the pandemic."