What We Really Know About Jared Kushner's Meeting With A Controversial Russian Lawyer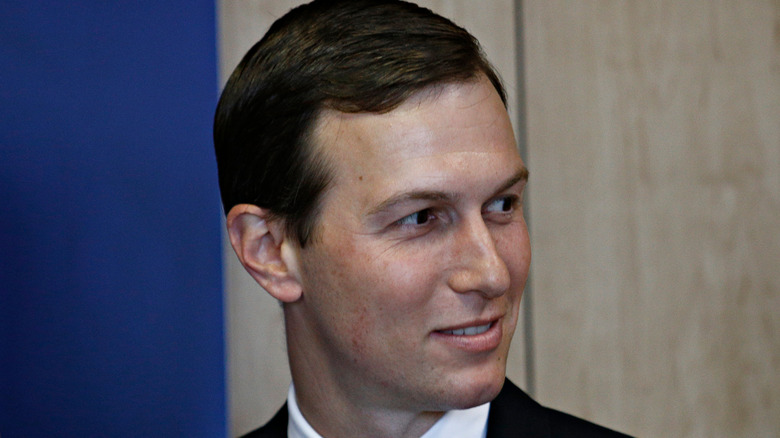 Alexandros Michailidis/Shutterstock
Former President Donald Trump's Son-in-law Jared Kushner, who is married to Trump's daughter Ivanka, has been making headlines since before Trump took office. His latest mention in the news, however, came just last month when a close associate of his, Ken Kurson, who had been pardoned by Trump shortly before he left office, was once again charged be the federal government for cyber stalking (via Politico). Kurson had served as the New York Observer's editor Jared Kushner owned and ran it. Now, prosecutors in Manhattan charge that back in 2015, when he was embroiled in a messy divorce, Kurson hacked into his wife's online accounts and sent threatening and harassing messages to several people. 
While Kushner is only involved in this scandal tangentially, he has made plenty of headlines with his own questionable behavior, especially back when his father-in-law was running for president. Specifically, one of the most controversial choices he made at the time was to meet with a Russian Kremlin-connected lawyer who promised him dirt on the Clintons when Trump was running against Hillary (via Cosmopolitan). 
What happened with Kushner and the lawyer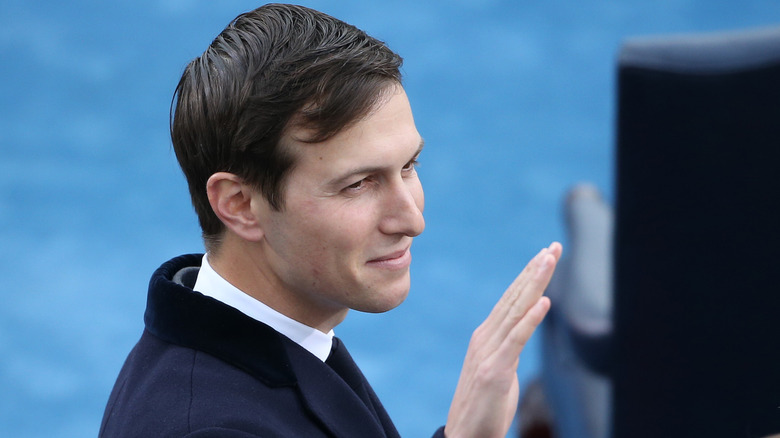 Bloomberg/Getty Images
Back in July, 2017, The New York Times broke the story that based on confidential documents the publication had obtained, Jared Kushner and Paul J. Manafort, Trump's campaign chairman at the time, had met with a Russian lawyer during the 2016 campaign. The purpose of the meeting, the documents revealed, was for the campaign to gain exclusive and damaging information that could be used against the campaign of Hillary Clinton. The fact that this lawyer was directly associated with the Russian Kremlin was scandalous enough, but The Times also revealed that three advisers to Trump's White House had been briefed on the meeting, and that two others close to Trump knew about it. 
Even more damning was that the meeting took place at Trump Tower itself on June 9, 2016, just two weeks after Donald J. Trump was officially named the Republican nominee for President. This revelation contributed to the launch of the investigation as to whether or not the Trump campaign colluded with Russia to affect the outcome of the 2016 presidential election. It never became clear whether the Russian lawyer in question, Natalia Veselnitskaya, actually gave Kushner and the Trump campaign damaging information on Clinton, as transcripts of what was said in the meeting were never discovered, but it was known that the meeting was scheduled specifically because she promised to do so.
In 2020, the Senate determined that Russia had in fact influenced the 2016 election (via NPR).