Kate Middleton Just Made Her First Personal Instagram Comment
Bart Lenoir/Shutterstock
The Duchess of Cambridge isn't exactly known for being the most social media savvy member of the British royal family. However, Kate Middleton recently made her first personal Instagram comment ahead of the U.S. Open final. 
According to Harpers Bazaar, Middleton left the rare Instagram comment to congratulate British tennis star Emma Raducanu following her U.S. Open semifinal victory and to wish her luck for the subsequent final match. "What an incredible achievement Emma! We will all be rooting for you tomorrow ... Wishing you the best of luck!," the Duchess wrote, signing the comment "C" which stands for her full first name Catherine. 
Per the BBC, British tennis champ Raducanu went on to win the 2021 U.S. Open during a thrilling final match against Canada's Leylah Fernandez on Saturday, September 11 in New York, becoming the first British female player to win a major tennis tournament in 44 years. 
Of course, Raducanu's stunning victory didn't go unnoticed by Middleton, who herself is a major tennis fan. 
Kate Middleton again took to Instagram to celebrate Emma Raducanu's victory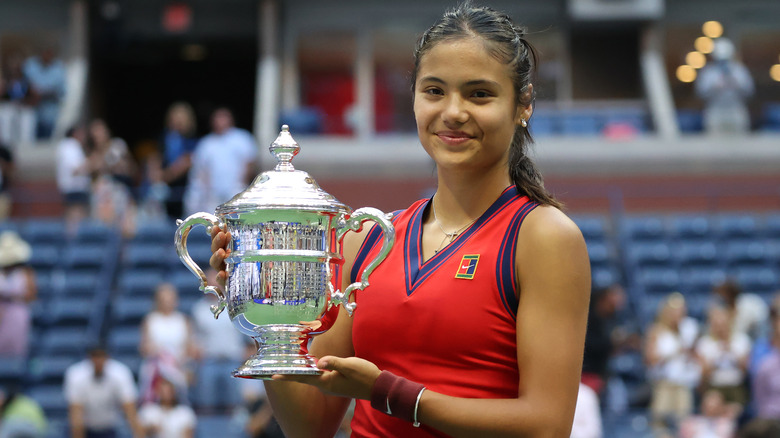 Al Bello/Getty Images
In an Instagram post shared almost immediately after Raducanu's U.S. Open win, the official Duke and Duchess of Cambridge account uploaded a celebratory image of the British tennis star with a caption that read, "Huge congratulations @EmmaRaducanu on your stunning performances and historic Grand Slam victory! Incredible — we are all so proud of you."
Speaking in the same post, Middleton also paid tribute to Raducanu's Canadian rival Fernandez. "@LeylaHannietennis well done on your amazing achievements at this year's #USOpen, it's been a pleasure to watch. C," the Duchess wrote. 
Middleton wasn't the only senior member of the royal family to celebrate Raducanu's U.S. Open victory, and Her Majesty the Queen also left a message of congratulations following her win.
"I send my congratulations to you on your success in winning the United States Open Tennis Championships. It is a remarkable achievement at such a young age, and is testament to your hard work and dedication." The statement released by Queen Elizabeth II continued, "I have no doubt your outstanding performance, and that of your opponent Leylah Fernandez, will inspire the next generation of tennis players. I send my warmest good wishes to you and your many supporters."