Zac Clark Talks His Future With Tayshia And On Reality TV - Exclusive
When Zac Clark proposed to Tayshia Adams in 2020, it was an incredibly emotional day for each of them. Heck, some of us sitting at home were even shedding a tear, too. (Don't deny it.) The magical moment ended Season 16 of "The Bachelorette" on a high note, but now, everybody wants to know what these two have been up to since the show ended.
While they haven't gotten hitched yet, "It's been a crazy year for both of us," Clark said during a recent interview with The List. As soon as their season wrapped, he went back to work, continuing to help others overcome addiction at the treatment center he co-founded, Release Recovery. He even helped Caron Treatment Centers raise $1.4 million just this month to help assist people who otherwise aren't able to afford treatment.
Needless to say, Clark's kept busy — so busy that he and his fiancée have yet to dive into any wedding planning at all. For now, "We're just cherishing the time that we get to spend together in person," he told us, especially since Adams has been busy being the new host of "The Bachelorette." Because of that, we had to ask him for all of you Bachelor Nation fans out there: Will we ever see him on TV again, too?
Zac Clark isn't interested in spending more time on TV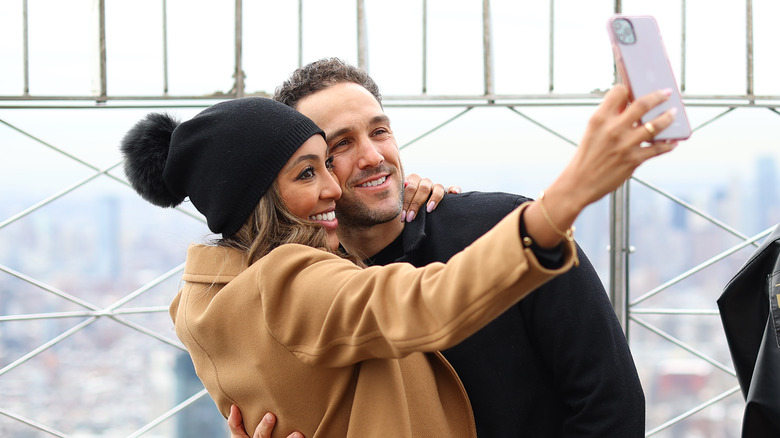 Dimitrios Kambouris/Getty Images
Since Tayshia Adams has returned to our television screens, it wouldn't surprise us to see Zac Clark join her in a reality spin-off series. After all, starring on "The Bachelorette" was truly a life-changing experience for him. Not only did Clark open up a worldwide conversation about addiction, but he met the love of his life on the show, too. Yet, even though he loved his time on screen, we won't be seeing him on TV again anytime soon. "I think I'm good on the reality show circuit for now," he told us. 
Looking back, Clark would have never entertained the idea of being on TV in the first place. It was his sister who had signed him up to be on the dating show. "I don't know that I am the carbon copy for someone that goes on a lot of reality television. It's tough," he explained, and we can see why. Not only did he have to open himself up to Adams while dating her on the show, but he had to do it in front of a worldwide audience. "There is a certain level of vulnerability and honesty and authenticity that's required to do stuff like this," he told us, so we'll just have to enjoy watching Adams — at least, as he said, for now.
Zac Clark, along with his family, recently received the Richard J. Caron Award of Excellence for their support of Caron Treatment Centers and is slated to run the London Marathon and New York City Marathon to raise funds for the Release Recovery Foundation.