Inside Avril Lavigne And Mod Sun's Relationship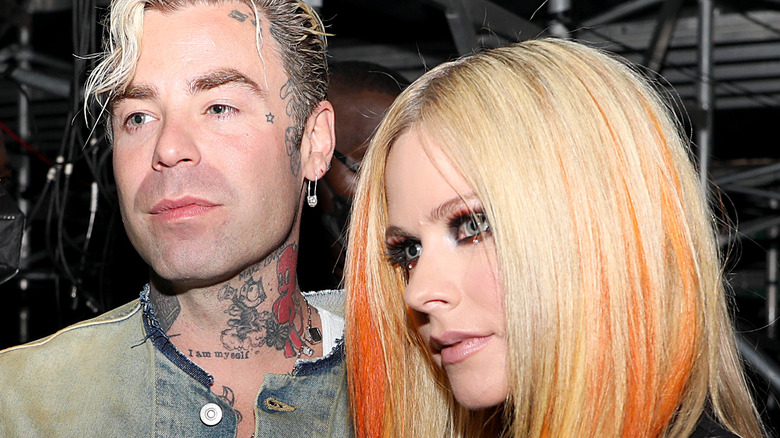 Catherine Powell/Getty Images
When Avril Lavigne and Mod Sun met each other, neither was necessarily looking for love. After Lavigne divorced her second husband, Chad Kroeger of Nickelback, in 2015, she was ready to take some time off from the relationship world. "I was like, 'I need a break from men,'" she quipped to People in 2022.
And Mod Sun, for his part, seems to have had some high-profile (and seemingly chaotic, tbh) relationships in the past few years that would be stressful enough to lead anyone to take some time away from the dating scene. He was evidently in an on-again, off-again polyamorous relationship with Bella Thorne and Tana Mongeau from 2017 to 2020, which culminated in a marriage with Thorne, quickly followed by a divorce, and was topped off with a diss track against Mongeau. Yikes.
No matter how burnt out on dating the two may have been, when Lavigne and Mod Sun met in January 2021 while working together on music, there was an undeniable spark between the two of them. As they spent time together collaborating on Mod Sun's "Flames," the fire between them only grew. Alas, about two years after they connected, Avril Lavigne and Mod Sun's relationship flame was seemingly snuffed out.
They made their red carpet debut in September 2021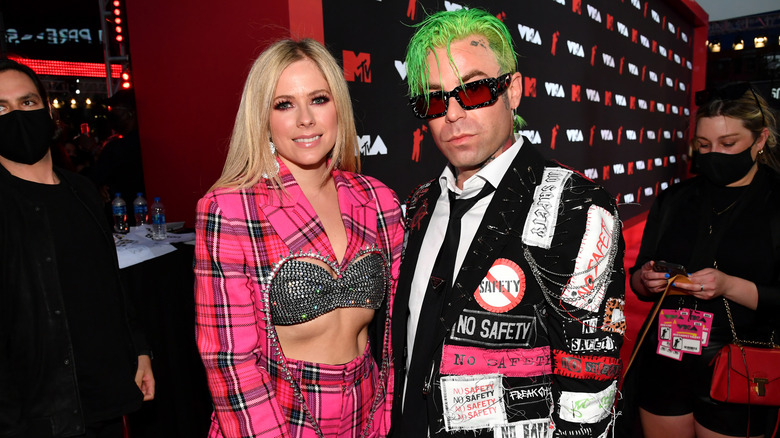 Jeff Kravitz/mtv Vmas 2021/Getty Images
In February 2021, Avril Lavigne and Mod Sun were spotted leaving a Los Angeles steakhouse together, spurring rumors that the two were dating. Then, in September 2021, the couple confirmed their relationship by going to the MTV Music Awards together in Brooklyn, where they both wore punk-inspired suits. This was just a few days after Mod Sun hard-launched their relationship by posting several romantic photos of the two together on Instagram, captioning the photos, "I'm so lucky, I love this girl so much" along with other information promoting his upcoming tour.
The two seemed to be moving quickly, but, according to Lavigne, she was just following her heart. "I was getting out of a big relationship, and for the first time in my life, I thought I should probably be single," she told People. "I got together with [Mod Sun] to write a song. We just clicked. I was like, 'Should you be doing this?' It was fun and exciting, and I decided, 'F*** it. Life's short.' I'm a Libra. I love love."
Mod Sun is a fan of Avril Lavigne's music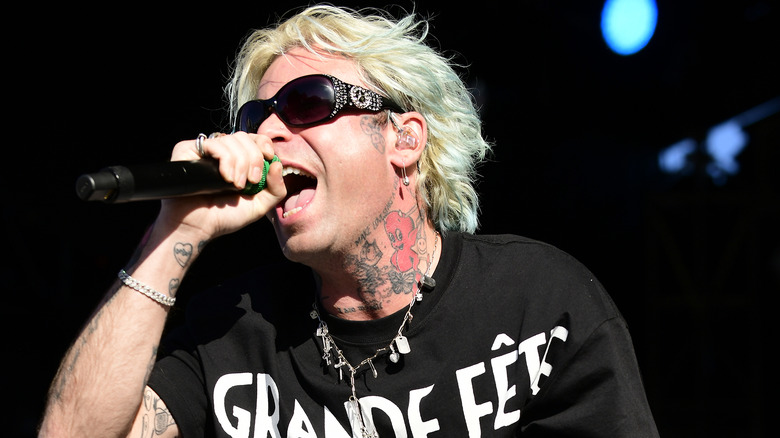 Tim Mosenfelder/Getty Images
It's always a major bonus when partners have things in common, and it's even better when you can deeply bond over shared passions. In the case of Mod Sun and Avril Lavigne, music brought the two together, and both have been vocal about their appreciation for each other's musical talent.
Though the two have somewhat different musical styles, with Mod Sun's work running the gamut from hip hop to post-hardcore, and Lavigne focusing mostly on pop punk, this doesn't stop them from gaining inspiration from one another. "Avril Lavigne has one of my favorite voices in music," Mod Sun said to ET Canada. "It's so strong and confident, yet filled with emotion and one-of-a-kind inflections that only her voice can do. This song holds a lot more weight than meets the eye."
In a separate chat with Metro, Mod Sun noted that Lavigne's contributions to "Flames" helped him see the importance of the song. "All of a sudden she comes through and I understood the song better after she sang it. I understood why this is a great song. Sometimes as an artist you don't really know," he said.
And Avril Lavigne is a fan of Mod Sun's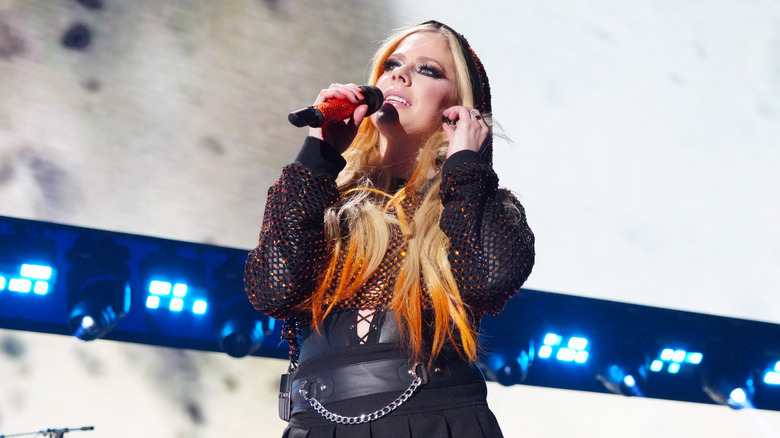 Jeff Kravitz/Getty Images
Although Mod Sun was the one who initiated the couple's musical collaboration -– as he recalled to Metro, "I finally got the guts to ask her, and I was like ... I want so badly for you to be on my album" –- Lavigne also has only good things to say about Mod Sun's musical talents and what it's like working together. 
"I mean, he's a really incredible songwriter and like [when] we met, I loved his song 'Karma.' I was like, 'Who did you write this with and who produced it?'" Lavigne told Us Weekly. She went on to explain that Mod Sun introduced her to John Feldmann, who he worked with on "Karma," and this lead to even more collaborations. As Lavigne shared, things really clicked into place for the three of them immediately. "They all really understood me as an artist," she said.
The couple collaborated on music
Lester Cohen/Getty Images
Avril Lavigne and Mod Sun's love story centers around music, and one song in particular: "Flames." Mod Sun worked up the courage to ask Lavigne to sing on the track, and after the songstress agreed, a whole lot of "magic" ensued. "'[It was] magic, pure magic," Mod Sun said to Metro in 2021. And in a 2022 chat with People, Lavigne recalled how effortless it all felt from the start. "It was like I had known him forever," she shared. "As time went on, things kept getting better, and it felt incredibly natural."
In the aforementioned chat with Metro, Mod Sun went on to note that he wasn't certain they'd work well together, as chemistry in the studio isn't always a given. However, he and Lavigne figured out pretty quickly that they did not lack chemistry when it came time to record. "You could have two people who are individually amazing at what they do and they're just not meant to sing together. ... You can feel that there's nothing there and [this was] like magic. It's really magic with this one," he gushed to the outlet. "I didn't understand this song fully until I heard the final product and I was like 'Holy s***, that's a Mod Sun song?! What the f*** is happening?!'" 
"Flames," a pop-punk anthem, centers around undying love and passion, with a chorus of "I still burn for you." It appears the song the pair sang together ended up being a mirror for their budding romance.
Mod Sun got sappy on social media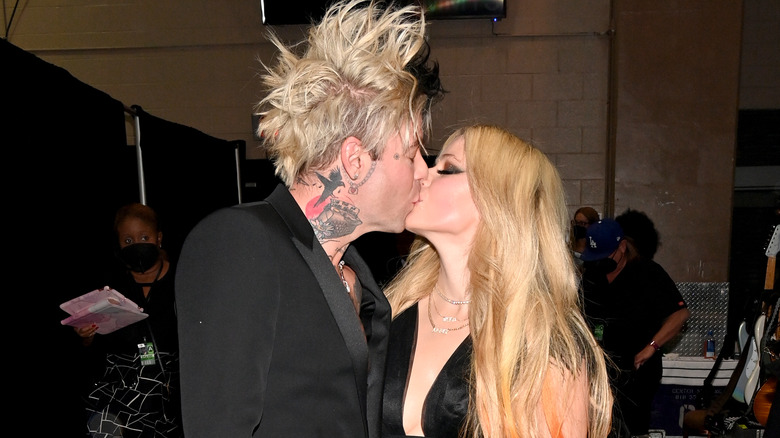 Denise Truscello/Getty Images
When you see couples posting long, sappy captions about their partners on social media you may think one of two things: 1) that they must be super happy and in love, or 2) that the endless posting about how much they love each other might be overcompensating for something. And studies show that both of these situations can be true; for some people, posting on social media about their partner is a way to connect with them and send a message that they're taken. For others, it's more of a compensatory measure to try to make a relationship better than it really is.
Whatever the case may be for Avril Lavigne and Mod Sun, the latter was definitely a fan of gushing over the "I'm With You" singer on his social media. Over the course of their relationship, Mod Sun made several long posts confessing his blissed-out feelings for Lavigne. In September 2021, for example, he shared a number of photos of the lovebirds on IG and wrote, " To the most radiant + graceful woman I've ever laid eyes on, you have made my dreams come true in so many ways. You are my calm in the chaos + my shelter from the storm. You are elegance + rock n roll wrapped up in one body. I was born without you, dying to find you, I'll always remind you....I love you with all my heart @avrillavigne + the best is yet to come. Happy birthday my little icon."
Mod Sun proposed to Avril Lavigne in Paris
Ah, a proposal in front of the Eiffel Tower — that's certainly never been done before! All jokes aside, Mod Sun popped the question in Paris in March 2022 and the "Sk8r Boi" singer was nothing short of ecstatic. "It was the most perfect, romantic proposal I could ever ask for," Lavigne told People. The ring itself was also pretty romantic: Mod Sun proposed with a custom heart-shaped ring that featured a special message. "It has the words 'Hi Icon' engraved in it, which were the first words he ever said to me. And it has Mod + Avril on the inside," Lavigne shared with People. She went on to explain that the shape of the diamond also held special meaning for the couple, as they both happened to be wearing heart-shaped rings when they first met.
In addition to picking out the perfect ring, Mod Sun went all out for the actual proposal. "We had a violin player, champagne and roses. It felt like time stood still, and it was just the two of us in the moment," Lavigne reflected. Shortly after the event, Mod Sun posted a photo from the proposal on his Instagram and included a sentimental and heartfelt caption, which began: "The day we met I knew you were the one. Together forever til our days are done."
Mod Sun tattooed the name of his 'soulmate' on his neck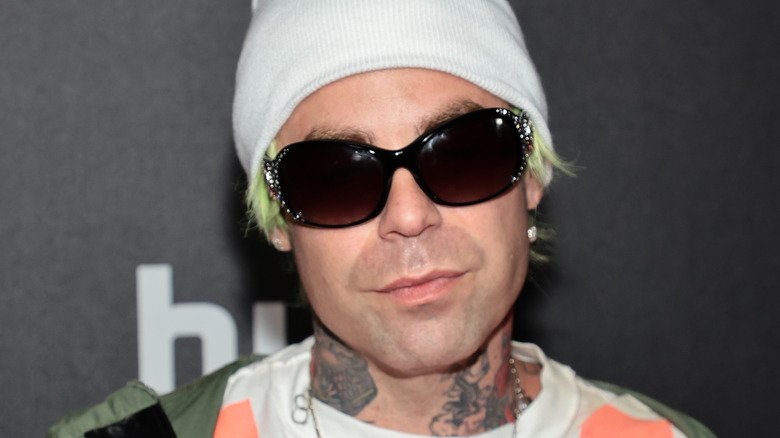 Jamie Mccarthy/Getty Images
Getting a partner's name tattooed on your body may seem like a romantic gesture, but it's also an incredibly bold move — no matter how in love you think you may be. (Of course, laser tattoo removal has made the choice a bit less permanent than it once was, but that process can be an expensive and time-consuming ordeal.) Apparently, for Mod Sun, the risk was worth it. In February 2021, TMZ reported he got "Avril" tattooed to his neck. For those keeping score at home, he and Lavigne had just released their song "Flames" a few weeks before the tattoo story broke. 
The tattoo is in a pretty visible spot -– on the back of his neck -– and is pretty large in size. The "A" in Avril is in the style of the anarchy symbol, while the rest of the tattoo looks to be done in a somewhat messy, handwriting-style font. Some speculated that maybe the tattoo was fake, but a source told TMZ  that Mod Sun isn't a fake tattoo type of guy. 
This wouldn't be the first time the "Complicated" singer inspired a significant other to head to the tattoo parlor. Back when Lavigne was dating Brody Jenner, she and "The Hills" star got each other's names inked to their bodies. 
Mod Sun released Avril's Song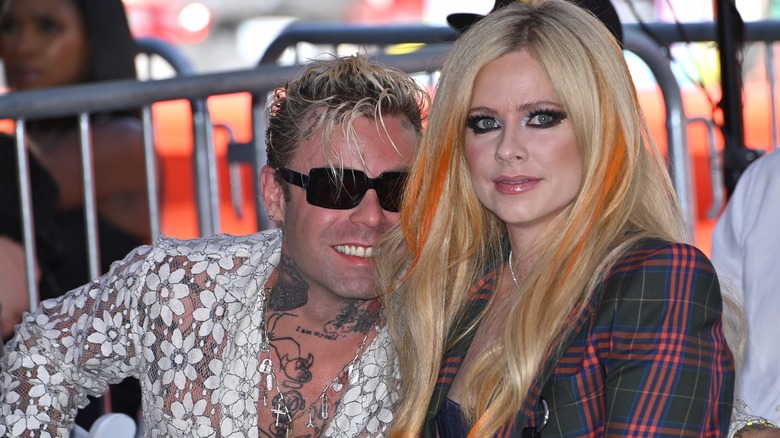 Featureflash Photo Agency/Shutterstock
As if a tattoo is not enough to show your dedication to someone, Mod Sun also wrote and recorded a song called "Avril's Song." The track is featured on his 2023 release, "God Save the Teen." As the title suggests, "Avril's Song" is about Mod Sun's feelings for Avril Lavigne and how much she means to him, and while most people would be flattered to have a track written for them, "Avril's Song" isn't exactly your typical love song. 
With lyrics like "She blew me a kiss / And I didn't wanna blow my brains out anymore," "I sleep next to an angel, but my demons keep me up at night," "I'm such a basket case, I want my casket laced / With pictures of your face," "Avril's Song" is a relatively unconventional tribute to a significant other, to say the least. But as he has said, the song illustrates his connection with Lavigne at the time. "It sounds dark and it sounds sweet at the same time, but it's total metaphor for the fact that I have found such a partner in this world to go through the chaos that life gives you," Mod Sun explained to E! News. "I've found that person."
Avril Lavigne and Mod Sun reportedly split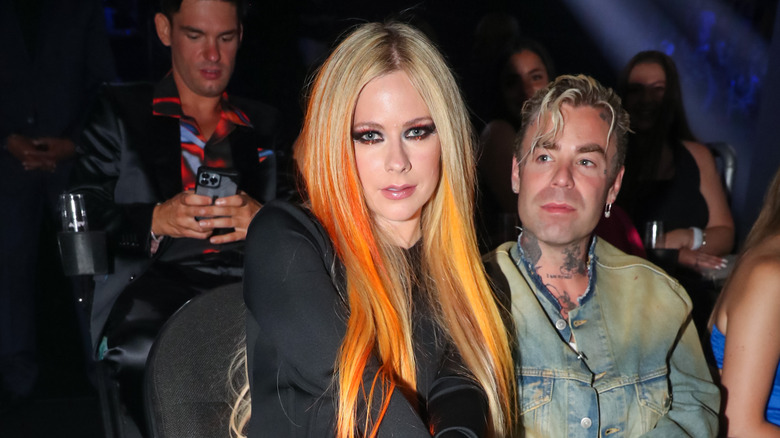 Johnny Nunez/Getty Images
It appears the punk-rock "it" couple was through by the end of February 2023. Representatives for Avril Lavigne confirmed to Page Six that the two called the engagement off, but a representative for Mod Sun said the two were still going strong. "They were together and engaged as of three days ago when he left for tour, so if anything has changed, that's news to him," Mod Sun's representative told Page Six in late February. A few days later, however, Mod Sun alluded to the split on Instagram. "In 1 week my entire life completely changed...I just know there's a plan for it all. I'll keep my head up + always listen to my heart, even when it feels broken," he wrote. 
As of now, there is no confirmed reason for the broken engagement, though Lavigne was seen out and about with Tyga around the same time the relationship was reportedly called off. Sources claim that Lavigne and Mod Sun had been having issues for a few months and just couldn't make things work. Though some speculate that infidelity could have played a role in the breakdown of the relationship, according to TMZ, cheating was not the reason for the split.