Why Jill Biden And Prince Harry Are Joining Forces Online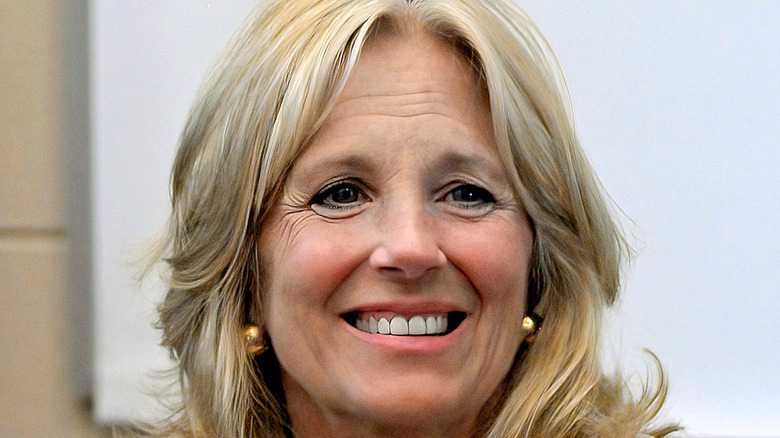 mark reinstein/Shutterstock
While it doesn't seem like First Lady Jill Biden and Prince Harry would have a lot in common, the two have actually been friends for years, bonding over their commitment to giving back. While Dr. Biden has worked tirelessly for causes like education, military families, and cancer prevention (via The White House), Harry supports a variety of charities, including Walking with the Wounded and mental health awareness (via BBC). Most notably, the prince founded the Invictus Games in 2014. Inspired by the US Army's Warrior Games, Invictus is an international competition for wounded service men and women that has been played in London, Orlando, Toronto and Sydney — with Harry in attendance in every city (via Town & Country).
Dr. Biden and Prince Harry first met in 2013 and the then-second lady was in attendance for the inaugural Invictus Games in London one year later. "Jill went to London for the last Games. She spent too much damn time with Prince Harry!" then Vice President Joe Biden joked (via Style). "I read in The Guardian, or one of them, and it says — I'm paraphrasing — everywhere Prince Harry went, he had this blonde woman on his arm. The vice president's wife! I'm a little worried here, you know what I mean?"
The current first lady was also in attendance at the Invictus Games in Orlando and Toronto. So it makes sense that Prince Harry is now returning the favor by helping Dr. Biden celebrate the participants of the 2021 Warrior Games in the US.
Jill Biden and Prince Harry are teaming up to honor the Warrior Games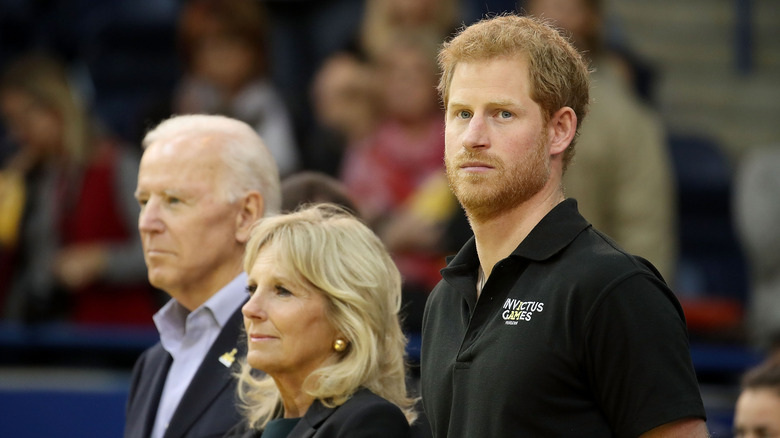 Chris Jackson/Getty Images
While the 2021 Warrior Games were scheduled to be held in Orlando in September 2021, the Covid-19 pandemic has ruined those plans. While the games have been canceled, Dr. Jill Biden and Prince Harry — who were slated to attend the competition together — are hosting a virtual event to "honor Warrior Games athletes, their families, and caregivers," according to an official statement from the Office of the First Lady. This will be Dr. Biden and the prince's first appearance together since Joe Biden was elected president in 2020 and Harry moved to California with his wife, Meghan Markle (via Daily Mail). 
Dr. Biden also served as patron of Walk of America, a 2018 expedition led by Walking with the Wounded, an organization which Prince Harry has been heavily involved with. In fact, Harry walked with six veterans in the UK during the event.
"I've done a lot with the Invictus Games and Walking with the Wounded," Dr. Biden explained. "Joe and I met with them. So there's so many connections and that's why it was important to hear their stories and hear how they've triumphed."