How Much Dr. Dre And NWA Really Spent To Make Straight Outta Compton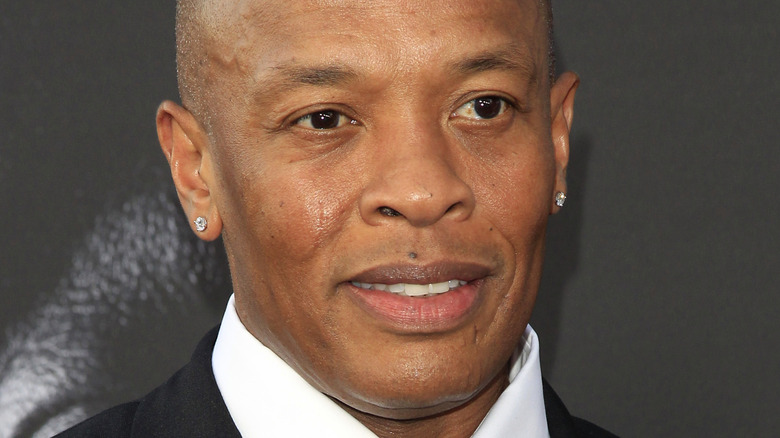 Kathy Hutchins/Shutterstock
In 2015, the music biopic "Straight Outta Compton" sought to tell the thrilling and complicated story of N.W.A., one of the most influential rap groups in history. Directed by F. Gary Gray, the film follows O'Shea Jackson Jr. as he plays his father, Ice Cube, alongside Corey Hawkins as Dr. Dre, Jason Mitchell as Eazy-E, Neil Brown Jr. as DJ Yella, and Aldis Hodge as MC Ren. Meanwhile, both Dre and Cube served as producers, ensuring that the movie told the story as accurately as possible (via IMDb). 
"Straight Outta Compton" was well-received upon its release, with an impressive 89% overall rating on Rotten Tomatoes. As Flavorwire notes, the film works "because it captures a moment, and positions its music at the center of that moment." Elsewhere, HeyUGuys described it as "A fittingly raw and powerful film." There were those who felt the movie was too deferential to the various characters but, considering how closely Dr. Dre and Ice Cube worked on the project, the criticism was expected. 
Moreover, the remaining members of N.W.A. likely have complicated memories of the recording process for the titular album, considering how much money they personally put into making it. 
Straight Outta Compton was made for a comparably small amount of money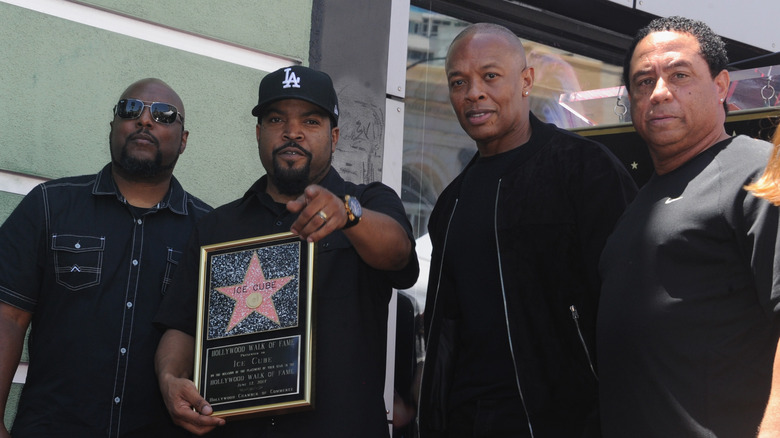 Albert L. Ortega/Getty Images
According to Capital Xtra, N.W.A. spent just $12,000 recording their seminal album "Straight Outta Compton." It was released on Eazy-E's Ruthless Records, with co-founder Jerry Heller claiming he invested $250,000 of his own money to get the label going in the beginning. Rolling Stone notes that the album, which was released in 1988, had little industry support, particularly due to its anti-police stance (MTV even banned the titular video). Despite this setback, N.W.A.'s debut went gold by the following April and was certified platinum by July. "Straight Outta Compton" is widely considered one of the greatest hip-hop records of all time, with the release of the film sending it back up the charts and ultimately earning the record triple-platinum status. 
As The Hollywood Reporter notes, N.W.A.'s "incendiary lyrics" got the record banned from various retailers, landed them on FBI watch-lists, and ignited a feud with Al Gore's wife, Tipper. In fact, when the group went out on tour, law enforcement refused to provide security for them. Looking back, as Ice Cube sees it, their message was a simple one that everybody should've been able to relate to. 
"It was always about free speech, being able to express yourself, whether people like it or not," he explained. Cube added, "That's the great thing about being in this country, is to be able to speak your mind and not be censored." Dr. Dre acknowledged, "It's crazy how we were getting criticized for this years ago. And now, it's just like, 'OK, we understand'."