How Florence Pugh Really Feels About Saoirse Ronan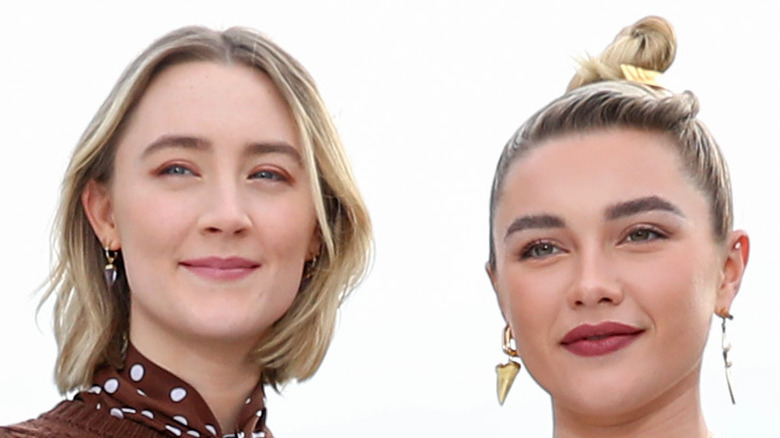 Tim P. Whitby/Getty Images
There have been practically countless adaptations of Louisa May Alcott's classic and beloved novel 1868 "Little Women" (via History). Some of the biggest stars have since breathed life into the four little women — Meg, Jo, Beth, and Amy — including Katharine Hepburn, Elizabeth Taylor, and Winona Ryder (via The Hollywood Reporter).
The most recent "Little Women" adaptation came on Christmas Day, helmed by writer/director Greta Gerwig and starring some of the biggest young actors of the moment right now, including Saoirse Ronan, Florence Pugh, and Timothée Chalamet — in addition to some of our favorite older actors, like Laura Dern and Bob Odenkirk — and of course — Meryl Streep (via New York Times).
The film was met with much critical acclaim, particularly for Ronan and Pugh, each of whom were nominated for an Academy Award (Best Actress and Best Supporting Actress, respectively). Much of the film hinges on the antagonistic yet not unloving relationship between Jo (Ronan) and Amy (Pugh) — particularly when Chalamet's Laurie comes between them.
In order to get into — and stay — in character, Pugh and Ronan would even fight offscreen (via Daily Mail).
"Saoirse and I would give each other funny looks and that would mean, 'Let's fight.' We would either be wrestling or messing about," Pugh told The Mirror.
Pugh and Ronan's 'bro-y friendship'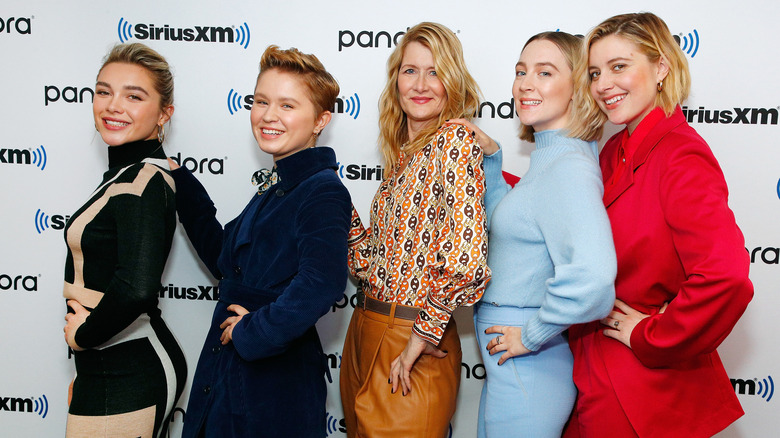 Astrid Stawiarz/Getty Images
Despite the difficult relationship their two characters had offscreen, there's nothing but love between Pugh and Ronan.
Even before Pugh was Ronan's friend, she was her fan. "The first actress I ever watched where I thought, 'Oh my goodness, no one else could have done' that was Saoirse in 'Atonement.' I remember thinking, 'If I get to work with her one day that would be the most magnificent thing,'" Pugh told Vanity Fair (via Nylon).
And even though it was, in fact, magnificent, the two resist being sentimental. "We have a no-soppy rule in our friendship because we're so bro-y with each other," Pugh shared. "I wrote it in a card and she sent me a text, like, 'You goon!' She's a magical person and a magical actress."
So when it was time for Ronan to slap Pugh across the face in the film, Pugh was all for authenticity (via Daily Mail). As Pugh recalled, "I was like, 'Saoirse, just jump on me and hit me in the face!' And she goes, 'OK!' And then, when she hit me, Saoirse got upset and said, 'Oh, you're welling up.'"
Pugh also recognized that had they not shared this level of camaraderie, it would have been difficult to film.
Given their tight friendship — as well as Ronan's with Gerwig — hopefully that means it's not long before we see Pugh and Ronan reunited on screen in another Gerwig penned and directed feature.