Jeff Bridges Shares Exciting Health Update With Fans
Joe Seer/Shutterstock
Actor and musician Jeff Bridges has brought joy to fans around the world, most notably with his role as The Dude in "The Big Lebowski" but also in films like "Crazy Heart" and "True Grit."
The 71-year-old actor had previously announced in October that he had been diagnosed with lymphoma and would be undergoing treatment to curb its spread. "Although it is a serious disease, I feel fortunate that I have a great team of doctors and the prognosis is good. I'm starting treatment and will keep you posted on my recovery," Bridges wrote on Twitter (via Evening Standard).
At the time, the actor received an outpouring of support from fans and fellow celebrities alike. Comedian Travon Free, speaking for just about everyone, said, "Hey 2020, leave Jeff Bridges out of this!" But today, Bridges is able to share good news with his well-wishers: His cancer is in remission (via NBC News).
"My cancer is in remission — the 9x12 mass has shrunk down to the size of a marble," the actor wrote in an update on his website. This follows his previous news in January that the tumor had "drastically shrunk" (via USA Today).
In his handwritten, heartfelt note on his site, Bridges also shared that whilst battling lymphoma, he also contracted COVID-19.
The Dude abides with getting vaccinated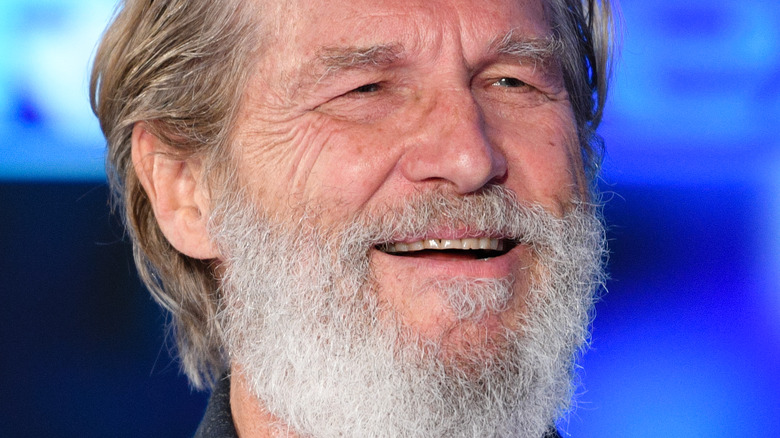 Noel Vasquez/Getty Images
In addition to beating lymphoma, Bridges also kicked COVID to the curb. "Covid kicked my ass pretty good, but I'm double vaccinated and feeling much better," he wrote (via NBC News). It also helped that Bridges is now double vaccinated, as well.
Although Bridges wrote an update around his COVID-19 diagnosis in March, he didn't initially publish it until now. In that update, Bridges shared that both he and his wife suffered from COVID, with Bridges spending five weeks in the hospital and his wife there for five days. Bridges, always one with a sense of humor, shared of the oxygen machine he needed to use: "The sound of it reminds me of Darth Vader," along with a doodle of the character.
For Bridges, the ultimate goal was to be free of the oxygen machine in time to walk his daughter down the aisle at her recent wedding — a goal that Bridges reached.
"Thanks to Zach and my terrific medical team, I was able to, not only walk Hay down the aisle, but do the father/bride dance with her without oxygen," Bridges wrote, sharing a video of the sweet moment.
Bridges shared that he's excited to get back to work on "Old Man" and ended by highlighting the work being done by No Kid Hungry. "Some good news in challenging times," he wrote — something we all need.