Why Donald Trump Is Forever Banned From The Met Gala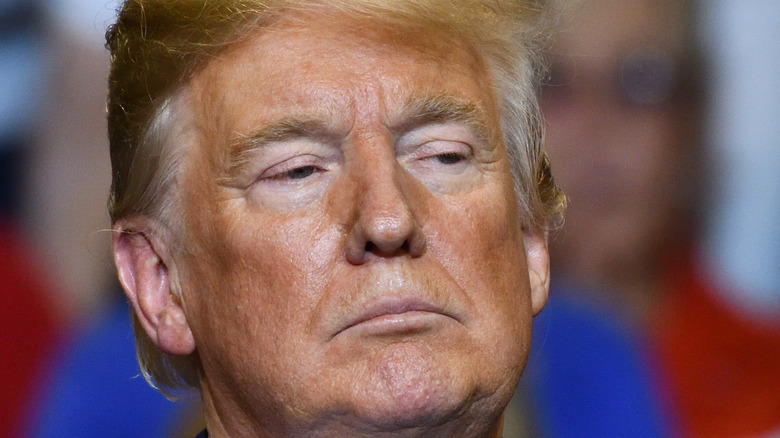 Evan El-Amin/Shutterstock
The Met Gala is one of the most anticipated and star-studded events in New York City society and it made its comeback on September 13, 2021 after being canceled in 2020 due to the coronavirus pandemic. Since 1948, the Met Gala, held at Manhattan's Metropolitan Museum of Art, was originally called the Costume Institute Gala, and raises funds for the costume collection at the museum (via Architectural Digest).
Over the years, the gala has morphed from a grand event where societal norms were met to a celebrity event where elaborate and unusual fashion choices — often making a social statement — are the name of the game. It also became a place of status and momentous occasions, including that time in 2004 when former President Donald Trump proposed to his third and current wife, Melania Knauss, presenting her with a 13-karat diamond ring valued at nearly $3 million. The Trumps were regular guests at the Met Gala when the former president was still one of New York's most colorful characters trying to run his family real estate business (via Newsweek). However, all that eventually changed.
Donald Trump is no longer allowed at the Met Gala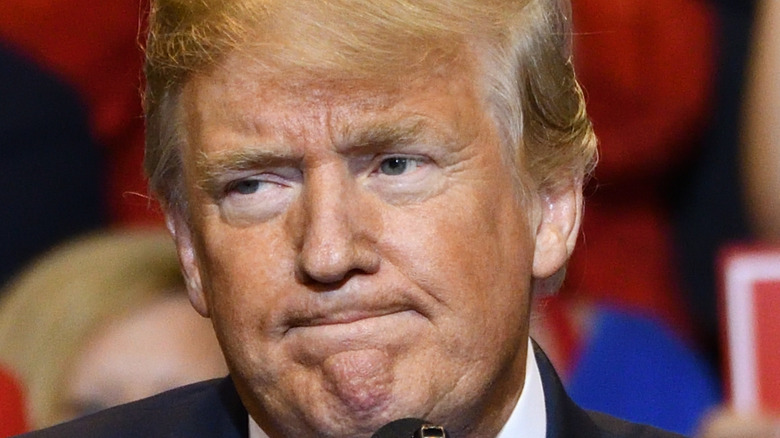 Evan El-Amin/Shutterstock
Vogue editor Anna Wintour, who has hosted the Met Gala since 1999, is very particular about her guest list. In October of 2017, just 10 months after Donald Trump was inaugurated as president, Wintour appeared on "The Late Show With James Corden" and was presented with a very important question.
"Everyone from Beyoncé to George Clooney attends, so my question is who would you never invite back to the Met Gala?" Cordon asked. Wintour paused for just a brief few seconds, but finally gave her answer. "Donald Trump" she said, to which she received both cheers and applause (via Newsweek).
While Wintour did not give a specific reason for not inviting Trump to the gala ever again, she does have final say, and if she says he is banned, then he is banned. The timing of her decision may have had something to do with how New Yorkers felt about the new president after he moved to the White House, but Wintour has never been specific. It seems she's kept her word over the years, as Trump's last appearance at the Met Gala was in 2012 (via Business Insider). 
However, Trump is in good company on the ban list, as Rachel Zoe, Tim Gunn, and actor Josh Hartnett are also banned from the event, according to The Sun.