The Risky New Statement Piece That Was Once Trashy, But Is Now Chic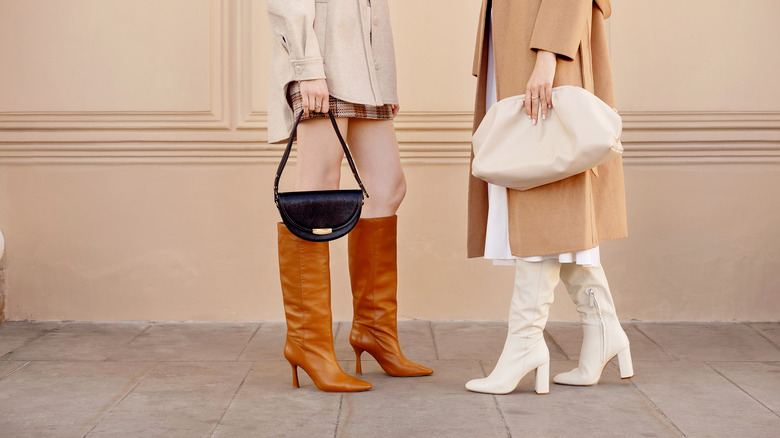 Viktoria Minkova/Shutterstock
There's always a risk when it comes to high fashion, but some trends take the risk a little further than others — like, you know, when your butt cheeks are exposed. As Glamour points out, exposed thongs are now a chic fashion trend. Yes, really. Celebrities have been showing out on Instagram and even red carpets in thongs and not much else. This might not be the most practical fashion trend of the season, but it's here — and it's definitely making a statement.
People were ready to bare it all for hot-weather trends in summer 2021. It seemed to be the summer of thong bathing suits, which were made mainstream by everyone from bloggers to celebrities like the Kardashians (via WhoWhatWear). But, even when September 2021 hit, celebrities weren't ready to put away their risqué fashion trends. Megan Fox even walked the VMAs red carpet wearing nothing but a sheer dress and a thong. So, yeah, this trend is picking up some steam. 
In fact, it's actually considered chic in some cases. Don't tell Grandma, but this might be the next trend to try at home. 
Sheer dresses pair nicely with exposed underwear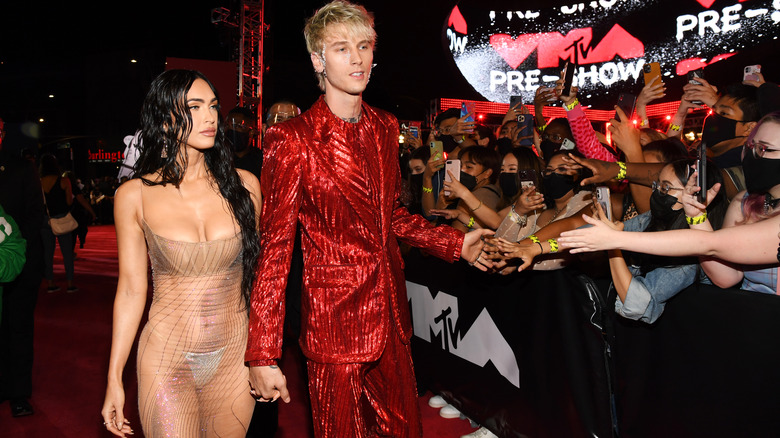 Kevin Mazur/MTV VMAs 2021/Getty Images
According to celebrity trends, sheer dresses seem to be the way to go when you're looking to put your underwear on display. Not only did Megan Fox rock a sheer dress with her neutral-colored undies, but Kourtney Kardashian did the same just a few weeks earlier on Instagram. Both celebrities went full glam, exposed some of their bras, and left their panties on display. Oddly enough, the trend seemed to take off.
Kylie Jenner took a page from her big sister's playbook and showed off her thong as well. Jenner, who recently announced that she is pregnant with her second child, wore a sheer bodysuit and black underwear on her Instagram page. Just like the other two A-listers, she went full glam, with a classic pair of minimalist underwear to rock the look. It looks like the key to nailing this barely-there ensemble is to get a delicate, neutral pair of undies and act like it's totally normal that they're showing through your dress. 
These women make it look so effortless to show up in your underwear. If you try it for yourself, don't forget to put your confidence on along with your thong. 
The creator of the thong would be extremely proud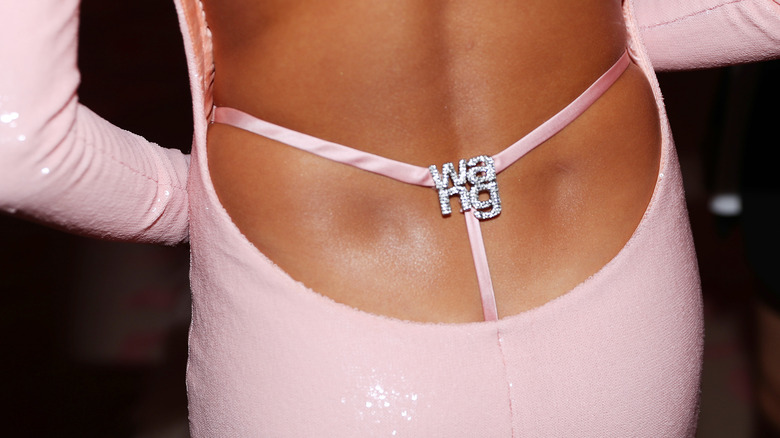 Kevin Tachman/mg19/Getty Images
Believe it or not, this trend is most likely exactly what the creator of the thong would have wanted. According to Vogue, Rudi Gernreich, the creator of the first thong bikini, said in a memoir, "The Thong is my response to a contradiction in our society: nudity is here; lots of people want to swim and sun themselves in the nude; also lots of people are still offended by public nudity." Celebrities and influencers alike seem to be fully on board with Gernreich's plans for thong domination. 
There's a good chance that this fashion trend is just that — a trend. Eventually, celebrities will move on to something even more forward-leaning, or, you know, the weather will get colder and they'll be forced to put their butts away. Only time will tell how many thongs we'll see before the trend turns back into a major faux pas.