Why Won't Jennifer Aniston Attend The Emmy Awards?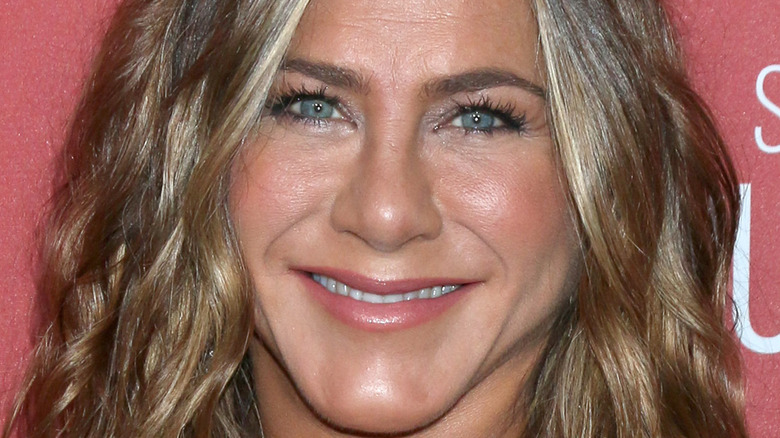 Kathy Hutchins/Shutterstock
The "Friends: The Reunion" show might be up for a grand total of four Emmys, but Jennifer Aniston has revealed that she won't be attending the awards ceremony. Speaking on "Jimmy Kimmel Live!" on Monday, she made it clear that she's still taking plenty of precautions regarding the pandemic, and decided that she wasn't quite ready to make in-person appearances at major events like the Emmy Awards just yet (via Us Weekly). 
Speaking about the Emmys, Aniston revealed that she "will not be going ... I think Ben Winston, our producer and director, [who's] incredible, who put the whole [reunion] together [will go]." She described even her appearance on Kimmel's show as being a "big step," with the "Friends" star currently taking "baby steps" out of the pandemic (via the Daily Mail). However, she has acknowledged the Emmy nominations, sending congratulations to her castmates and the rest of the "Friends" team on Instagram (via The News). 
She's taking 'baby steps' in social distancing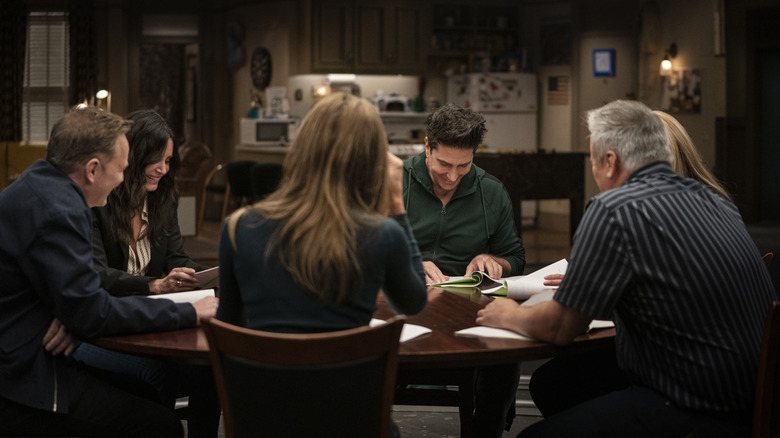 HBO Max
On her Instagram story (via The News), Jennifer Aniston posted: "Congrats to my @friends family on FOUR Emmy nominations ... This was such a special reunion for us and we couldn't be happier to share it all with you", complete with a photo of the cast in 2021.
However, despite the excitement, there might not be any more "Friends" reunions coming up any time soon. During "Friends: The Reunion", Aniston's co-star Lisa Kudrow was asked about the possibility of the gang meeting up and reprising their roles again, but it doesn't look too likely from her answer. "That's all up to [show creators] Marta [Kauffman] and David [Crane] and I once heard them say — and I completely agree — that they ended the show very nicely," she explained. "Everyone's lives are very nice — they would have to unravel all those good things in order for there to be stories. I don't want anyone's happy ending unraveled" (via Us Weekly).