Madison LeCroy Reveals Her Everyday Breakfast
When you're part of the cast of Bravo's "Southern Charm," what do you have for breakfast? Madison LeCroy, who's been on the show alongside the likes of Shep Rose at various points throughout its run before joining the main cast for Season 7(via Hollywood Life), decided to reveal all. 
She's leading a pretty busy life, opening a new hair salon and styling the locks of some rather big names, but she still finds the time to eat well. Some of the meals we've seen her prepare and enjoy previously include tuna and lettuce wraps, chicken and broccoli, and steak, salmon, and vegetables — with the help of her son, Hudson (via Bravo) — but what does she eat when starting off her day?
LeCroy doesn't reach for the toast or cereal like many of us do, instead coming up with an altogether more colorful and exciting breakfast. It's one that certainly sets her up for a day of styling hair — or filming "Southern Charm," of course...
She likes to start with eggs, fruit, and juice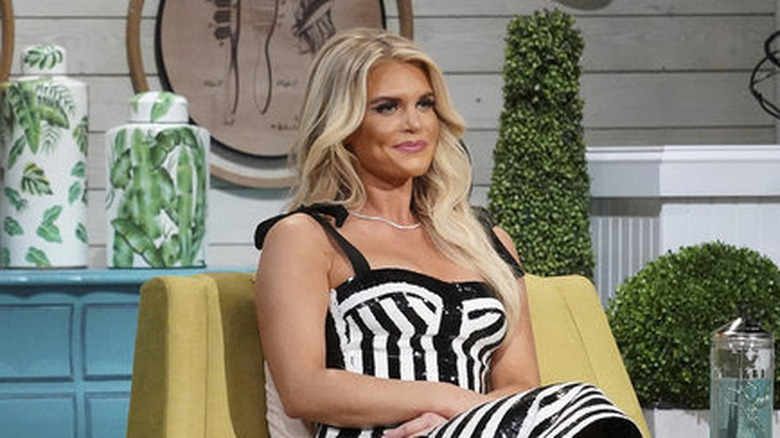 Heidi Gutman/Bravo
Madison LeCroy — who courted controversy on the social media platform back in the summer — shared an Instagram story  (via Bravo) in which a white plate holds two hard-boiled eggs as well as some blueberries and raspberries. Next to the plate is a glass of juice, which LeCroy explains comprises apple, celery, kale, spinach, cucumber, kiwi, and lemon juice. It's no secret that LeCroy likes fruit juice: "I always try to do some kind of juice in the morning. I do celery juice for skin purposes," she explained previously to Bravo.
Alongside her breakfast, she also had a KOR wellness shot, and some vitamins too. It's no real surprise that the health-conscious reality star eats such a nutritious breakfast — we know that she started 2021 off with a month of clean-eating (via Bravo) and we've even seen into her refrigerator before. In 2020, she shared the inside of her fridge on her Instagram story, and it was full of fruits, vegetables, hummus, kombucha, and bottled water, along with plenty of other goods (via Us Weekly).