Inside Adam Sandler And Norm Macdonald's Friendship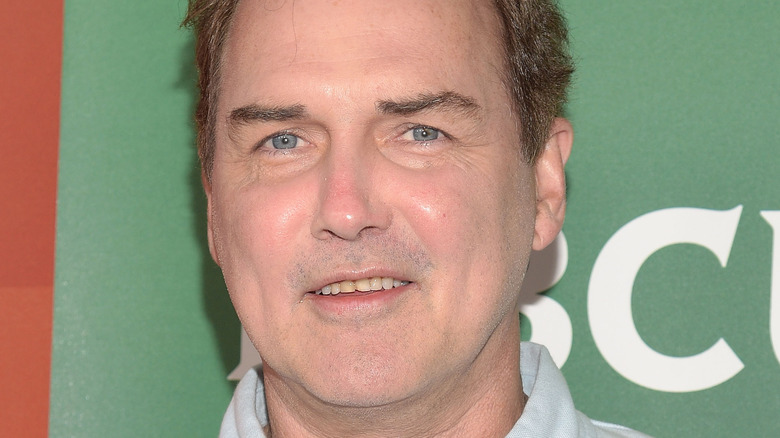 Jason Kempin/Getty Images
Norm Macdonald and Adam Sandler went way back. The two comedic legends were both on "Saturday Night Live" together before Sandler got the ax in 1995 (via CNBC). Prior to Sandler's firing, the show's ratings were struggling. After his departure, only Macdonald and David Spade remained on the payroll, while the rest of the cast members were either fired or quit.
While Sandler was notoriously difficult to work with on the sketch comedy show, Macdonald wasn't fazed. He would go on to work alongside him on his films. According to ScreenRant, Macdonald can be seen in Sandler films like "Billy Madison," "Grown Ups," and "The Ridiculous 6." They made a total of eight films together.
According to Cult Montreal, Sandler and Macdonald cherished the relationship they shared and became good friends after their time on "SNL." The duo's most popular movie together was "Billy Madison," and there is a hilarious story about their time filming that movie that Sandler recently shared.
The two shared a special bond
There was a very loving friendship between Norm Macdonald and Adam Sandler, and it is evident in this story Sandler told on an episode of "Conan" about the pair's first time making a movie together. Here is how it went down (via Yahoo).
They're filming "Billy Madison" together and Sandler is trying to feel out Macdonald's acting process. "I'm doing a scene with Norm at the pool," Sandler said. "I say my line and I think I did it very well. And I'm, like, let me see how Norm ping-pongs this line back. So there was a little bit of a delay, and I was, like, old Norm likes to a take his time." He continues, "Then I'm waiting longer and going, 'Wow, he's really milking this one.' And a few more seconds later I noticed old Norm was sleeping."
Why was Macdonald sleeping, you may be asking yourself? Here's how Sandler explains it: "They wanted to me to play a drunk, so I said, 'You got some booze?'"
Clearly, it was a match made in heaven as the pair would continue making movies and sharing a close friendship, according to Uproxx.