Lupita Nyong'o Shares Her Secret Fitness Routine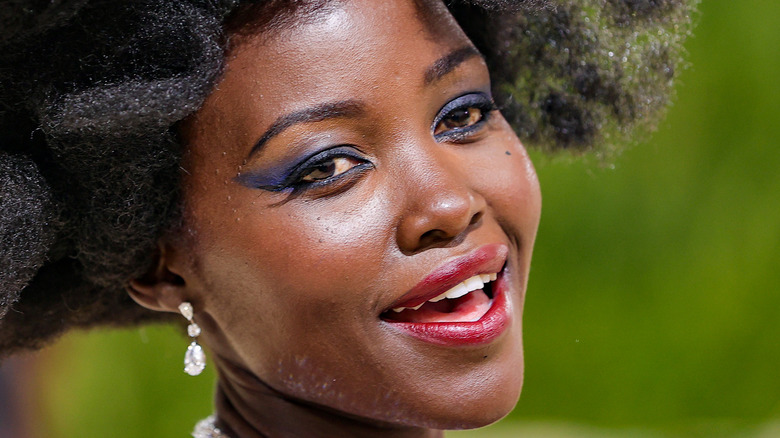 Theo Wargo/Getty Images
If you watch one of Lupita Nyong'o's intense workout videos on Instagram, it's guaranteed to make you stop what you're doing and immediately throw on your running shoes. Fitness is a significant part of the "Black Panther" star's life, and she regularly shares inspirational words, her fitness routines (which are always tagged #bodybossing) and healthy eating habits with fans. Having a healthy, active lifestyle takes focus and drive. You want to shift your workout mentality from fitting in a light jog when you can to really breaking a sweat before work. But finding incentives to exercise more frequently, and then committing to it doesn't always come easy.
Lupita Nyong'o is using her platform to ease some of those worries. She captioned a June 2021 Instagram post of her flexing her muscles with a simple trick that keeps her motivated. "When I feel the burn, I smile and it tricks my body into thinking I am fine, And then I am! #Fitnesscanbefun #SweatNSmile." Shape co-signed her advice to smile through a tough rep, and also recommended wearing activewear that you feel good in. Here's how you can make Nyong'o's secret fitness routine your own.
How Lupita Nyong'o stays in shape
Lupita Nyong'o incorporates a lot of strength training into her well-rounded fitness routine. For strong, defined arms, Lupita Nyong'o uses dumbbells and a hype workout playlist. In a July 2021 Instagram video, the "Us" star showed off one of her go-to routines for toning her upper body. Set to Ace of Base's energy boosting song "The Sign", she continuously punched the air with her dumbbells. You can see the payoff for these reps in Nyong'o's sculpted arms. Per Glamour, her routine also includes tricep pushdowns. 
A month later, Nyong'o posted another Instagram video where she demonstrated how she uses glute bridges to build her core strength. Her caption revealed that she does 50 reps of this booty-lifting exercise. NYC-based trainer Rebecca Kennedy told Self what makes this so effective. "Bridges are great for the glutes and hamstrings as they are the prime movers, or muscle groups, in extending the hips," she explained. She suggested upping the ante by adding in movement. "Adding a march to the bridge puts you on one leg at a time, incorporating stability work. More muscles are engaged to help ensure the spine isn't moving and hips are stationary."
Ease your way into a better fitness routine by slowly incorporating any of Nyong'o's workouts, even partially. Keep it realistic. Instead of trying to do it all, tweak it so it fits your lifestyle while simultaneously challenging you.