Aesthetician Vs. Esthetician: What's The Difference?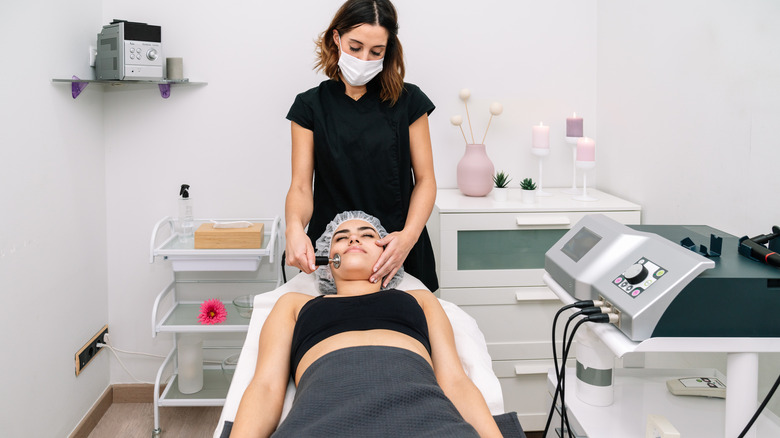 koldo_studio/Shutterstock
If you're tuned in to the world of beauty and skincare at all, it's likely that you've seen the terms aesthetician and esthetician thrown around constantly. As compared to just a few decades ago, the skincare industry is worth billions of dollars. What was once a practice for the elite has become a rather ordinary part of our daily lives. In-office treatments from skincare professionals including aestheticians and estheticians like laser resurfacing, micro-needling, regenerative skincare, and more have become almost commonplace just within the past few years, per The Zoe Report.
In fact, it seems as though the coronavirus pandemic prompted many to analyze their skin more than ever (we can likely thank Zoom office calls for this one). In a survey conducted in June 2020 by the American Society of Plastic Surgeons, 49% of respondents who have never had plastic surgery said that they would be open to cosmetic or reconstructive treatment in the future. One of the most popular non-surgical procedures throughout this past year has been botulinum toxin fillers like Botox, Dysport, and Xeomin, according to InStyle. More than ever, people are turning to estheticians and aestheticians to give them the skin of their dreams.
The difference between aestheticians and estheticians comes down to training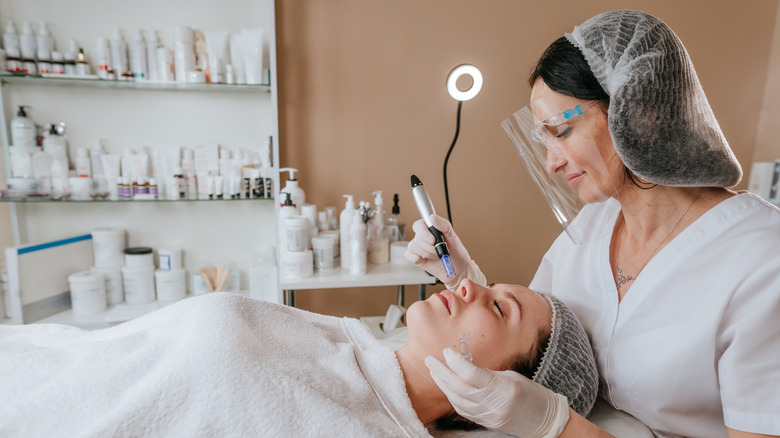 Lithiumphoto/Shutterstock
While both occupations involve duties associated with skincare, there is actually a technical difference between an aesthetician and an esthetician. According to Universal Spa Training Academy, estheticians typically work in a spa or some form of a beauty-related establishment and offer services for those with minor skin issues, like massage, hair removal, skin cleansing and toning, facials, and makeup application. Occasionally, estheticians will also be charged with body sculpting for cellulite and preparing patients for Botox injections and dermal fillers, per Indeed.
Compared to estheticians, aestheticians typically have even more training in order to perform the duties of an esthetician along with more complex medical tasks. Unlike estheticians, who work in spas, salons, and resorts, aestheticians will often work in health centers, hospitals, clinics, burn centers, dermatology clinics, medical spas, and reconstructive surgery clinics, according to Indeed. 
"Medical aestheticians often work closely with dermatologists or other doctors as part of an overall treatment plan, helping clients regain confidence in their looks," Jade Gunning, the manager of Motykie Med Spa in West Hollywood, told The Chicago Tribune. "If an aesthetician cares enough to improve a person's skin and make them look good, it will be their passion." The aesthetician is charged with administering more complex beauty and medical treatments, such as skin tightening therapies, skin resurfacing, microlaser peels, laser hair and tattoo removal, manual lymphatic drainage, varicose vein treatment, applying permanent makeup, and more.