Why Kat Von D Was Sued Over One Of Her Tattoos
Photo Works/Shutterstock
Katherine Von Drachenberg, better known as Kat Von D, has had a divisive public image since her start as the first female contestant on "Miami Ink" (via Insider). Von D gained a bulk of her following with her TLC spin-off show "LA Ink," during the run of which she broke the Guinness World Record for the most people tattooed in one day — 400, though the record was later broken by Robbie Koch, who tattooed 577 people in one day. Von D was truly solidified as a wealthy public figure when she signed a 2008 deal with Sephora, and has been on the precipice of controversy several times since.
In 2013, Von D released a tan lipstick shade called "Celebutard," which sparked backlash from groups advocating for people with developmental disabilities and Downs Syndrome. In a now-deleted tweet, Von D allegedly responded, "at the end of the day, it's just a f***ing lipstick." In 2015, the makeup and tattoo artist came under fire in a similar way with a lipstick named "Underage Red." She and her husband have also been accused of anti-Semitism, and have come under fire for their stance against vaccinating their child. Keep reading to learn about Von D's most recent scandal.
Kat Von D is being sued for copyright infringement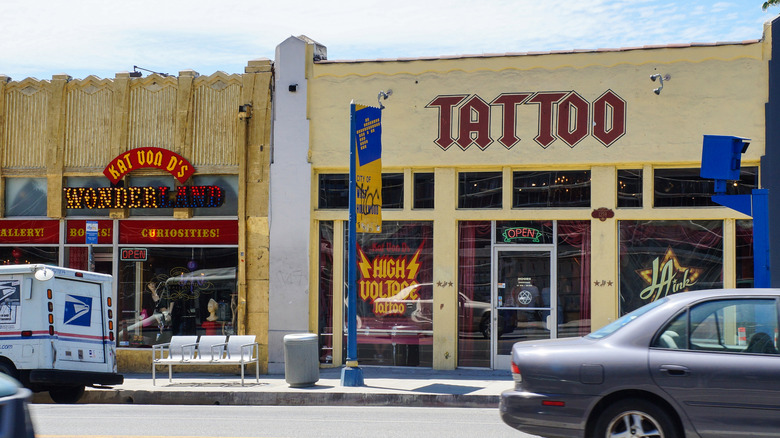 Appreciate/Shutterstock
In 2017, Kat Von D shared a photo on social media of a tattoo she had done on a client at her tattoo shop, High Voltage Tattoo, in West Hollywood (via Stereo Gum). The tattoo was of a portrait of legendary late trumpeter Miles Davis, and Von D is being sued by the photographer. In February 2021, photographer Jeffrey Sedlik filed a 31-page complaint with the California federal court, claiming that he has sole ownership of the copyright for the photo of Davis, which he snapped in 1989 for a cover story for Jazziz magazine.
Sedlik claimed in his complaint that not only did Von D not reach out and apply for a copyright license to use the image, but that by posting it on social media she was using his image to promote her business. Sedlik's complaint further stated that he "reached out to Kat Von D 'artist to artist' (through her representatives) seeking an amicable resolution of the matter prior to filing suit, but Ms. Von Drachenberg chose to ignore Mr. Sedlik's good faith effort to avoid litigation."