The Real Reason Adam Lambert Got Kicked Out Of Lady Gaga's Party
lev radin/Shutterstock
Adam Lambert has had one of the most stunning transformations over the years. No longer is he the pitch black-haired "American Idol" contestant we knew in the 2000s; instead, Lambert has fully crystallized into his own being who's unafraid to live his life to its fullest extent. His style has only grown sharper over time, and his makeup is more beautiful than ever. He's a force to be reckoned with in the music industry and, honestly, a queer icon who was ahead of his time (via Style).
As one of the best singers in the industry, Lambert naturally has connections to other famous singers (after all, he is the new lead singer of Queen). Of particular note is his relationship with Lady Gaga, which has changed and evolved over time. Did you know that Lambert was originally going to audition to play Gaga's "gay best friend" in "A Star Is Born," according to Pink News, before he realized the character was Latino?
"You know, his name was Latino, a lot of the slang that he was using, he was calling [Gaga] 'Mami' and all this stuff and I was like, 'Now how is this gonna work? Should I just not go to the audition? This is not my part,'" he explained to drag queen superstar Courtney Act on the latter's podcast (via Pink News).
The relationship between these two singers goes back much further than "A Star Is Born," though, and it might be more complicated. 
Adam Lambert's behavior at Lady Gaga's party left a lot to be desired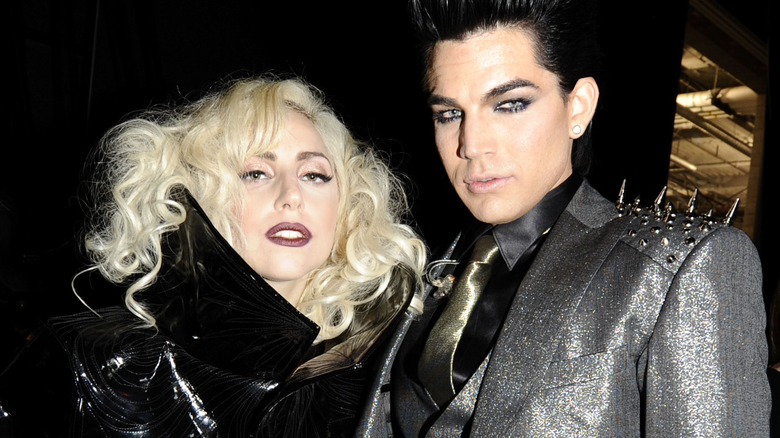 Michael Buckner/ama2009/Getty Images
Adam Lambert and Lady Gaga have known each other for over a decade, and while we may not know exactly how close they are, we do know some interesting tidbits about the relationship between the two. We know, for example, that Lambert's stated Gaga as one of the artists he listens to the most, which is honestly quite relatable. According to Adam Lambert TV, a blog dedicated to reporting news about the singer, Lambert not only loves to listen to Gaga but was also in attendance at one of her birthday parties. The problem? The "American Idol" singer was kicked out.
In 2011, Gaga held a massive party to celebrate her 25th birthday, and it's this party that Lambert found himself kicked out of. According to the Daily Mail, Lambert attended the event — he was not on the official guest list, we should add — and found himself incredibly intoxicated. "Adam showed up beyond drunk. Super sloppy embarrassingly drunk," a blogger revealed to the Daily Mail. Lambert reportedly acted "like an animal" and not only attempted to smear Gaga's birthday cake, but also awkwardly serenaded her.
Ultimately, the "Bad Romance" singer had her security team kick Lambert out of her party, which was held at La Cita Mexican restaurant.