Inside Gabrielle Union's Reaction To Dwyane Wade Having A Baby With Another Woman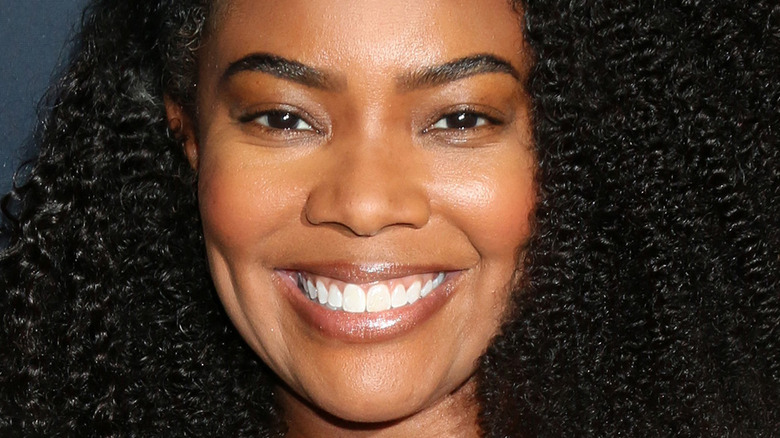 Kathy Hutchins/Shutterstock
In her brand new book "You Got Anything Stronger?," Gabrielle Union has revealed that her soul was "shattered" when her now-husband Dwyane Wade fathered a child with another woman while the couple were on a break and Union was struggling to conceive. "The experience of Dwyane having a baby so easily — while I was unable to — left my soul not just broken into pieces, but shattered into fine dust scattering in the wind," she wrote in the book, according to the Daily Mail.
In early 2013, Union and Wade split up, and during this time he had a child with pal Aja Metoyer — son Xavier, now 7 (via HITC). This coincided with Union's own struggles to have children, trying IVF in a bid to conceive. Wade was already father to two children, now 18 and 12, with ex-wife Siohvaughn Funches, and raising his sister's son too (via Cheat Sheet). Despite the couple being in a better place when Wade came clean about his child with Metoyer, it left Union feeling betrayed. 
"To say I was devastated is to pick a word on a low shelf for convenience. There are people — strangers I will never meet — who have been upset that I have not previously talked about that trauma. I have not had words, and even after untold amounts of therapy I am not sure I have them now," she wrote (via Daily Mail).
Gabrielle Union and Dwyane Wade are now happily married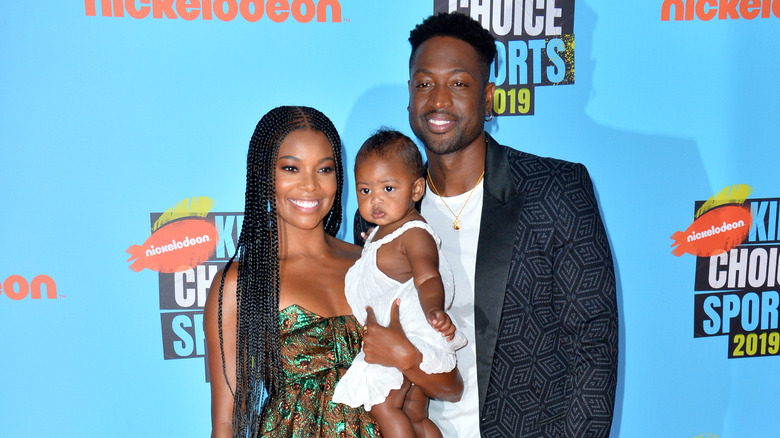 Featureflash Photo Agency/Shutterstock
Since then, however, Gabrielle Union and Dwyane Wade got back together, got engaged — this came at the other end of 2013 — and then got married in 2014. Four years later, Wade became a father again and Union a mother for the first time, as the couple welcomed their daughter Kaavia James, born via surrogate (via Brides). The 48-year-old actress struggled with her fertility before choosing to go the surrogacy route.
"So much of what made the decision so difficult was that if I didn't submit to a surrogacy, then I was convinced I needed to let Dwyane go. Even if he didn't want to, I had to let him find someone who could give him what he wanted," she explains in her book. For Wade's part, he described coming clean to Union as the "hardest thing" he ever did in the documentary "D. Wade: Life Unexpected." 
"I had a child with someone else and I had to tell her," he said. "Hardest thing I've ever had to do is man up and tell Gabrielle Union that I've had a child with somebody else ... I couldn't sleep. I wasn't eating" (via Daily Mail).
How the couple made it through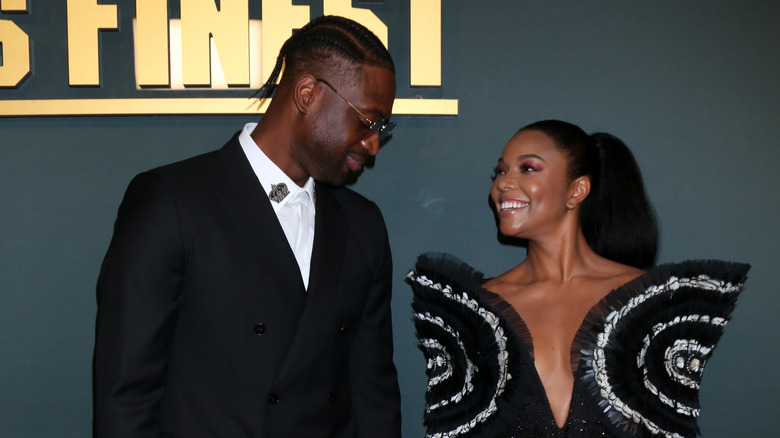 Kathy Hutchins/Shutterstock
Union and Wade first began dating in 2008 (via ET Online). Their relationship has obviously had its ups and downs since, but as Union explained in her book, even when things were at their worst between the two, she loved wade. "But I loved him," she said of the state of things after she discovered he had fathered a child with someone else. "As our relationship went in and out through the years, the times when it wasn't even about romantic love, I always loved him, she said. 
She went on to explain that the process of getting past something that felt like such an immense betrayal during a time of such immense struggle and loss for her was the choice to keep loving him. "Each day, he had worked to be forgiven, and I had chosen to love him and forgive him," she shared.
In the end, she sees a larger, higher purpose for what they went through both as a couple and individually. She explained, "Part of this journey of making peace with our love is also making peace with ourselves." She went on, "I had come to accept that without that awful collision in our lives—this Big Bang moment in our relationship that set our galaxy as we knew it— he wouldn't have become the man he desperately wanted to be, and I would not become the woman I dreamed of being."