The Truth Behind The Tori Spelling And Dean McDermott Divorce Rumors
Rodin Eckenroth/Getty Images
Throughout 2021, the state of Tori Spelling and Dean McDermott's marriage has been the subject of quite a bit of gossip. These rumors have been sparked by the fact that both Spelling and McDermott have been spotted without their wedding rings in the past year, leading many to wonder if the pair were headed for divorce, per Us Weekly.
Spelling and McDermott, who have now been married for 15 years, first met on the set of Lifetime's "Mind Over Murder." Despite being married to different people at the time, Spelling and McDermott began an affair. In her 2009 memoir, "sTORI Telling," Spelling wrote that she knew that something was wrong in her first marriage to Charlie Shanian when she didn't regret beginning the extramarital affair with McDermott, according to OK! Magazine.
In 2014, it was revealed that McDermott cheated on Spelling with a woman named Emily Goodhand. Despite this setback, the couple was reportedly able to repair their marriage. "It was one of the worst times in our lives, but it was also one of the best times," Spelling told People in 2016. "I wouldn't change anything because if we hadn't started talking and opened up those lines of communication, maybe we wouldn't be here today."
Did the couple truly repair their relationship, or are the divorce rumors true?
This is the true state of Tori Spelling and Dean McDermott's marriage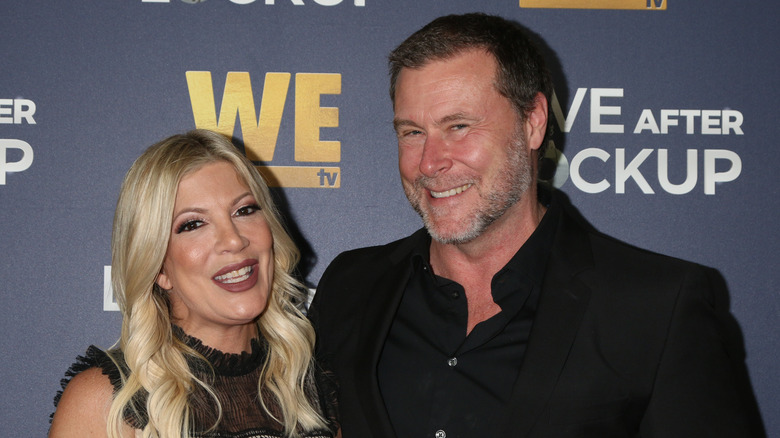 Kathy Hutchins/Shutterstock
At this point, Tori Spelling and Dean McDermott have denied the rumors that they are seeking a divorce. However, during an interview on "Jeff Lewis Live" in June 2021, Spelling admitted that the couple sleeps in separate beds. "Since he left — this is not good, you guys — but since he left [and] he was gone for six months filming in another country, [the kids and dog] all stayed with me," Spelling told Lewis, according to Us Weekly. "So, I currently still have four in the bedroom with me who have yet to go back to their rooms, yes." 
An insider told OK! Magazine that the fact that Spelling admitted this on a public platform says a lot about the state of their marriage, which has produced five kids ranging in age from 14 to 4 — Liam, Stella, Hattie, Finn, and Beau (via USA Today). "Tori and Dean have been having major issues for over a year now," the inside source told OK! Magazine "The fact that she's talking about sleeping in separate beds is very telling. She wouldn't do that unless things were really not great between them."
Meanwhile, McDermott denied the rumors that he was seeking a divorce from Spelling. "I don't reply, you know, anymore," he said during an episode of the "Feminine Warrior" podcast, according to Us Weekly. "It's just like, 'OK, if that's what you want to think, then think it.' It's just weird that people need to know. 'What's going on with Tori and Dean? She's not wearing her ring.' Why do you need to know that?"
This is not the first time rumors about Tori Spelling and Dean McDermott divorcing have circulated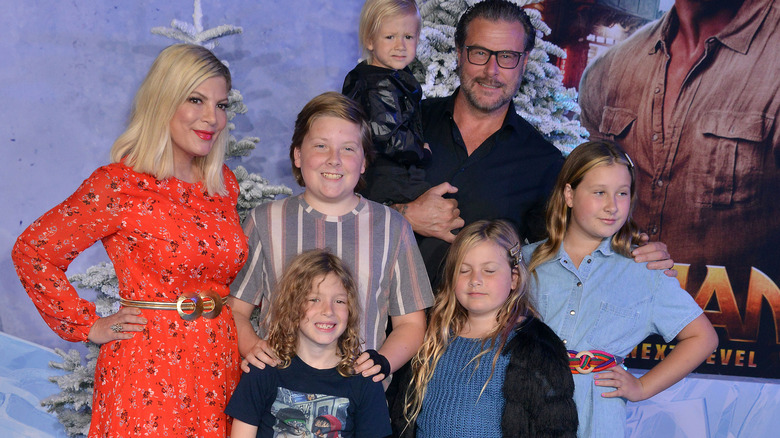 Tsuni-USA/Shutterstock
Of course, given the admission about sleeping in separate bedrooms, divorce rumors swirled as recently as August of this year (via People). But that was far from the first time speculation cropped up that the famous couple is headed for a split.
In fact, it seems every few years, that they are divorcing is a headline — so much so, that Spelling and McDermott must be used to shrugging off such talk. Consider that in 2010, after a trailer for their show, "Tori & Dean: Home Sweet Hollywood" that featured the duo bickering was leaked, the "Beverly Hills, 90210" star said on the "Today" show about her marriage, "We're not headed for divorce. We're committed to each other, we're committed to this family. But you know, we work on things just like everyone else" (via NY Daily News).
At the time, she also noted that no marriage was perfect —  and this was after only four years together (via NBC Chicago and InTouch). Now, it seems the couple is left defending their union again, something that is old hat at this point! Case in point: In 2020, In Touch reported that McDermott was not pictured in the family's holiday card, and again, chatter began that a divorce was imminent. Flash forward to September of 2021, and here we are again.
So, will the reality stars split up this time? Only time will tell, but for now, the celebrity parents are shooting down divorce rumors for the millionth time.