The Real Reason Piers Morgan Is Thanking Meghan Markle
D Dipasupil/Getty Images
Piers Morgan has made his opinion about Meghan Markle very clear over the years. The British media personality has spoken out in open criticism of The Duchess of Sussex many times. Vanity Fair reported that Morgan and Meghan originally shared a friendship. However, after her highly publicized romance with Prince Harry, the relationship quickly faltered. Following the couple's engagement, Morgan began openly speaking out about Meghan and even interviewed her estranged father, Thomas Markle.
After Meghan married Harry in 2018, Morgan wrote a column for the Daily Mail, sharing his opinion on the union. "If you thought being a royal girlfriend was difficult, just wait until you see how hard it is being a royal wife," he wrote at the time. "If you now start lecturing us all on equality, while your servants fluff your gold monogrammed pillows and your chauffeur warms up the fleet of vintage Rolls Royces, that well of goodwill may dry up." 
Since that time, Morgan has publicly slammed Meghan countless times. Earlier this year, he admitted that he believed Meghan's comments about being refused mental health treatment from the palace were false and even stormed off the set of "Good Morning Britain," where he previously worked (via The New York Times). He eventually resigned. Those comments later came under investigation, but Morgan was later cleared by Britain's communications regulator for his controversial comments.
This week, however, Morgan thanked Meghan for a very surprising reason.
Piers Morgan said Meghan Markle has helped his career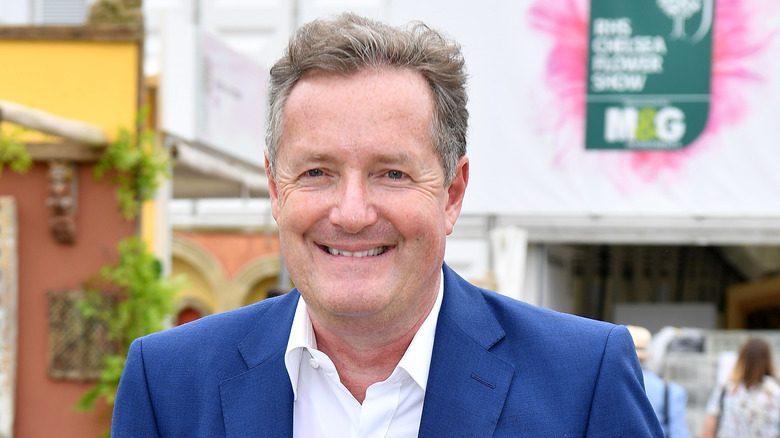 Jeff Spicer/Getty Images
This week, Piers Morgan opened up about being cleared over his comments about Meghan Markle. The television personality was asked by The Mirror what he believed Meghan would think about the situation, and he didn't hold back (via Evening Standard). "Who cares?!" Morgan stated. "Honestly, she's been great for my career to be honest with you. I really want to thank her," he added. Morgan went on to add that the public hasn't "heard much" from Meghan since he was cleared, but remained steadfast in his quest for free speech. "We haven't heard much out of her since the Ofcom win. It was a victory for free speech and whether people like me or don't like me, we are all entitled to an opinion," Morgan said.
After the news that Morgan had been cleared began to circulate, the television host quickly took to social media to share his joy. "I'm delighted OFCOM has endorsed my right to disbelieve the Duke & Duchess of Sussex's incendiary claims to Oprah Winfrey, many of which have proven to be untrue," he tweeted. "This is a resounding victory for free speech and a resounding defeat for Princess Pinocchios. Do I get my job back?" he continued.
While it seems that Morgan and Meghan might never see eye-to-eye, they do have one thing in common. They both have a lot of fans and a lot of critics.