The Truth About Kenan Thompson's Marriage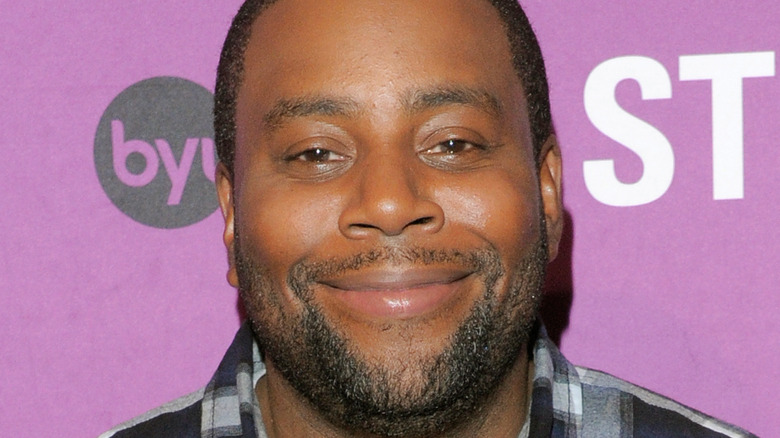 Ron Adar/Shutterstock
Kenan Thompson has been making us laugh for decades. Whether it was his roles in "All That" and "Kenan and Kel" in his youth, or his 18 seasons on "Saturday Night Live," he's been a comedic fixture on television (per Entertainment Weekly). Thompson has officially become the longest-running cast member on "SNL," but he isn't looking to bow out just yet.
"I keep saying I'm trying to get to 20 [seasons]," Thompson told EW. "So if they don't throw me out of there before, I'm trying to get to 20. And then, I don't know if it makes sense for me to leave even after that point. As long as the show keeps going and they want me to be there and I don't feel like I'm in the way of somebody else's opportunity, should I just oblige? I don't really know what to do at this point, as far as leaving is concerned. Like, why should I ever have to leave?"
While he has spent much of his life in the spotlight, it seems as though Thompson keeps his personal life to himself. The comedian got married back in 2011, per Distractify, but new rumors are swirling that there might be trouble in paradise for the couple.
Kenan Thompson is happily married, despite rumors saying otherwise
Kenan Thompson and his wife, Christina Evangeline, tied the knot in November 2011 (via Suggest). Evangeline was no stranger to show business herself, having an acting credit under her belt. The pair were introduced by a talent manager, and the rest was history. They got married at the Georgia Aquarium in Atlanta, which is super cute!
Together, the couple has two daughters, Georgia and Gianna (per PopSugar). He is a devoted husband and father, telling Fatherly, "It's everything. Along with being a husband, that was the goal. I stopped my bachelor life and just was spending a lot of time by myself because they say, when you stop looking, you will find it. And then I met my wife and we had the same ideology. We wanted to get married and we wanted to start a family and keep a family. It's my daily focus — is everybody taken care of? And then my other focus is, how am I taking care of everybody. That's what probably drives me to work like such a maniac. I want to personally satisfy the need to provide like that."
While things seem perfect for Thompson, rumors are surfacing that he and his wife are separating as of publication. According to Media Mass, the comedian was seen by himself, starting rumors that the couple separated. There was nothing to back up these claims, and the source later claimed the story appeared to be false. It looks like Thompson and Evangeline are still going strong!