What Olivia Jade Has Been Up To Since The College Admissions Scandal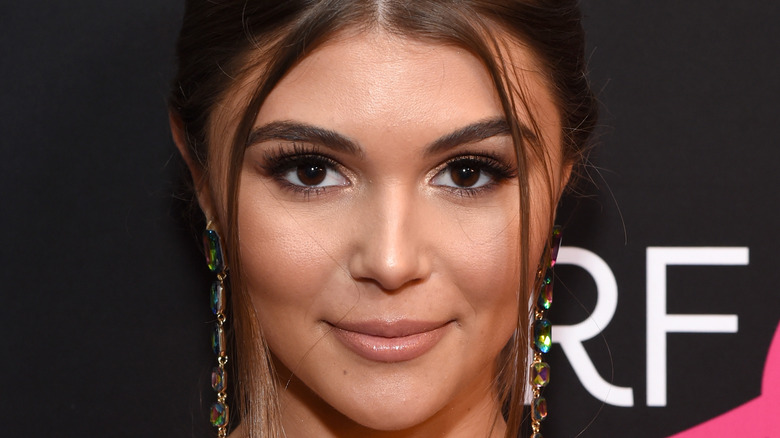 Michael Kovac/Getty Images
Unless you were living under a rock in 2019, you've likely heard about the college admission scandal that plagued Hollywood elites like Lori Loughlin and Felicity Huffman. But for those that need a refresher, the incident, which has been dubbed "Operation Varsity Blues" by the FBI, included a string of wealthy parents bribing admission officials, with the help of college counselor Rick Singer, to get their kids into prestigious universities, such as the University of Texas, UCLA, Stanford or, in Olivia Jade's case, USC (via Marie Claire).
Jade is the daughter of "Full House" star Loughlin and designer Mossimo Giannulli, but before her the scandal broke out, she had made her own name in the influencer/YouTube community. Writer and producer of the recently adapted Netflix version of events, Jon Karmen, explained why Jade's fan base took such a hit following the news of the offense. "Both Lori and Olivia are beloved public figures," Karmen explained, "and I think people saw their association with this scandal as a betrayal of trust" (via Marie Claire). 
While it seems Jade has been keeping a low profile following news of her parents' misconduct, it's still unclear where she's been and how she's been coping with her swift fall from grace.
Olivia Jade has returned to vlogging
Following "Operation Varsity Blues," Olivia Jade's life took a 180° turn in a matter of days. The influencer, whose acceptance to USC was secured through a $500,000 "donation," left school permanently (along with her older sister, Isabella) after completing her freshman year. The university stated via Twitter that it had "placed holds on the accounts of students who may be associated with the alleged admissions scheme; this prevents the students from registering for classes or acquiring transcripts while their cases are under review."
In addition to pausing her education status, Jade also lost her YouTube partnerships with brands like Sephora and TRESemmé. Jade attempted to make two YouTube videos following the drama, but after a sea of fan backlash, she went MIA before finally returning to her page in 2020, mere days after her mother's prison release.
Jade formally broke her silence regarding the admissions scandal on a 2020 episode of Jada Pinkett Smith's "Red Table Talk" series (via Marie Claire). Jade took the interview as an opportunity to own up to the scandal, stating she felt "ashamed" about the prior year's events and even admitted to being "the poster child of white privilege." Jade ended the interview promising to use her platform and privilege to empower others.
While we've still yet to see this type of content (her YouTube mainly includes daily vlogs and fashion hauls), we hope she keeps her word and uses this "second chance" for something more substantial than scoring brand deals.