Olivia Jade Made A Surprising Career Announcement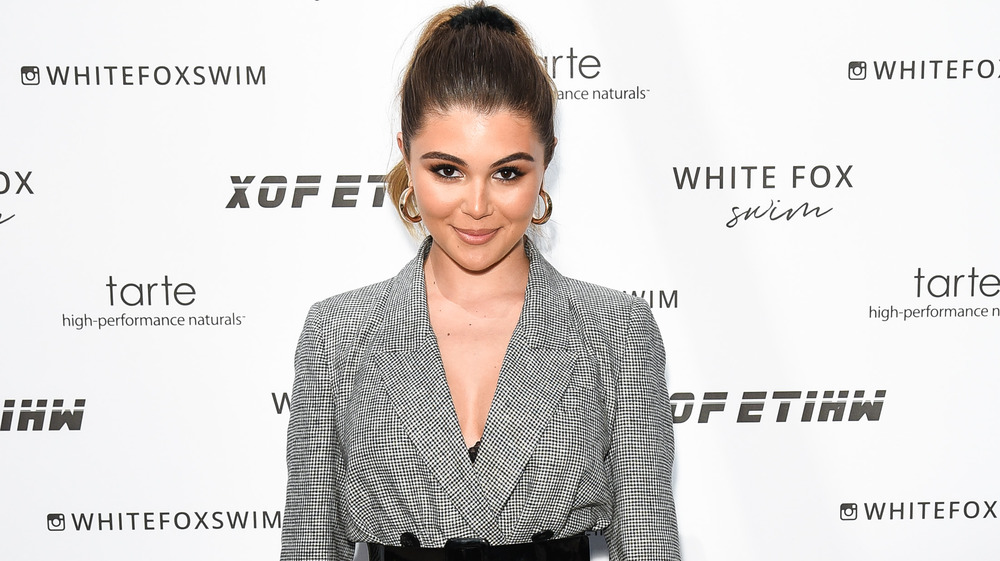 Presley Ann/Getty Images
It appears that Olivia Jade Giannulli is finally ready to move on to a new chapter in her life. Now that her mother, Full House actress Lori Loughlin, has finished out the prison sentence she received as a result of her involvement in the "Operation Varsity Blues" college admissions scandal, Olivia Jade seems to be making moves towards furthering her own entertainment career (via the Boston Globe). 
Prior to her family's controversy, Olivia Jade had begun to establish herself as an online personality and influencer, posting videos to YouTube semi-regularly since 2014. Her videos are the typical style of content that usually comes from female YouTubers of her age. Having just turned 21 in 2020, Olivia Jade described her channel as, "videos talking about makeup, fashion, lifestyle, and occasionally ill do some challenges. I have a strong passion for makeup and fashion and I love sharing my passion with all of you guys here on youtube" (via YouTube).
Well, it would seem that after about a year-long hiatus from her YouTube channel, Olivia Jade is ready to get back to creating content (via Page Six).
Olivia Jade will return to her YouTube channel after more than a year away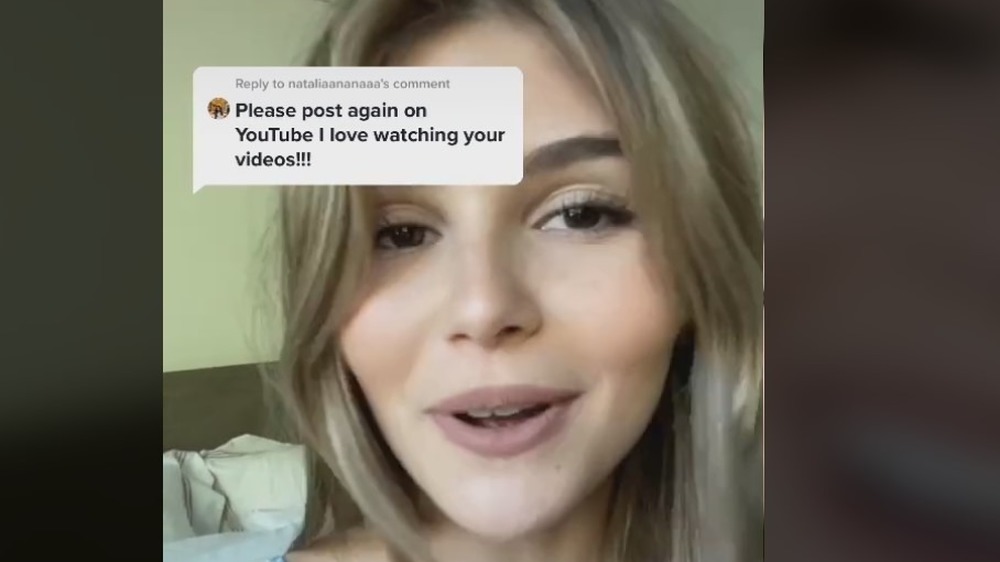 TikTok
In a recent TikTok video, Olivia Jade Gainnulli responded to a comment that read, "Please post again on YouTube I love watching your videos!!!" Olivia Jade responded in her video by saying how much she loves getting comments like this, and that they "actually make [her] day." She added, with a cheeky smile at the end, "Ok I will. I guess I will come back to YouTube," gushing, "What! Ahh!"
As happy as her 1.86 million subscribers seem to be with the news of Olivia Jade's return to YouTube, we can only imagine how happy she must feel to be able to speak openly with her YouTube community again. In the second to last video she posted before her year-long hiatus — dated December 2019 and titled "hi again" — she spoke publicly for the first time about her family's involvement in the "Operation Varsity Blues" scandal. "As much as I wish I could talk about all of this... it's just, unfortunately... I'm legally not allowed to speak on anything going on right now." She added, "I actually really, really miss it. I genuinely miss filming, I feel like a huge part of me is just not the same. This is something I'm really passionate about and something I really like to do."
We are thrilled to see that Olivia Jade will be able to come back to a space that she loves so much and will be excitedly awaiting her first upload.