Why Sarah Palin Says She Hasn't Gotten The COVID Vaccine Yet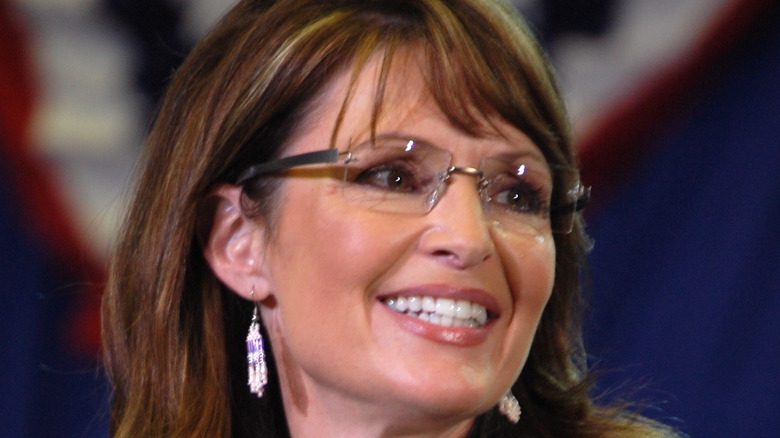 nbelz/Shutterstock
Sarah Palin rose to fame in 2008 as the presidential running mate of Sen. John McCain and the first Republican woman to vie for the vice presidency (via Biography). The team failed to take the election, but Palin stayed active politically, throwing her support first behind the conservative Tea Party movement, then behind Donald Trump's presidential campaign. The former governor of Alaska also branched out into entertainment; she hosted the travel show "Sarah Palin's Alaska," and competed (briefly) on "The Masked Singer." Her personal life has often been the subject of speculation as well, as when her daughter Bristol, a teenager at the time, became pregnant, and when her husband, Todd, unexpectedly filed for divorce.
Palin's comments over the years have raised many an eyebrow, such as her declaration that it's possible to see Russia from certain Alaskan vantage points (via Snopes). She did it once again in a recent appearance on Fox News' "Gutfeld!" program. Asked whether she had received the COVID vaccine, Palin asserted, "I am one of those white, commonsense conservatives. I believe in science, and I have not taken the shot." She went on to reference a statement Dr. Anthony Fauci once made about the disease, saying "I want to ask the questions" about achieving natural immunity through being infected with COVID (via The Hill). 
It's worth noting that the Centers for Disease Control and Prevention (CDC) advises that every eligible person receive the vaccine, even if they have had COVID in the past. 
Sarah Palin may be more susceptible to getting COVID again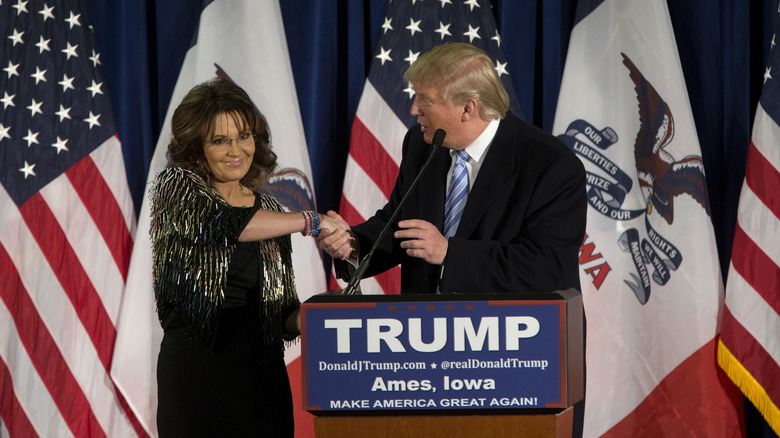 Aaron P. Bernstein/Getty Images
Sarah Palin's statement might sound like a dramatic turnaround from her interview with People in March 2021, when she revealed that she and several of her children had fallen ill with the virus. "I strongly encourage everyone to use common sense to avoid spreading this and every other virus out there," she told the magazine. Some evidence suggests that an unvaccinated person who previously had COVID may be twice as likely to get it again than if they were vaccinated (via the CDC). 
Palin promoted her "Gutfeld!" appearance on her Twitter account. Though she did get some supportive comments like "Still love you Sarah!" and "Sarah, where have you been? Our country NEEDS you!" many others did virtual eye-rolling at Palin's opinion on the vaccine. One follower laughed, "You're not getting the vaccine because you 'believe in the science'? That's like not eating your vegetables because you know they're good for you." 
Another offered their two cents: "Honey, I am an old white woman. I not only have the Covid vaccine, I also have every vaccine available to someone my age. I am healthy, wealthy (enough), and I am wise. My advice to you? Stay in Alaska."