Seth Rogen's Appearance At The 2021 Emmys Has Fans Doing A Double Take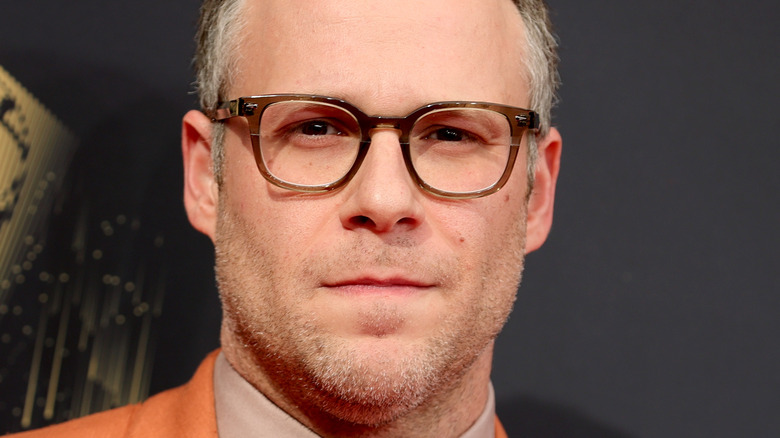 Rich Fury/Getty Images
Seth Rogen, who served as executive producer on Amazon Prime's "The Boys," which was nominated for Outstanding Drama Series for the 2021 Emmys (via Emmys), certainly had fans doing a double take after he walked the red carpet shortly before the awards kicked off on Sunday, September 19. The "Pineapple Express" alum looked like a vision of autumn as he made his way down the red carpet in a pumpkin spice-colored blazer paired with mocha brown slacks, along with a light khaki shirt and matching bow tie. Rogen kept his look mostly clean-cut, rocking a slightly grown-out salt-and-pepper buzzcut, a ruggedly handsome five o'clock shadow, and his signature thick-rimmed glasses.
The "Neighbors" star also served as a presenter during the show, calling out the safety regulations of the event amid the ongoing coronavirus pandemic. "Good to be here at the Emmy Awards," Rogen said as he presented the first award of the night (via The Daily Beast). "Let me start by saying: there's way too many of us in this little room."
"What are we doing?" Rogen continued, adding, "We're in a hermetically-sealed tent right now. I would not have come to this. Why is there a roof? It's more important that we have three chandeliers than that we make sure we don't kill Eugene Levy tonight. That is what has been decided."
Social media had mixed opinions about Seth Rogen's look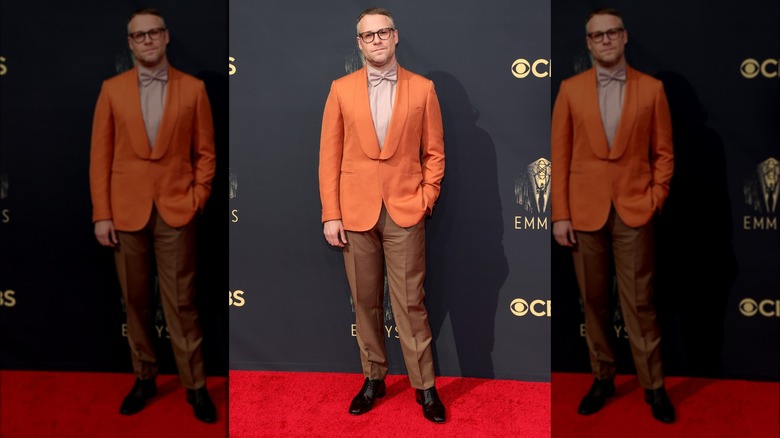 Rich Fury/Getty Images
While many social media users loved the fact that Seth Rogen blasted the Emmys for their questionable safety protocols amid the ongoing pandemic, others were too focused on his red carpet look and couldn't help but poke fun at his pumpkin spice-inspired getup. "All I see here is pumpkin spice," one disappointed fan wrote on Twitter, while another tweeted, "That's ... quite something. On another note, I thought he was more attractive before his transformation."
However, not everyone was unimpressed with Rogen's look. "#SethRogan [sic] is looking good! How high do you think he is?" one Twitter user joked, while another tweeted, "Seth Rogen. Damn you're getting better with age. His strong suit game in the under-appreciated LONG SHOT. Now this Emmys serve. Swoon."
In fact, as the night went on, more and more fans of the actor couldn't stop praising his look, and it seems like the general consensus was that Rogen's red carpet look totally hit the mark. "Love it. Intentionally showing a different side of himself is cool and unexpected. A+," one person shared on Twitter, while another echoed that sentiment, tweeting, "He looks so healthy and happy. I'd never be able to pull off that color combo, but it works for him. Love the dude. I also love how Ted Cruz is totally trashed when he tries to pick a fight with Seth."