The Truth About Stanley Tucci's Relationship With Felicity Blunt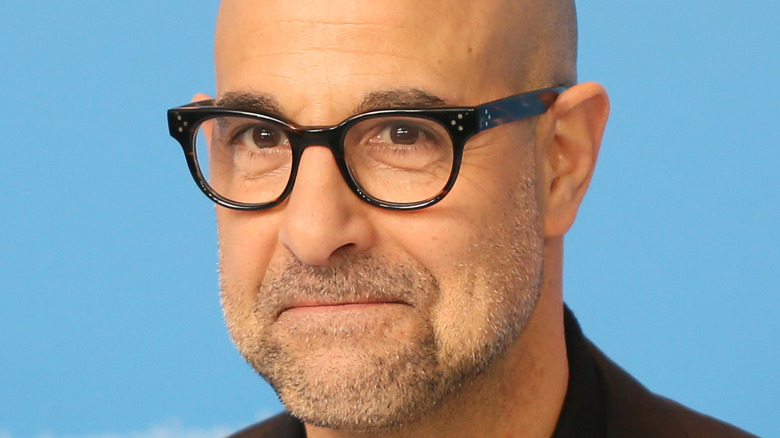 Denis Makarenko/Shutterstock
In the early days of the pandemic, Stanley Tucci served the internet a delicate Negroni recipe on Instagram that had many fans flustered. Some even resorted to publishing "An Ode to Stanley Tucci's Forearms," on Twitter. So, it isn't surprising then that when he went "Searching For Italy" on CNN, people followed. The series won the Emmy for Hosted Nonfiction Series, applauding Tucci's effortless ability to connect with the generous locals and their mouthwatering dishes (via Entertainment Weekly). Clearly, the people need more Tucci.
While Tucci's Negronis may be for the internet to see, they're for his wife, Felicity Blunt, to sip on IRL. Felicity, who is Emily Blunt's sister, is Tucci's second wife and someone he found love with after experiencing the loss of his first wife, Kathryn "Kate" Tucci in 2009 (via Delish). In an interview with Holly Williams from "CBS Sunday Morning," the actor revealed that "It's still hard after 11 years ... And it will always be hard. But you can't let it ... and she would never want any of us to ever wallow in that grief and let it take over our lives. She would never want that. She wasn't like that."
"The Devil Wears Prada" actor has been with Felicity for almost ten years now and has opened up abut their relationship since. 
Tucci bonded with Felicity over food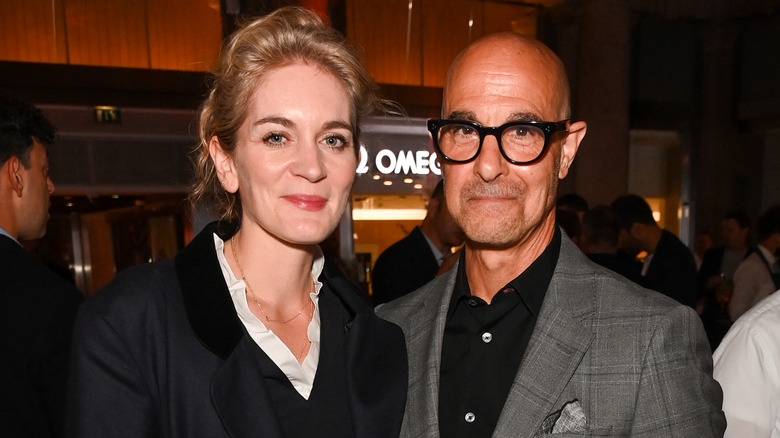 David M. Benett/Getty Images
Stanley Tucci and his first wife, Kathryn Tucci, met Emily Blunt's older sister on "The Devil Wears Prada" red carpet (via Delish). However, they really reconnected only a few years later at Emily and "The Office" star John Krasinki's wedding. On an episode of "The Queen Latifah Show," he said, "We met at [Emily Blunt]'s wedding and then we both realized that we had this love for food."
Felicity's appetite made an impression on Tucci, who was impressed after she asked for the cheese cart after a four-hour meal that had left Tucci "so full" that he "thought that's incredible," per Good Housekeeping.
Tucci proposed to Felicity in 2011 while they were on a trip to Berlin. He told The Times, "I panicked instantly afterwards ... It was very hard to go on vacations at first, really hard to go with Felicity someplace. I felt guilty. It's horrible." However, Tucci is grateful he took the plunge. He told The Guardian, "It is not easy to find somebody who is going to take on three teenagers and a widower ... She cares for the kids as if they are her own, and it is a tough role, being a step-parent." The two now have kids of their own together, and are sure to have a household filled with good food.