Mauricio Umansky Shares What It's Really Like To Be A Girl Dad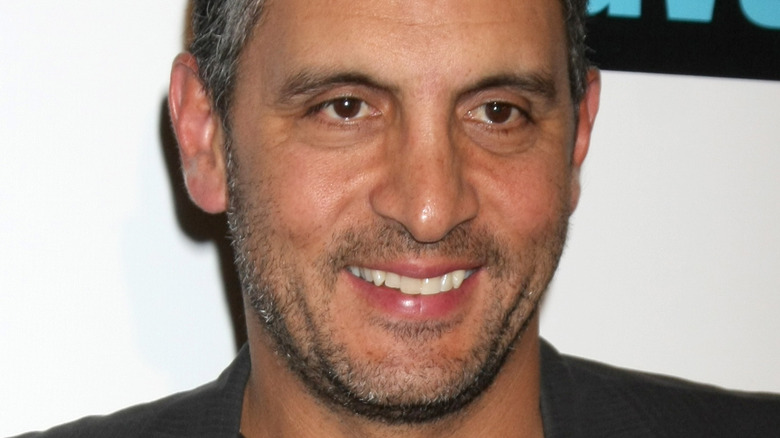 Kathy Hutchins/Shutterstock
Fans of the "Real Housewives of Beverly Hills" know Mauricio Umansky as Kyle Richards' loving husband. As Screen Rant notes, Richards calls Umansky her "love bean," and the couple has been going strong for decades. In fact, across the entire "Real Housewives" franchise, theirs is one of the strongest bonds. Umansky is also a fan-favorite cast member in his own right. However, the couple has had to face plenty of split rumors over the years, with Richards admitting to Us Weekly in October 2020, "It used to get me so upset when lies were out there about me."
Thankfully, they know not to let the opinions of others drag them down. After all, Richards and Umansky have worked incredibly hard to achieve their privileged positions in Hollywood. He's a self-made businessman who founded the luxury real estate company The Agency, and she was a child star in the likes of "Halloween." They're very supportive of each other's success, and the spark is clearly still there judging by the couple's frequent PDA on the show. Richards and Umansky are also dedicated parents to their four daughters, with their busy and frequently fun-filled home life being featured as a major component of "RHOBH." 
Mauricio Umansky relishes being outnumbered by his daughters
Sharing their annual Kardashian-esque Christmas family photo, Mauricio Umansky opened up about what it's like to be a girl dad four times over. In the photo, Umansky, Kyle Richards, their three daughters Alexia, Sophia, and Portia smile alongside his stepdaughter Farrah, cuddling up in matching red silk pajamas in front of the tree. In the accompanying Instagram caption, The Agency founder wrote, "Growing up I always thought I was going to have a whole soccer team of sons. Instead, I got all these gorgeous girls!! I wouldn't trade it for anything in the world." Richards gushed in a comment, "Aww. We love you so much." 
In a chat with Stamford Moms, Umansky was asked whether he thinks any of the girls will follow in his footsteps and work in real estate. Acknowledging that Farrah and Alexia are already employed at The Agency, he noted, "I love my job and I love it even more when I get to work with my daughters and my father every day." 
However, Umansky made it clear that he doesn't care what they choose to do as long as they're happy. As for his favorite part about being a girl dad, Umansky enthused, "My girls are so fun and full of life and are a pleasure to be around. We are a tight-knit family and we love to spend time together doing fun activities and we laugh a lot." He added sweetly, "I have four amazing best friends in my daughters."