How Olivia Jade's Return To YouTube Caused Drama With Her Mom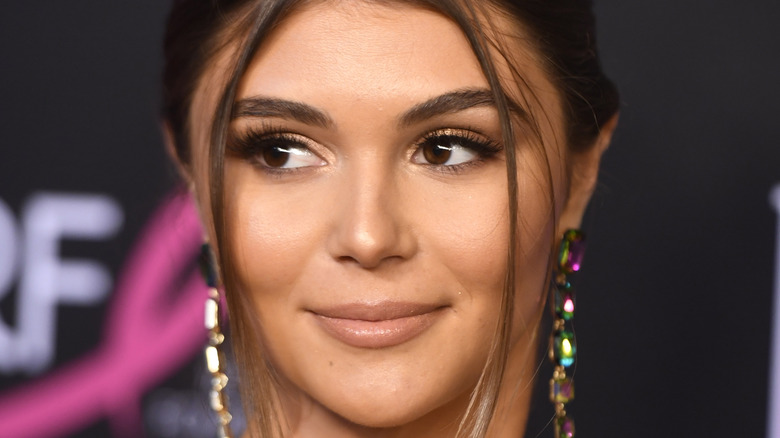 Frazer Harrison/Getty Images
In March 2019, "Full House" actress Lori Loughlin and husband Mossimo Giannulli were two of 50 names charged in a scheme to bribe universities for their children to obtain places (via The Guardian). In the case of Loughlin and Giannulli, they were accused of sending $500,000 in bribes to get their daughters, Olivia Jade and Isabella, into the University of Southern California on rowing scholarships despite not being rowers (via BuzzFeed). 
Despite first denying the bribing charges (via USA Today), the couple was eventually charged, as noted by People. Loughlin spent two months in prison for her role in the scheme, while Giannulli spent five months in prison (via Page Six), and was reportedly granted permission to spend the last portion of his sentence under house arrest. 
Prior to the scandal, Olivia Jade Giannulli was known for her work as an influencer. She started posting videos on YouTube in 2019 and quickly amassed a massive following to the tune of nearly 2 million followers. But once the news broke about her place at USC being unlawfully obtained, she disappeared from the video-sharing platform. 
Lori Loughlin's reaction to Olivia Jade's return to YouTube is extremely varied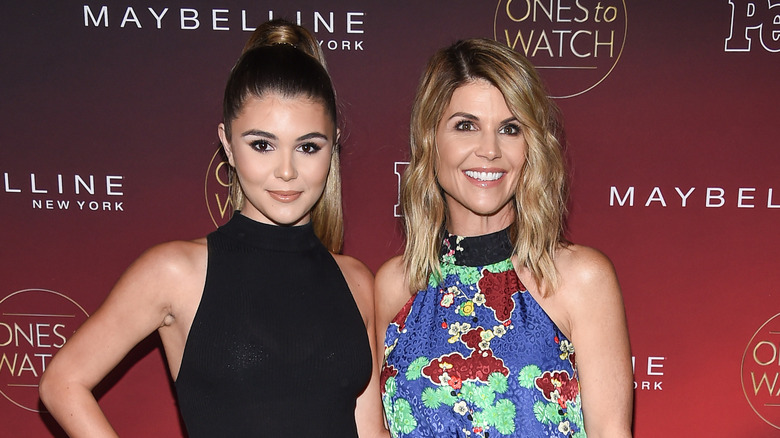 DFree/Shutterstock
A few months later, Olivia Jade returned to the platform in a YouTube video titled "hi again." In it, she explained that while she couldn't say anything about the case due to legal reasons and that she struggled to pick the right time to come back (via Elle). "There's no point in me talking for 10 minutes how I wish I could say something when I really can't so I'm going to leave it at that," she said. "This is the best I can do, and I want to move on with my life, not trying to be selfish in a way."
When it comes to Lori Loughlin's reaction to her daughter's comeback, it was varied depending on which media outlet you read. Multiple sources told Us Weekly that Loughlin was less than happy about the video, as she and Mossimo Giannulli had "explicitly" told Olivia Jade to stay off social media during their trial. "Lori was very clear in telling Olivia to remain quiet and not do anything controversial," a source told the magazine. So when the video dropped, the "cracks in the family" started to show. "Olivia's YouTube video was a big betrayal," the source concluded.
Olivia Jade and her mom seem to be on good terms following the alleged drama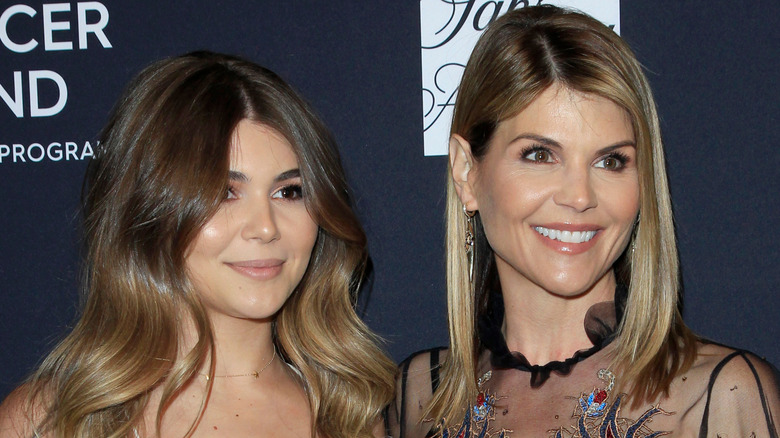 Kathy Hutchins/Shutterstock
This account differs drastically to what sources told Entertainment Tonight, who alleged that Loughlin and the rest of Olivia Jade's family were supportive of her return. "YouTube was an important part of Olivia's daily life and her brand, so when she stepped away from it she felt there was a void in her life," the source said, adding that when the scandal broke, the backlash "was more than she could take."
It was her mom who encouraged her to "step away because it was brutal" according to the source, and now that she's returned Loughlin just "wants what's best for her daughter and she wants Olivia to be happy."
The pair seem to be on good terms following her return, with Loughlin even appearing in one of Olivia Jade's videos in early 2021 (via Hollywood Life). The influencer spoke out about her mom during an press event following her announcement that she would be competing on "Dancing with the Stars" (via Page Six). "My mom's been a huge support. She's in total mom mode," she explained, adding that her sister Bella wants to come to every show.
"I think it's such an incredible opportunity. I'm ready to put myself back out there and try new things," the star continued of joining the reality competition. "I'm really excited to challenge myself and put myself outside my comfort zone, which I don't do often."