This Is How Many Times Christina Haack Has Been Engaged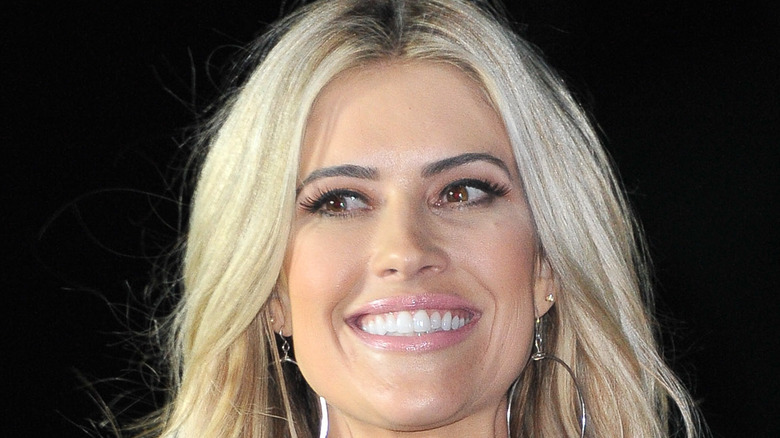 Allen Berezovsky/Getty Images
If you're an HGTV lover invested in the platform's home renovation hosts, then you may already know that Christina Haack of "Flip or Flop" is engaged! The 38-year-old television personality has been on our screen for years, first appearing in "Brother vs. Brother" and later going on to not only star in "Flip or Flop" but also "Flip or Flop Follow-Up" and "Christina on the Coast." According to IMDb, Haack has also appeared on numerous episodes of "Entertainment Tonight" as well as other talk shows such as "Good Morning America."
Now, Haack's personal life has taken a lovely turn. On Monday, September 20, 2021, People confirmed that Haack is engaged to Texas-based realtor Joshua Hall. Haack and Hall announced the news on Instagram, per People. The happy couple were in Mexico celebrating Hall's birthday, and in one of Haack's posts, she used the following five emojis: "A heart, an infinity sign, a lock, a key and a ring," which fans took as her engagement announcement. Haack then confirmed this in her Instagram bio, to which she added, "[ring emoji] Joshua Hall."
We couldn't be any happier for the HGTV star! Haack's fans have been delighted for her, and the news has also prompted some fans to wonder about Haack's engagement history.
This is who Christina Haack's ex-husbands are dating now
True love is hard to find, and sometimes it takes more than one engagement or marriage to find your soulmate. Such was the case for Christina Haack, who has been married twice before her current engagement to Joshua Hall. According to Page Six, Haack was married from 2009 to 2018 to Tarek El Moussa and from 2018 to 2021 to Ant Anstead. The former is Haack's costar on HGTV's "Flip or Flop," and it's with him that she shares her son Brayden and her daughter, Taylor. She shares her son Hudson with Anstead.
Haack adopted both El Moussa and Anstead's names during her marriages to them. Therefore, some remember her as Christina El Moussa and others as Christina Anstead, but that's all the same person — and if you've been keeping up with HGTV in recent times, you'll know her as the ever-lovely Christina Haack. After their respective divorces, Anstead went on to date Renée Zellweger, and El Moussa went on to become engaged to Heather Rae Young from "Selling Sunset."
Now, Haack is beginning her new life journey with Hall, which seems like it's nothing but fruitful for the home renovator, and we can't wait to see how their happiness grows together. Others aren't so thrilled. According to CheatSheet, Haack often turns her Instagram comments off when she posts photos with Hall due to receiving negative or hateful comments. Recently, she's been changing that, though. In mid-November, she shared a photo set with Hall and left the comments on. Fans immediately left sweet messages such as, "You guys are so cute together," and "Gorgeous couple. Third time is a charm and I'm happy for you." Hopefully this positivity remains in the future.
Christina Haack's renovations are getting increasingly 'unappealing' while her love life flourishes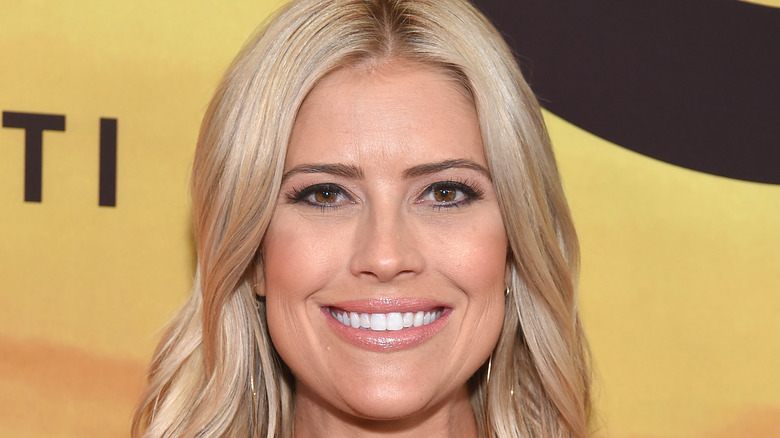 DFree/Shutterstock
Christina Haack's love life is just as compelling as her television series, although the two may be shockingly opposite. Where her engagement to Josh Hall is flourishing, some may say her renovations on HGTV are suffering. Haack recently told People of being, "I'm the best version of myself and most authentic," when she's with her fiancee. "I'm happier than I thought was possible," she added. 
However, where her family life is blossoming, her "Flip or Flop" performance is only growing wilder. E! News recently said that one of her latest renovations with ex-husband Tarek El Moussa may be her "most unappealing" yet. Haack is renowned for her flipping abilities, as well as her design, but approaching something of this magnitude would be challenging for anyone. The outlet noted that the flip in question comes from Haack and El Moussa's "Takeover Flip," a "Flip or Flop" special from HGTV. Wildly, the house they're set to renovate in the special is missing its roof. "They said it was a fixer upper," El Moussa said in a sneak peek, "but I didn't know half the house was gone."
Meanwhile, People reported that Haack spent Thanksgiving with Hall in Napa. This weekend trip saw the couple spending quality, kid-free time together, which Hall seemed to appreciate. On Instagram, he wrote, "Thank you for always making me feel special and another bad**s weekend together just being us. I love you," to Haack.
"I love that Josh is a well-balanced man," Haack told People. "He is a man who takes care of his woman and family and can handle anything that is thrown at him without letting it get to him." Their love story is undoubtedly one for the books.