Tarek El Moussa Reveals His Feelings About Christina Haack And Joshua Hall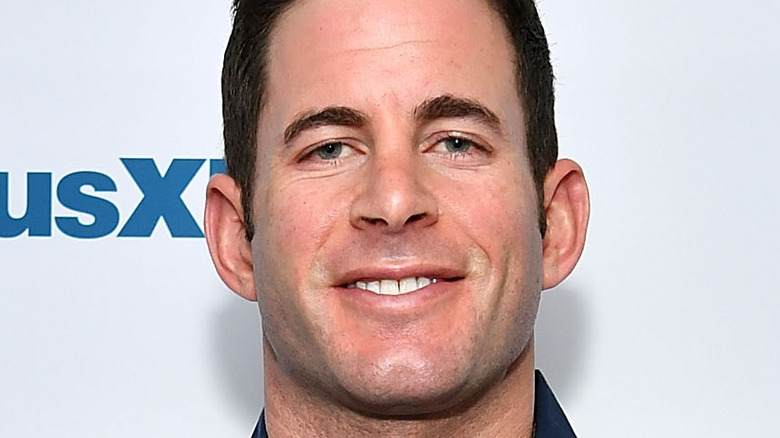 Slaven Vlasic/Getty Images
The ink is barely dry on Christina Haack's divorce from former husband Ant Anstead, but the HGTV star is already sparking engagement rumors with current boyfriend Joshua Hall. As Page Six reports, Haack posted a photo of her wearing a huge diamond ring, seemingly by accident, in August 2021 before quickly deleting it. That same ring — or at least a very similar one — has since been spotted again, in paparazzi shots of the couple chilling out on a San Diego balcony earlier this week. The "Flip or Flop" star's left hand is clearly visible in the photos, with a honking piece of jewelry on that finger. She also posted a swooning shot of Hall on the beach, captioning it, "He had me at that hair" alongside a heart-eyes emoji.
Haack and Hall were officially confirmed as a couple in July 2021, following a few months of low-key dating, after they were spotted together at LAX en route to a birthday vacation in Mexico. The HGTV star announced her separation from second husband Anstead in September 2020, before officially filing a couple months later. The divorce was finalized in June 2021. Haack has been somewhat unlucky in love, having previously endured an emotional public divorce from "Flip or Flop" co-star Tarek El Moussa, with whom she also shares two kids. The couple was married for nine years and remain colleagues on the hit show. Now, El Moussa is weighing in on rumors Haack is headed down the aisle again.
Tarek El Moussa hopes everything works out for everyone
Us Weekly caught up with Tarek El Moussa, who's currently planning his own wedding with fiancée Heather Rae Young, to see how he feels about ex-wife Christina Haack reportedly preparing to get married again too. Although El Moussa acknowledged he doesn't know what the story is either way, the "Flip or Flop" star posited, "If a ring is on a girl's finger and it looks like an engagement ring and she's with her man, what does that mean?" He added sagely, "I'm not a mind reader, [but] I'm just saying, they're good together. I hope the best for them." Suffice to say, if Haack is planning to make it official with Joshua Hall, her colleague and baby daddy is totally behind her decision. El Moussa even noted, "They do seem happy together. Yes, very happy actually." 
The "Flipping 101" host pointed out that the couple already seems super close, since they're constantly holding hands and are spending plenty of time together. El Moussa has only met Hall a handful of times, but he said, "I think they're a good couple." More importantly, his two kids with Haack — daughter Taylor, 10, and son Brayden, 6 — are fans of Hall. El Moussa revealed, "they do spend time together as a family." Overall, the reported groom-to-be is feeling the love. As El Moussa succinctly put it, "I hope the best for Christina. I hope the best for Josh. I hope everything works out."