BB Cream Vs. CC Cream: Which Is Better For Oily Skin?
puhhha/Shutterstock
If you pay any attention to the beauty industry at all, you've probably heard of both BB cream and CC cream. However, if you've shopped for makeup or need to shop for makeup, you might wonder what all the fuss is about these creams that usually appear near foundations and tinted moisturizers in the makeup aisle (via Healthline). According to Byrdie, a BB cream offers light coverage while evening out your skin tone, while a CC cream offers some color correction, a bit more coverage, and some anti-aging benefits. Both products work for multiple uses, including concealer, primer, foundation, sunscreen, highlighter, and more.
Of course, in addition to figuring out what to wear to create a perfect base for your makeup and the correct color, you may also have to figure out what type of foundation or cream works best for your skin type. If you're lucky, you have normal skin. However, some people deal with oily skin, making it that much harder to choose what to use as the base of your makeup. 
Here's how to choose between CC cream and BB cream for oily skin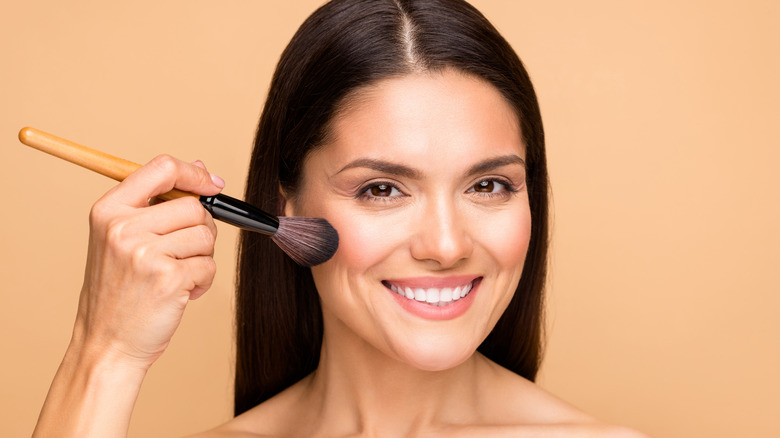 Roman Samborskyi/Shutterstock
If you have oily skin, the last thing you want to do is apply a product that ends up amplifying the issue instead of leaving you with a gorgeous matte or dewy finish. While it may feel tempting to go for the lightweight coverage of a BB cream in this situation, Healthline noted that you should opt for a CC cream instead. The reason? A CC cream usually has a matte finish, which makes it likely to stay firmly in place. You still need to be aware of the ingredients in whatever CC cream you choose to use, though. Ensure that it has an oil-free formula with ingredients like silica, colloidal clay, or charcoal, which have a mattifying effect on your face. 
The nice side effect of using a CC cream is you'll get all the additional benefits it offers, like color correction, the lighter texture, and more coverage (via Byrdie). Another advantage is that these creams tend to come in only a few shades, making finding the one that works best for you a bit easier than sorting through dozens of colors. If you have any questions, be sure to consult a professional for guidance.