The Truth About John McCain's Son Jack McCain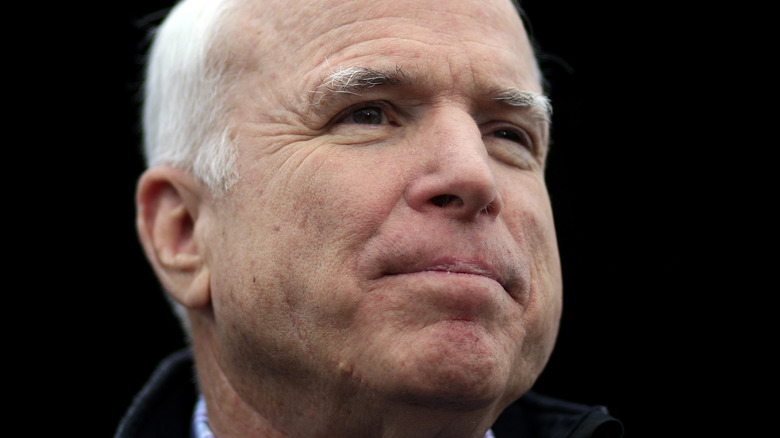 Eric Thayer/Getty Images
During his life, Sen. John McCain served his country in many ways. McCain was a decorated war veteran and prisoner of war, who retired from the Navy as a captain in 1981. The following year, he was elected to the House of Representatives, beginning his career in politics. In his final days, McCain dealt with brain cancer, as well as the Trump administration. The "maverick" challenged leaders within his own political party on issues that opposed his beliefs. McCain will be remembered as a political icon, a war hero, but most importantly, a father.
As a father of seven, McCain did everything he could to protect his children from the public eye. "It's intentional," McCain shared with The New York Times regarding his family's absence from his presidential campaign. "I just feel it's inappropriate for us to mention our children ... I'd like them to have their own lives."
McCain had seven children from two marriages. He married Carol in 1965 and adopted her two children, Doug and Andrew. Together, the couple had a daughter named Sidney before divorcing in 1980. Six weeks later, McCain married Cindy, and they had three children — Meghan, John ("Jack"), and Jimmy McCain. Later in their marriage, they adopted a baby from Bangladesh and named her Bridget (via Biography).
Inspired by his father's devotion to serve, John "Jack" McCain IV followed in his footsteps.
For Jack McCain, it's like father, like son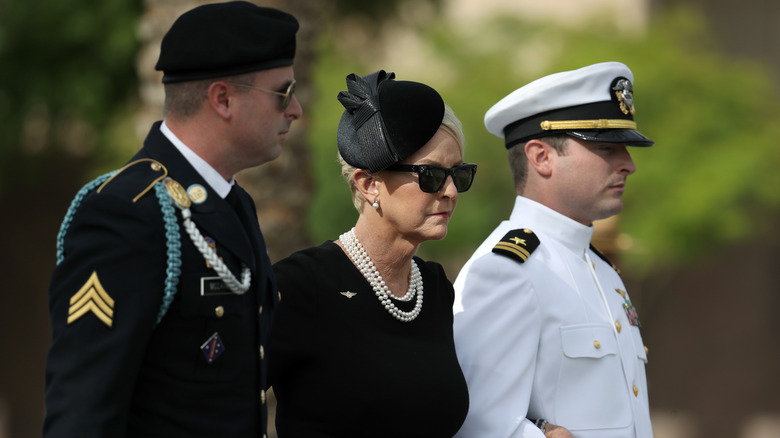 Justin Sullivan/Getty Images
John Sidney "Jack" McCain IV is Sen. John McCain's eldest biological son, born in 1986. Inspired by his father's dedication to his country, Jack applied to the Naval Academy right out of high school. According to Town & Country, this was the only school that Jack applied to. "I want to be a part of my family's legacy," Jack said, according to The New York Times. The young man quickly rose through the ranks, carrying the family's tradition and becoming an MH-60 Seahawk helicopter pilot.
In 2013, Jack married Renee Swift (via Heavy). In 2016, the couple welcomed their first child, John S. McCain V, aka "Mac." When his father was sick, Jack was deployed in Afghanistan. He rushed home, and while waiting for his second flight at an airport in Doha, Jack received the news that his father had died. "It was surreal to kind of watch people crowding around the television in the airport to look," McCain told The Washington Post. "There's not much you can say at that point. I got on the aircraft and flew home." 
During the private burial service, Jack delivered the eulogy. "Goodbye, Old Man," he said. "Like you, I believe we'll see each other again. Until then, I'll keep your faith, and make my life count for something more than myself, so that you'll be proud of me on that day."
Along with his wife Cindy and seven children, John McCain is survived by five grandchildren.